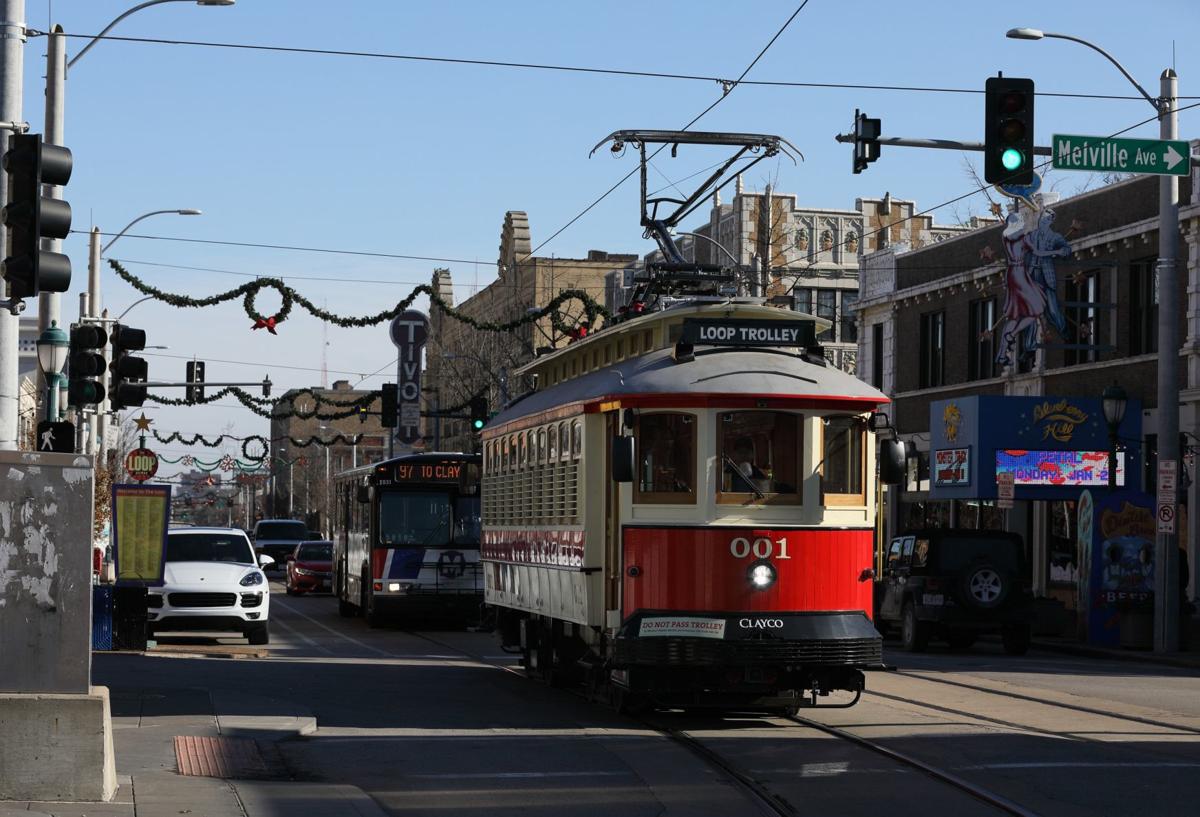 ST. LOUIS — The U.S. government paid for about two-thirds of the $51.5 million Loop Trolley, and if the streetcar line stops operating, the government is likely to want a significant portion of that money back.
That's the assessment of James Wild, executive director of East-West Gateway Council of Governments, the organization that coordinates federal transportation funding for the greater St. Louis area.
"It's likely some of the funds would have to be repaid, we just have to determine how much that would be," Wild said. "The Federal Transit Administration is trying to be very deliberate and careful in what their determination is going to be, because, to the best of their knowledge, this is not something that has occurred in their region and we're not sure if there is a precedent for this."
Wild said the entity that would have to repay the money is the one that accepted the federal grant: the Loop Trolley Transportation Development District. The district is funded by a 1% tax at businesses along the trolley line. The tax is raising an average of $73,000 per month so far this year, a 13.3% increase from last year.
Mokhtee Ahmad, the regional administrator for Region VII, which includes Missouri, referred a reporter's questions to the administration's press office in Washington.
Also on Tuesday, a top aide to Mayor Lyda Krewson said Tuesday that city officials are looking into the possibility of coming up with financial aid to help the struggling Loop Trolley avoid looming insolvency.
"The city has not ruled it out," mayoral chief of staff Steve Conway said in a brief interview.
Conway made no commitment and didn't elaborate on what revenue sources are being looked into.
However, Mary Ries, legislative director to Board of Aldermen President Lewis Reed, said no one had filed legislation for an appropriation.
Reed said in a statement: "The project was to be funded by ridership. St. Louis has numerous demands on its budget including addressing crime issues, critical infrastructure repairs and continued investment in our recreation centers to keep our youth involved in positive activities. The project must be able to stand on its own economically. I recommend they seek private funding before asking the city to divert funding for more critical issues than a trolley."
On Tuesday night, St. Louis County Executive Sam Page called for new governance of the trolley and said the region needed transit but not a "rolling comedy club."
In remarks to the County Council, he said: "I hate to see an investment of this magnitude fail, particularly when it could threaten future funding opportunities, but I cannot support handing over any more county funds without similar investments from other stakeholders. And at this point, no one else has stepped forward."
He said a contribution from the city would be welcome but that the trolley "won't work without big changes. Changes in how it's operated. Changes in how it's funded. Changes in how it's governed. Unless there are big changes, the trolley system will not be able to inspire confidence. But a new governance model, new sources of funding and a new operating plan could do that. If we choose to pursue this third option, and the trolley must shut down while a reimagined system is put into place, well then, so be it."
In a brief interview during the council meeting, Joe Edwards, the Loop developer who serves as chairman of the trolley's financing district, told a reporter that Page's comments were "well reasoned" but that he didn't know what the county executive had in mind for a governance change.
Meyer, in a letter last week to Krewson and others, suggested that the city tap some of the sales tax money approved by voters in 2017 for eventual MetroLink expansion.
Meanwhile, the presiding officer of the St. Louis County Council — Councilman Ernie Trakas, R-6th District — has said the council will take no action on trolley officials' plea for financial help from the county.
The trolley also plans to reduce its hours of service by 24% — from 38 hours a week to 29 — beginning on Thursday to help make up for continuing budget shortfalls.
Trolley cars will stop operating at 6 p.m. on Thursdays, Fridays and Sundays. That's two hours earlier on Thursday and Sundays; 5 hours earlier on Fridays. The schedule for Saturdays remains unchanged (noon to 11 p.m.).