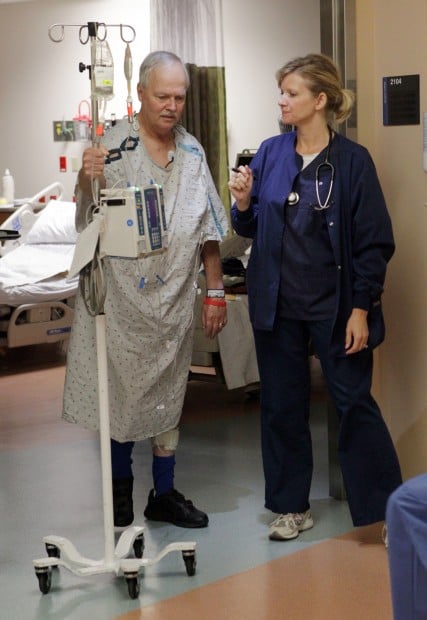 WASHINGTON • The St. Louis region won't feel much impact of federal spending cuts stemming from the debt and deficit deal any time soon, but residents better get used to long-term austerity that will grip the government for the foreseeable future.
That message rang loud during the months-long haggling to avert default on federal obligations and sounded again as lawmakers headed out of town this week for their August recess.
"They're going to have to meet their own responsibilities without the level of help that they may have received in the past because the federal government has run out of its capacity to help," Sen. Roy Blunt, R-Mo., said when asked about the impact on state and local governments.
But the effect mostly will be delayed in a Washington-style arrangement that puts off hard decisions until later. Even though long-term savings are being calculated in the trillions, cuts in the new fiscal budget starting Oct. 1 likely won't exceed a relatively modest $22 billion or so, money that will be trimmed across the board. As a result, most spending programs will remain basically unchanged for the next two years.
States and hospitals were relieved that they avoided the Medicaid cuts they feared. And industries, including ethanol, were able to avoid direct hits discussed in the run-up to the deal.
The defense industry will be especially vigilant when the newly established 'super committee" convenes to carve out $1.5 trillion in deficit cuts by Thanksgiving. Failure by that 12-member panel of lawmakers to find acceptable solutions could fall hard on defense as well as on spending programs that cities rely on.
The city of St. Louis could feel the burden of such a failure in cuts to community development block grants, relied on to provide a host of services from safety to streetlights to housing for the elderly and homeless. The city already is anticipating diminished funding for roads, as less federal money flows to states.
Also, a dramatic reduction in money for new rail projects has dimmed hopes of extending MetroLink any time soon. For the next two years, barring the unforeseen, the debt compromise this week provides a measure of stability for existing services. Anything beyond that, observed James Brown, who lobbies in Washington for the city of St. Louis, "is precarious."
Overall federal spending pumped $34 billion into St. Louis' $125 billion regional economy in 2009, according to figures from the Department of Commerce. That includes everything from Social Security checks to F-18 contracts to flood insurance, and it amounts to nearly $12,000 per person — a number slightly inflated by the federal stimulus passed that year.
Each of the region's five biggest employers — BJC Healthcare, Boeing Co., Washington University, SSM Healthcare and Scott Air Force Base — gets a big chunk of its revenue from federal programs that will be in budget-cutters' sights: defense contracts, Medicare and research grants. And this uncertainty has bosses at each of those institutions keeping a close eye on what comes next.
At BJC, more than one-third of the $3.6 billion in annual revenue comes through Medicare. Add in Medicaid, the joint federal-state health insurance program for the poor, and more than half of all the dollars are public. The budget deal leaves Medicaid alone and leaves controversial changes in Medicare to the deliberations of the special committee. But if there's failure this year to reach the deficit reduction target, Medicare providers would see an automatic 2 percent reduction in payments.
How that 2 percent will fall is unclear. BJC chief executive Steve Lipstein says other sectors of the health care industry — insurers, drug companies, device manufacturers — should carry some of the burden, too.
Cuts 'shouldn't be targeted disproportionately at teaching hospitals or hospitals that treat the poor," he said. "We're all going to have to bear our fair share of belt tightening."
Next door at the Washington University School of Medicine, Dean Larry Shapiro also is worried about the impact of Medicare cuts. But even more, his institution would feel cutbacks at the National Institutes of Health.
The NIH is a roughly $31 billion chunk of "discretionary" federal spending, and every year it sends about $400 million in research grants to Washington University's medical school — more than one-fourth of the school's budget. If that funding fell by, say, 10 percent, Shapiro said, it would likely mean layoffs of researchers and support staff and generally less research going on at the Central West End campus.
"That would be very substantial," he said. "It would result in some significant loss of employment."
Both Lipstein and Shapiro said they have been expecting Medicare cuts for some time — the program's growth is clearly unsustainable — and have trimmed expenses where they can. BJC is saving $400,000 with new energy-efficient lighting, for instance. But the debt deal will accelerate that process.
For the defense industry, the compromise could hasten what defense specialists refer to as a build-down in capacity, budget reductions that could prove painful in the St. Louis region. Boeing, which has its $32 billion-a-year defense unit headquartered in north St. Louis County, has been watching as the scope of potential cuts became clear.
According to a White House analysis, the new legislation calls for cuts of $420 billion over 10 years in security spending, an umbrella term that includes the Defense Department, Homeland Security Department, Veterans Affairs and several other agencies. Of that, $350 billion would come from Pentagon programs. But in each of the next two years, those security cuts are relatively modest — roughly $5 billion.
After that, there's a potential of far deeper cuts under the deal hammered out this week. If the recommendations of the panel to be named shortly are not affirmed by Congress, security spending would incur roughly half of $1.2 trillion in automatic cuts, with the details left to Congress.
The possibility of either the committee failing to reach agreement over cuts or Congress not approving them appears strong given the raging dispute over whether a deal should include higher taxes for the wealthy. Then the question becomes whether future Congresses will abide by the bargain struck this week.
Gordon Adams, a former White House national security budget specialist, is doubtful. "This is not a hard-budget agreement; this is Kabuki that gets us through the first Tuesday of November next year," he said. He was referring to a form of Japanese drama and the next presidential election.
Adams, a fellow at the Stimson Center — which specializes in security and peace issues — said he expects blueprints for Pentagon spending to be rewritten in the future. Nonetheless, he believes that overall budget constraints and the removal of troops from Iraq and Afghanistan add up to a military build-down, the fourth since the Korean War.
It's too soon to know how the debate will play out and far too soon to tell specifically what programs will be targeted. But Boeing spokesman John Morrocco said the company plans to keep diversifying its revenue base. That means looking for new customers overseas and continuing to expand in growing areas such as cybersecurity, unmanned planes and energy management.