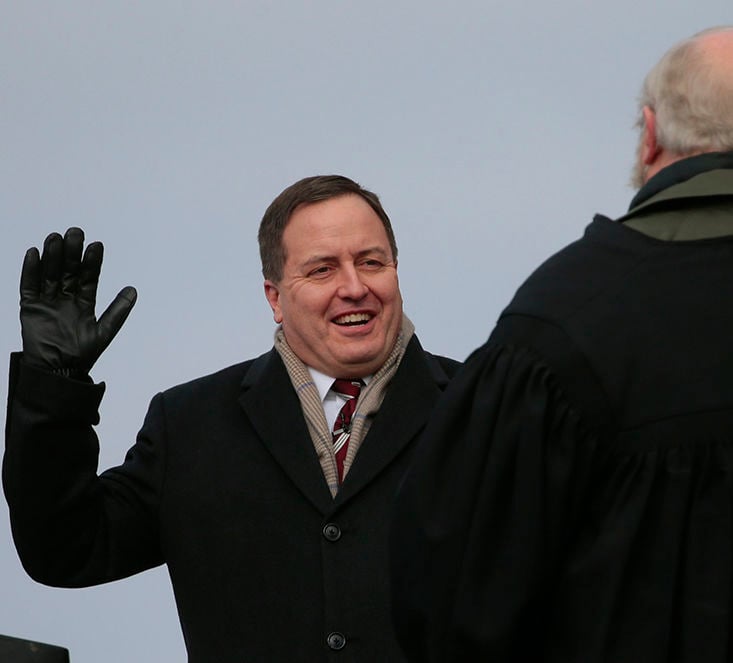 JEFFERSON CITY — Following the lead of Republicans across the country, Missouri Secretary of State Jay Ashcroft is pushing the GOP-led Legislature to enact a series of changes to state voting laws.
His wish list, released Monday, includes requiring a photo ID to cast a ballot, as well as a requirement that county-level election officials purge their voter rolls.
"We want to be proactive rather than reactive. We are not trying to enact legislation because something happened, we want to establish legislation that will prevent something from happening," Ashcroft said in a statement.
"Voter suppression will not improve elections but instead call their legitimacy into question. Every legal Missouri voter should be able to cast a ballot and have confidence their vote will be counted. The secretary of state's proposals would do more to prevent voting than to prevent fraud," said House Minority Leader Crystal Quade, D-Springfield.
"The Republican Party, which continues to push the Big Lie, now wants to wage an all-out war on our democracy by ending free and fair elections. Jay Ashcroft's wish list of new laws would install an authoritarian government where Republican politicians can purge the rolls of any voter who doesn't come from the extreme fringes of their party," said Senate Minority Leader John Rizzo, D-Independence.
But the head of the House Elections and Elected Officials Committee dismissed those concerns.
"We're doing everything we can to make sure everybody can vote," said Rep. Dan Shaul, R-Imperial. "Our goal is to make sure the 2022 election is safe, secure and transparent as possible."
Ashcroft's blueprint and the reaction to it came as lawmakers returned to the Capitol Tuesday in anticipation of the start of Wednesday's one-day veto session.
Committees on voting laws were scheduled to meet Tuesday to keep the issue of elections on the front burner heading into the Legislature's regular session, which begins in January.
During the spring session, the House sent the Senate a package of voting changes — including a photo ID requirement — but the upper chamber did not take action on it before adjourning in May.
Known as "curing," Ashcroft said all ballots in all counties should be counted the same.
"Look, when you introduce variations into the voting process; like ballot curing, you open the door for potential problems — especially when some jurisdictions have last-minute procedural changes while others do not," Ashcroft said.
Rep. John Simmons, R-Washington, said the purpose of the hearings this week is to keep election security in the spotlight.
"I don't expect anything new to come up," Simmons said.
"It's really to keep the conversation moving forward and to make sure our citizens know what we're talking about," Shaul said.