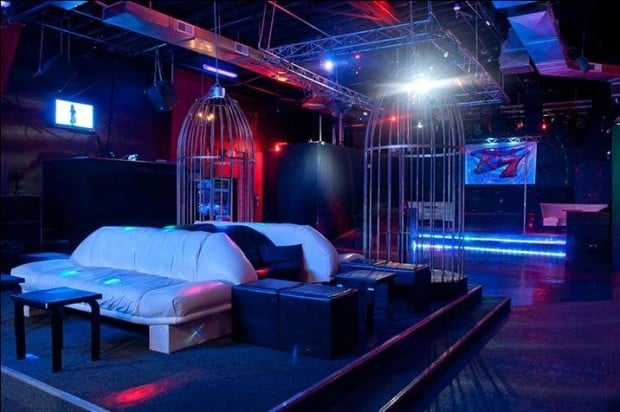 ST. LOUIS • The city liquor commissioner is preparing to shut down a south St. Louis nightclub after an undercover sting discovered an alleged sex party this weekend.
Police and city liquor control officers posed as patrons Saturday night at The Red 7 nightclub and lounge, at 8658 S. Broadway, about a block from the River Des Peres near the new River City Casino.
When the officers entered the "couples only" event, they found women with their shirts unbuttoned and clothing removed, couples openly fondling each other and groups having oral sex, according to the city investigation report just released today.
Excise Commissioner Robert Kraiberg said that, over two decades as city liquor chief, he has seen a few clubs busted for breaking the city's "lewd and indecent conduct" ordinance - Girls Gone Wild videotaping, risqué lingerie parties, and the like.
"But this is exceptional," he said. "It's sort of like raves used to be. If you're not watching the swinger pages, you're not going to know about it."
Bar co-owners Alen Prohic and Jeffrey Koenigs did not return calls seeking comment.
Officers said in the report that they identified Prohic standing inside near the front door Saturday night.
In the report, the St. Louis police department and the city excise commission said they had both gotten anonymous tips concerning various violations at the club, including minors drinking and "sex parties" hosted every month.
Three police officers and one liquor control officer met Saturday night and paired as male-female couples, according to the report. They paid $30 each to enter, and approached a sign-in table for the "St. Louis Adult Connection" inside the club.
A man at the table identified only as "Todd" told them that the Connection used the venue every month from August through May, the report said.
"Anything goes here, but no means no," Todd told the officers, according to the report. "The sex is give and take; you get with someone's date, they can get with yours."
The officers kept a police lieutenant apprised of their work by cell phone, the report said.
Just before midnight, an announcement came over the speakers that police were entering the building. Patrons stopped the sex acts and swarmed the door, the report says.
The report does not say how many attended the party, but a liquor commission staffer estimated about 150.
City court summonses were issued to one patron for "Lewd and Indecent Conduct" and to Prohic for "Permitting Lewd or Indecent Conduct or Entertainment in a Licensed Liquor Establishment," according to the report.
Liquor Commissioner Kraiberg said he'll meet with owners tomorrow. They will have the choice of surrendering their liquor license or facing a hearing on the charges. In a hearing, Kraiberg would serve as a judge of sorts, and could warn the owners, fine them, suspend their license or revoke it. If he revokes the license, they will not be able to reopen a bar soon.