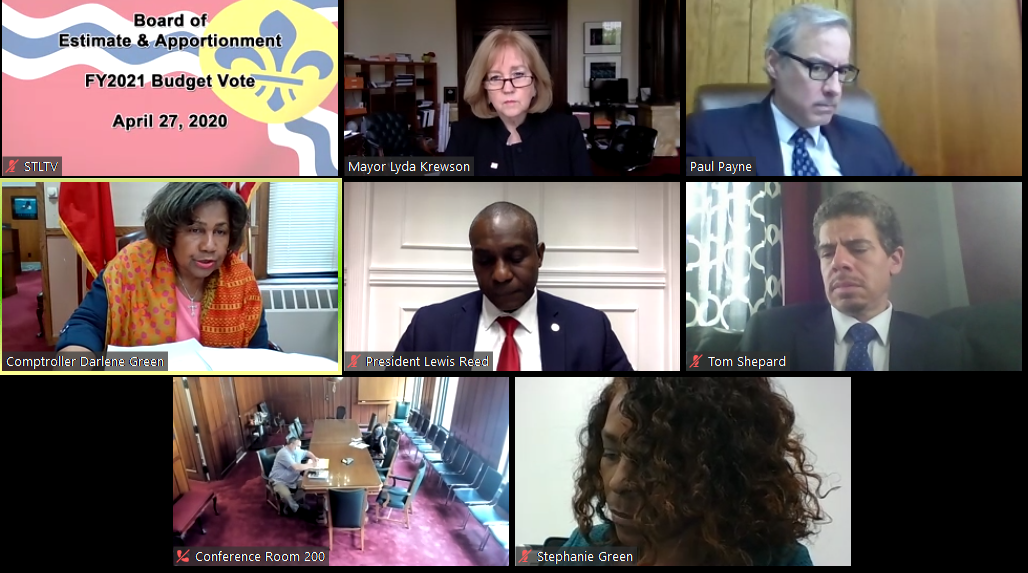 ST. LOUIS — Seeking to avoid a cut to the affordable housing trust fund, top city leaders voted Monday to stash away $1 million less in reserves than the $3.4 million they initially planned to set aside next fiscal year and instead keep funding for housing programs at $6 million.
The vote by the St. Louis Board of Estimate and Apportionment — made up of Mayor Lyda Krewson, Comptroller Darlene Green and Aldermanic President Lewis Reed — officially sends a proposed budget for the fiscal year that begins July 1 to the Board of Aldermen for hearings. With sales and earnings tax revenue dropping amid COVID-19 shutdowns, city budget analysts are projecting a roughly $40 million hole next year.
Hiring freeze, reduced pay hikes and cuts in demolition and housing aid programs are part of a plan to deal with estimated $40 million shortfall. More 'draconian' cuts are on the table, mayor says, if tax revenue takes longer to rebound.
Among the cuts proposed across city departments was $1 million less for the Affordable Housing Trust Fund. In recent budget cycles, advocates pushed Krewson and aldermen to contribute more to the affordable housing program after underfunding the program for years. Voters approved a use tax in 2002 meant to send a minimum of $5 million to the fund every year.
She said it was "difficult" to use reserve cash.
The reserve has become a regular budget line item, and recent surpluses have allowed the city to grow the fund considerably over the last two years. St. Louis Budget Director Paul Payne proposed continuing that effort, working toward the unofficial goal of 10% of the general fund. Reserves are currently at 8.2%, or $42.8 million — far better than in the years following the Great Recession, when they were depleted to balance budgets.
Mayor, comptroller and aldermanic chief respond to concerns expressed by housing activists and officials with neighborhood groups at budget hearing.
But Krewson pointed out that the city is already proposing to cut the workhouse's budget by roughly half, to about $8.8 million, which includes trimming about 89 mostly vacant positions. Prisoner counts have dropped there and stand at about 100 now, Krewson said, but she said the city still needed flexibility to house people awaiting trial.
Activists say it's undermining the will of voters, if not against the law, to not fully fund the Affordable Trust Fund.
"We don't want to take everybody from (the workhouse) and scrunch them together (downtown) during the (COVID-19) crisis, so that's why I took it from the fund balance," Krewson said. "But I'm certainly in favor of reducing (the workhouse) as much as possible."
Officials expect a $37.5 million deficit this fiscal year, and have frozen hiring and begun cutting expenditures. There have been no furloughs or layoffs yet, and Payne said the city has not had to dip into its reserves.
Payne said all efforts must be taken to prevent using reserves to pay bills this year.
"There's so much uncertainty in those numbers that it could be worse," he said of the current estimates. "And we need to be prepared for that."