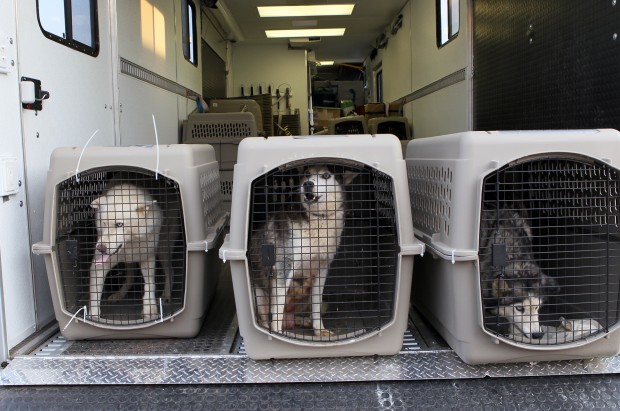 State voters gave a thumbs-up Tuesday to initiatives requiring referendums on city earnings taxes and regulating dog breeders.
Proposition A, the earnings tax question, won handily statewide, but Proposition B, the dog-breeding initiative, lost in most rural counties. Support from urban areas allowed the Humane Society to declare victory just before midnight.
St. Louis and Kansas City, the only cities that levy earnings taxes, were going against the tide and rejecting Proposition A. That could signal that the taxes won't disappear anytime soon.
Proposition A will require voters in the two cities to decide next spring whether to keep their 1 percent wage taxes, paid by anyone who works or lives in the cities. If city voters reject the taxes, they will be phased out over 10 years. If the taxes are retained, they will be up for renewal again in five years.
Elsa Hirzel, who voted in the Central West End, said the issue drew her to the polls.
"I would have crawled here on my hands and knees to vote against Proposition A," Hirzel said. "We love the city, and we think the 1 percent earnings tax is important for its vitality."
The tax provides about one-third of the general fund budget in St. Louis. City officials have warned that eliminating the tax would be devastating to the city unless alternative revenue sources were found.
James Haney, 43, of Shrewsbury, voted for Proposition A.
"I kind of hope this forces their hand," Haney said of making government more efficient. "I think a lot of services in the city and the county could be combined."
The man behind Proposition A — retired financier Rex Sinquefield of St. Louis — was conspicuously quiet during the campaign.
Sinquefield contends that income taxes deter new business and industry. He spent $11.2 million on the campaign. 
"Tonight, close to 1.2 million Missourians voted overwhelmingly for a voice in how they are taxed by their local governments and this spring, St. Louisans and the people of Kansas City will have that opportunity again," Sinquefield said in a statement.
St. Louis Mayor Francis Slay stayed out of the campaign, arguing that it was a slam-dunk statewide because it also prevents other cities from authorizing earnings taxes.
However, on Tuesday, Slay was gearing up to fight to retain the tax in the April 5 city election.
"We need to keep the tax in place," Slay said Tuesday night. "Otherwise, we will not be able to provide the fire and police services, and other services."
St. Louis Alderman Steve Conway said the city's vote against Proposition A showed that St. Louis voters understood there was no viable alternative.
Sinquefield 'spent $12 million, and he lost the city he thought he was trying to save," Conway said.
The dog-breeding issue also relied primarily on one benefactor: the Humane Society of the United States, which sank more than $2 million into the campaign run by Missourians for the Protection of Dogs.
Animal advocates have long called Missouri the "puppy mill" capital of the country because the state has more dog breeders than any other state and a history of lax regulation. Proposition B supporters flooded the airwaves with ads showing pictures of dogs living in filthy, crowded cages.
"They need more regulation," said voter John T. Kerry, 47, of south St. Louis. "Every time I turn around, I see another puppy mill closed down."
The act, which would take effect in a year, would require anyone who has more than 10 breeding dogs to meet certain standards for housing, food and veterinary care. Stacked cages and wire flooring would be prohibited.
Owners would be limited to no more than 50 breeding dogs. About one-third of the state's 1,455 licensed commercial breeders have more than 50 dogs now.
The opposition portrayed the measure as the first step toward excessive regulation of all forms of animal agriculture. Cows, pigs, chickens and horses could be the next targets, opponents said.