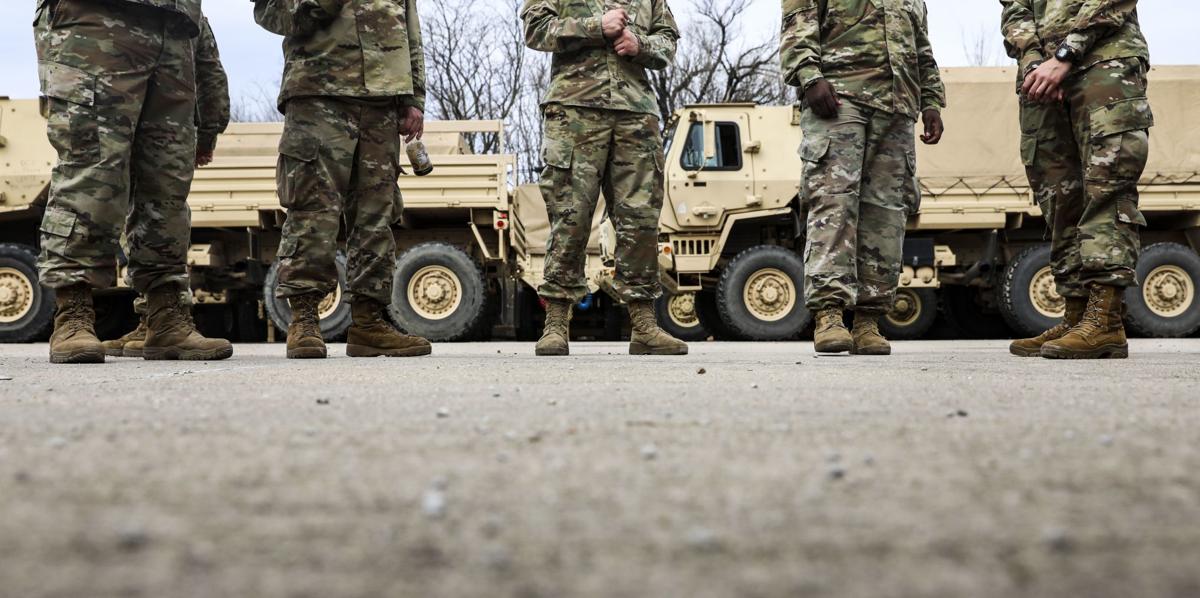 As the number of people testing positive for the new coronavirus in the St. Louis region increases by the day, there is the start of a subtle shift in response by local health departments.
They are focusing less on how people got COVID-19 and more on how many others were exposed to the disease.
"When the spread is everywhere, there's no point in doing that anymore," Demetrius Cianci-Chapman, director of the St. Charles County Department of Public Health, said about the investigations sometimes known as "contact tracing."
In a news conference Thursday, Ngozi Ezike, director of the Illinois Department of Public Health, said that seven more people died of COVID-19 in the state, and 673 more tested positive, for a total of 2,528.
In Missouri, there were 146 more cases, bringing the overall total to 502.
"A large number of these cases have been in the age bracket of 20- to 29-year-olds," Gov. Mike Parson said at a press briefing. "This shows that it doesn't matter how old you are. You're still at risk. And we need everyone to take this seriously."
St. Louis County officials said Thursday that a woman in her 80s with chronic medical conditions had died, and the county recorded 24 new cases, for a total of 143. The woman's death was the second in the county linked to the virus.
Lisa Cox, spokeswoman for the Missouri Department of Health and Senior Services, said "contact tracing by local public health agencies for each identified case is still occurring, but with the number of cases increasing each day, this process may need to be limited to investigations in high-risk facilities such as nursing homes or other long-term care facilities."
She said that decision is up to local officials.
Health officials will still be asking a series of questions that aim to determine how someone was infected and what they've done since then.
Cianci-Chapman said that most of the cases in St. Charles County are travel-related, and was able to provide the likely causes of all but one of the county's first 10 cases. Of the next 14, six were still under investigation as of Thursday afternoon. Tracing the cause of an individual infection is important in the beginning of an outbreak, he said, but can be a lengthy process.
"There's not a real clear line about when that judgment call is made," Cianci-Chapman said about changing focus. "When you have sustained community spread, and it is exhausting your resources, you switch."
Fredrick Echols, director of the St. Louis Department of Health, said Thursday that staff are still working to track the possible source of infection when a positive test is reported.
"The contact tracing protocol is really important," he said, as one way to slow or stop the spread of the virus. Asked if the department might ever become overwhelmed, Echols said other department employees have been tapped to help if there is a surge in cases.
Spring Schmidt, co-director of the St. Louis County health department, said staffers are still trying to trace the origin of a person's infection, but many who test positive do not know how they got it.
Echols, Schmidt and Cianci-Chapman said that people are generally being compliant with stay-at-home orders and the need for self-quarantine after a potential exposure.
"It is extremely helpful. We're very grateful," Cianci-Chapman said.
In other developments Thursday, Illinois Gov. J.B. Pritzker said that the state's request for a disaster declaration had been approved by the Trump administration. Gov. Parson's office later announced that Trump had approved a similar declaration for Missouri.
Pritzker also activated a National Guard unit based in East St. Louis that will help with medical warehouse operations in central Illinois and other tasks.
He said that nearly 1 million units of personal protective equipment were being delivered around the state. And he announced that a new initiative to support not-for-profit organizations, the Illinois Covid Response Fund, has already raised $23 million. The fund will support groups across the state that are supplying food and other basic supplies, shelter, expanded health care services, and assisting with utility costs.
Pritzker said that retired health care workers were answering a call to help with the crisis, "jumping at the chance to serve once more." Sam Page, the St. Louis County executive, also asked Thursday for medical professionals who would be willing to volunteer.
Page said in a video posted to YouTube that medical workers who are retired or not in clinical practice could volunteer by visiting the county's coronavirus response website, stlcorona.com, or emailing medicalvolunteer@stlouisco.com.
"We need your help here in St. Louis County, and we need your help now," he said. "In the coming weeks, our hospital systems could be overwhelmed by the number of patients who need treatment. We need your help to prevent that from happening."
Pritzker, meanwhile, warned those who took advantage of warm weather Thursday by crowding parks or traveling to the Chicago lakefront.
"Throwing all caution to the wind in the midst of a deadly pandemic is not acceptable," he said, and would put friends, family and strangers in danger.
"You are spitting in the face of the doctors, nurses and first responders who are risking everything so that you can stay alive."
Despite rumors about police checkpoints being used to verify compliance with stay-at-home orders, police in St. Louis city and county said Thursday that they were not conducting checkpoints. Maj. Jeff Connor of the Madison County Sheriff's Office said in an email that he had not heard anything about checkpoints and knew of no issues with compliance.
Cianci-Chapman said that the St. Charles County police chief checked with local law enforcement agencies and could find none conducting that kind of enforcement effort.
St. Louis County police Sgt. Ben Granda said police were not making arrests on violations of the order. "We're very optimistic that people are going to use common sense and good judgment," he said, adding, "compliance with that executive order can and will save lives."
Jeremy Kohler of the Post-Dispatch contributed to this report.
---
Concerned about COVID-19?
Sign up now to get the most recent coronavirus headlines and other important local and national news sent to your email inbox daily.