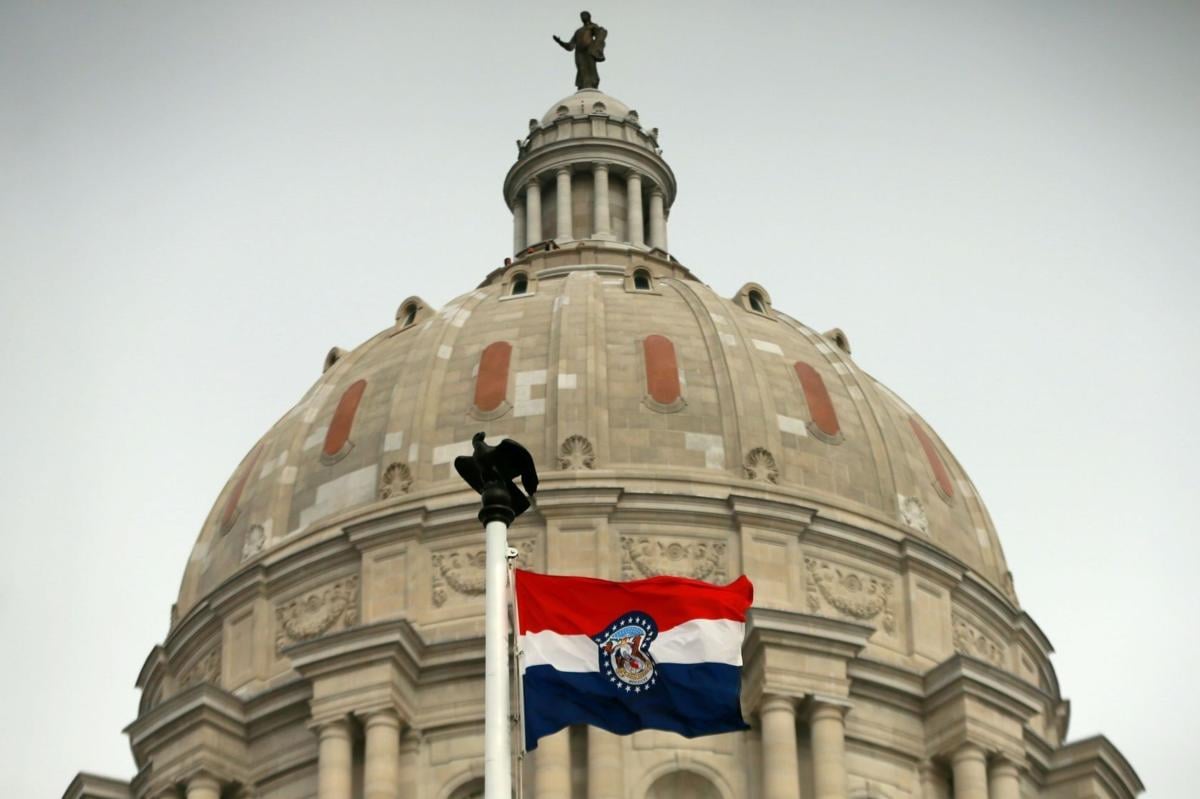 JEFFERSON CITY — The Republican-led Senate sent a controversial gun rights proposal to the House for final approval Thursday after hours of debate and a lengthy filibuster led by Democrats.
The bill, known as the "Second Amendment Preservation Act," had become one of the most contentious measures of the legislative session, which ends at 6 p.m. Friday.
Democrats had stalled a vote on the package, pushing for an amendment designed to stop domestic abusers from possessing guns. That amendment failed shortly before 9 p.m.
Senators approved the bill on a 22-10 vote, sending it to the House for final approval.
A sign of how contentious the issue is, a top Senate leader said earlier Thursday he was the target of threats because of the bill, which had been stalled in the upper chamber.
"It's not the first time it's happened," Senate Majority Leader Caleb Rowden said. "It's part of the job."
The Columbia Republican told the Post-Dispatch police were stationed outside his house, and that the people threatening him via email appeared to be in favor of the bill, which seeks to invalidate federal gun laws.
The Second Amendment bill became a priority this year as Democrat Joe Biden was sworn in as president and Democrats took control of Congress.
On Twitter Wednesday, Rowden said, without mentioning the Second Amendment Preservation Act: "I am disappointed in the tone and demeanor of interactions, including threats against me and my family, related to bills of interest at the end of this #MOLeg session. Civility and respect must exist alongside passion for a principled/political cause. We can and must do better!"
Rowden, asked if the messages he received were death threats, said: "I don't know. Probably depends on how you read it. ... You don't want to make more of it than it needs to be."
Rowden said "not really" when asked if the threats had affected his thought process on that bill.
"Constitutional rights are what they are regardless of who believes in them," Rowden said.
Meanwhile, Sen. Lauren Arthur, D-Kansas City, also said she received angry messages from people supporting the proposed law.
Arthur proposed the amendment designed to prevent domestic abusers from carrying firearms — with the effect of delaying a vote on the underlying bill.
"I think there's a lot of overheated political rhetoric used to scare people," Arthur said. "It causes people to react in irrational and exaggerated ways.
"Ultimately it makes an issue like passing the Second Amendment Preservation Act seem like a matter of life and death, and I think elevates the stakes, when in reality, this bill will likely be ruled unconstitutional," she said.
Arthur's amendment would have closed a loophole in state law that allows people with misdemeanor domestic assault convictions to own firearms.
"There are consequences to actions," Arthur said. "If you decide to beat your wife, then again, the consequence of that is that you should not have access to something that you can use to kill her."
Several Republicans praised Arthur's motives but said they would not be able to support her amendment.
The legislation
The Second Amendment Preservation Act allows people to sue local law enforcement for $50,000 if a police officer "knowingly deprives a citizen of" Second Amendment rights or privileges "while acting under the color of any state or federal law."
It says the department would also be liable if it knowingly employed an individual who had worked for the federal government, or under the color of federal law, to enforce "infringements" identified in the bill or help someone else enforce those "infringements."
Law enforcement officials have raised concerns about the bill, saying it could diminish their ability to coordinate with federal authorities.
The legislation lists several federal actions that "shall be considered infringements" on the Second Amendment, including but not limited to taxes specific to firearms that create a "chilling effect" on the purchase of a firearm, any registration or tracking of firearms, any act ordering the confiscation of firearms from "law-abiding citizens," and any act prohibiting the transfer of a firearm to a law-abiding citizen.
"All federal acts, laws, executive orders, administrative orders, rules, and regulations … that infringe on the people's right to keep and bear arms as guaranteed by the Second Amendment … shall be invalid to this state, shall not be recognized by this state, shall be specifically rejected by this state, and shall not be enforced by this state," the legislation says.
Sen. Rick Brattin, R-Harrisonville, was one of several Republicans to say Missourians' capacity to overthrow a tyrannical government would be safer under the proposal nullifying federal gun laws.
"The Second Amendment was not meant for protecting your hunting rights," Brattin said. "It was in case we have a tyrannical government that infringes upon our constitutional rights and suppresses our way of life. It was people's mechanism to be able to overthrow the government."
Sen. Karla May, D-St. Louis, asked for the same commitment to combating "tyranny" directed against Black Missourians.
After a year in which people nationwide protested the killing of unarmed Black people by law enforcement, the Missouri Senate earlier this session approved legislation to give police additional protections when they are accused of wrongdoing and to increase penalties for protesters who block roads or damage statues.
May alluded to those efforts, and to Republicans' enthusiasm for the nation's founding documents, while questioning whether senators would join her in fighting oppression directed at people of color.
"I'm asking for that same help, or same passion, in helping me to address the tyranny that I think was imposed upon African Americans by these same Founding Fathers," she said.