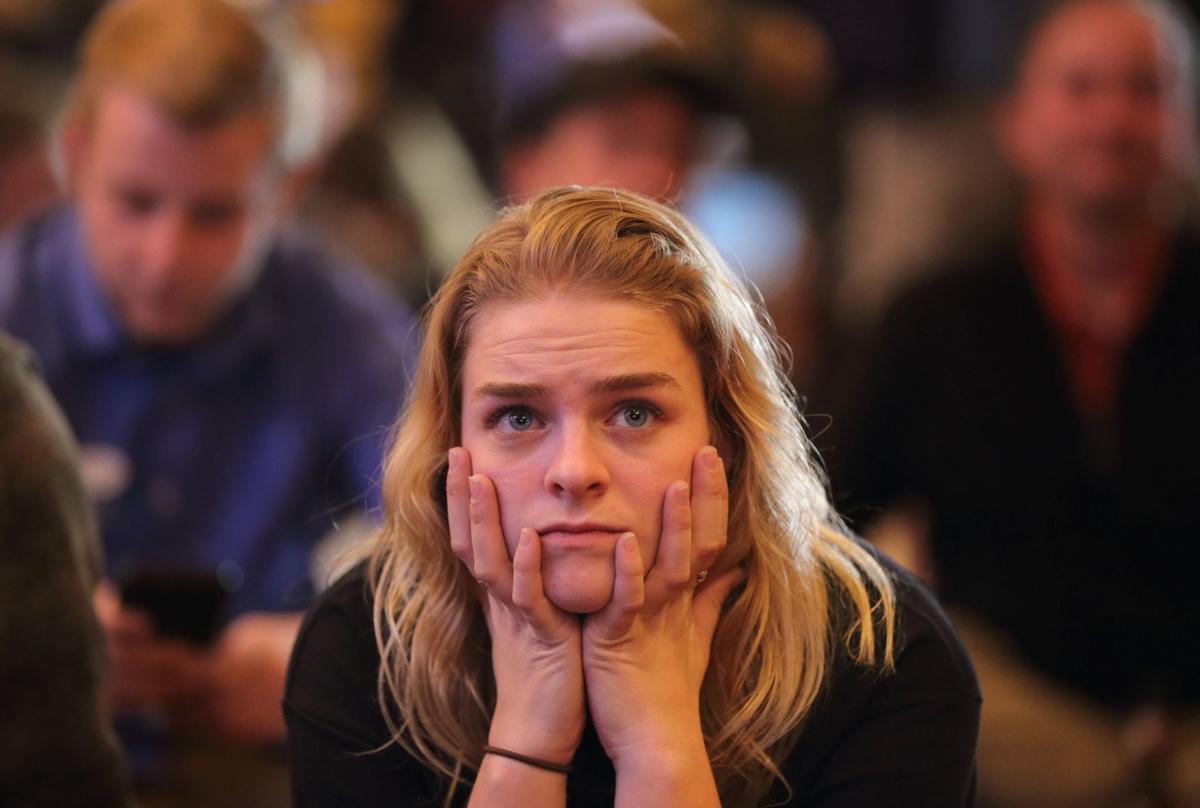 JEFFERSON CITY • Democrats in Missouri, once a potent force in state politics, were relegated to the wilderness by Missouri voters in Tuesday's midterm elections.
Just two years ago, the Show-Me state had Democratic officeholders spread throughout state government. Offices of the governor, secretary of state, treasurer, auditor, attorney general and U.S. Senate were all in Democratic hands.
Now, Auditor Nicole Galloway, who won Tuesday over Republican Saundra McDowell, is the lone Democrat standing after U.S. Sen. Claire McCaskill lost her re-election bid to Republican Attorney General Josh Hawley.
And, analysts say, there is no clear path back to relevance in a state in which rural red areas are becoming more dominant in deciding the outcome of statewide races.
"The playing field for Democrats looks terrible for Democrats this morning," University of Missouri-St. Louis political scientist Dave Robertson said Wednesday.
Up until two years ago, Democrats were able to win by cobbling together coalitions of urban and suburban voters and identifying with residents in some areas that have now turned deep red.
In 2016, for example, then-Attorney General Chris Koster was able to gain the support of Republican-leaning organizations such as the Missouri Farm Bureau and the National Rifle Association in his quest to beat Republican Eric Greitens.
But Trump's 19-point victory that year, and Greitens' outsider campaign, erased the crossover appeal of Koster's candidacy.
Robertson said the future for Democrats would depend largely on picking the right candidates and finding cracks to fill in the Republican agenda on issues such as economic stability.
"Individual candidates have a way sometimes of finding a sweet spot, like (former Gov.) Jay Nixon did," Robertson said. "In part, this is going to depend on the quality of the candidates and their skill at finding an agenda that appeals to a large number of Missourians."
To do that, Democrats will have to listen to people in rural areas to determine how they can fit in.
Rep. Bruce Franks, a St. Louis Democrat, said members of his party must work with lawmakers from rural Missouri to forge better ties and bring the state together.
"I think that's a big part of it, being able to work across the aisle," Franks said. "We do have a lot of commonalities. We do have a lot of common interests."
He said Democrats needed to find a way to motivate voters as they did in the city of St. Louis Tuesday, where more than 59 percent of the registered voters went to the polls.
"How can we duplicate that across the state?" Franks said. "I am absolutely disappointed in the results. But, I know we still have to fight. We've got to patch it up and get out there. 2020 will be there before we know it."
Rep. Kip Kendrick, D-Columbia, said the Democratic rebuilding process could take longer than two years.
"The party infrastructure had really deteriorated over the years," Kendrick said. "It's going to take us a while."
Robertson said Democrats "need to find ways to make themselves credible in delivering on that agenda. The rejection of Claire McCaskill by just about every county in the state really speaks volumes about the condition of the Democratic Party at this point. Democrats need to find out what kinds of ways they are perceived as unsafe for voters," he added.
For the time being, Stephen Webber, the chairman of the Missouri Democratic Party, will be the one to lead the party out of its morass.
Webber could not immediately be reached for comment Wednesday, but he did find some reasons to cheer Tuesday night.
"You just raised the minimum wage for 677,000 of your hardworking neighbors," read the tweet from the campaign committee supporting the amendment.
Franks said Webber's two-year tenure at the helm of the party operation had been a positive one.
"I'll be the first person to say this. I think our Democratic Party is years better than what it was in 2016," Franks said. "I think Stephen Webber has done an excellent job. I think the Democratic Party and their entire staff has done a good job."
Kendrick, too, credited Webber for jump-starting the rebuilding process.
"We feel like the foundation has been laid. It's going to take time," Kendrick said.
But others could step up to bolster the party's chances in the future.
Cort VanOstran, who lost to incumbent Republican U.S. Rep. Ann Wagner of Ballwin, 51 percent to 47 percent, could be counted on to identify with suburban voters.
McCaskill, who will leave office in January, also could become a motivating force for the party.
On Tuesday, as she conceded the race, McCaskill hinted that she would be sticking around after her 36 years in office comes to an end.
"It is good night, not goodbye," McCaskill said before leaving the stage to a chant of "Claire" from her supporters.