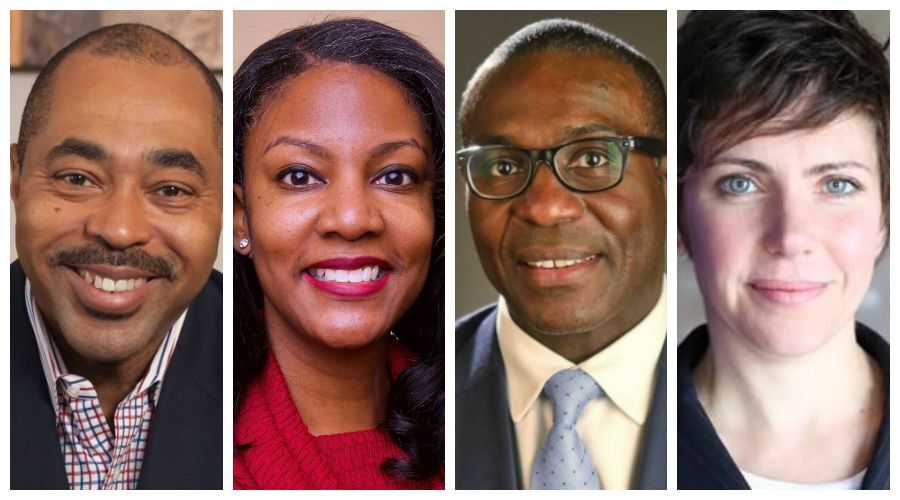 ST. LOUIS — A committee backing mayoral candidate Cara Spencer plans Saturday to launch a television ad campaign against the backdrop of a recent poll showing her still trailing the better-known Lewis Reed and Tishaura Jones.
The 30-second commercial, paid for by a pro-Spencer group called Gateway to Progress, aims to widen the 20th Ward alderman's standing with voters outside her own area in her first race for citywide office.
"Cara has room to grow her name recognition and our goal here is to introduce her to as many voters as possible," said Jordan Overstreet, the committee's manager.
The ad, among other things, says Spencer has stood up for working families, "cracking down on predatory lenders, slum landlords and City Hall insiders."
The new poll, taken Feb. 3-4 for the Missouri Scout political news service, showed 59% of respondents saying they would vote for Reed, the aldermanic president, in the March 2 primary and 51% for Jones, the city treasurer.
Trailing were Spencer and utility executive Andrew Jones, who the poll said would get votes from 40% and 19%, respectively. The survey of 501 likely primary voters had a margin of error of plus or minus 4.4%.
Under the city's new nonpartisan election set-up, residents can vote for more than one candidate in the primary. In another change, the top two finishers move on to a runoff in the April 6 general election.
The robocall poll, conducted by Remington Research, asked respondents their opinion of each candidate and if the candidate would receive one of their votes for mayor.
A copy of the poll was released last week by Reed's campaign. Dave Drebes, who runs Missouri Scout, on Wednesday did the same.
A previous poll, conducted Jan. 5-8 for Show Me Victories — a Democratic political consulting firm — showed Reed and Tishaura Jones essentially running neck and neck.
That survey, which posed questions differently, said 30% of respondents said Reed was their first choice while 28% supported Tishaura Jones. The margin for error was plus or minus 4%. Spencer and Andrew Jones were the first choices of 11% and 5%, respectively.
Reed and Tishaura Jones have each run multiple citywide races over the years.
Show Me said when releasing its poll that the firm isn't working in the mayoral campaign although a former staffer, Patrick Lynn, later became Reed's campaign manager.
Meanwhile, TV viewers can expect to see some Reed campaign ads in the next few days, Lynn said.
He didn't provide details.
The Spencer ad's mention of lenders is based on her successful push in 2017 to require payday loan companies to pay an annual fee to operate in the city and to impose other requirements.
The ad's reference to slumlords is a nod to her bill removing an exemption for code violation fees in redevelopment areas. Overstreet said "City Hall insiders" refers partly to Spencer's opposition to privatizing St. Louis Lambert International Airport.
Overstreet said the committee so far has bought about $45,000 worth of ad time and that it hopes to spend about $175,000 overall on commercials.
So far, he said, it has raised about $55,000, with the largest contribution, $10,000, from Daniel Ludeman, the former president and CEO of Wells Fargo Advisors. He said the committee, formed in December, will file its first detailed list of donors on state reports due Feb. 22.
The group, a political action committee or PAC, is separate from Spencer's campaign committee and isn't bound by limits on the size of donations.
$100,000 donation to pro-Reed PAC
A Carpenters Union committee on Thursday donated $100,000 to the One St. Louis PAC, which Lynn said is expected to help promote Reed.
Other recent donations included $35,000 from Clayco, $20,000 from Clayco CEO Bob Clark and $25,000 from World Wide Technology CEO David Steward.
Recent donors to 314 Forward, a pro-Tishaura Jones PAC, included Donald Suggs, publisher of the St. Louis American, and Michael Holmes, chairman emeritus of Rx Outreach, who each gave $15,000.
 Originally posted Thursday at 6 p.m.