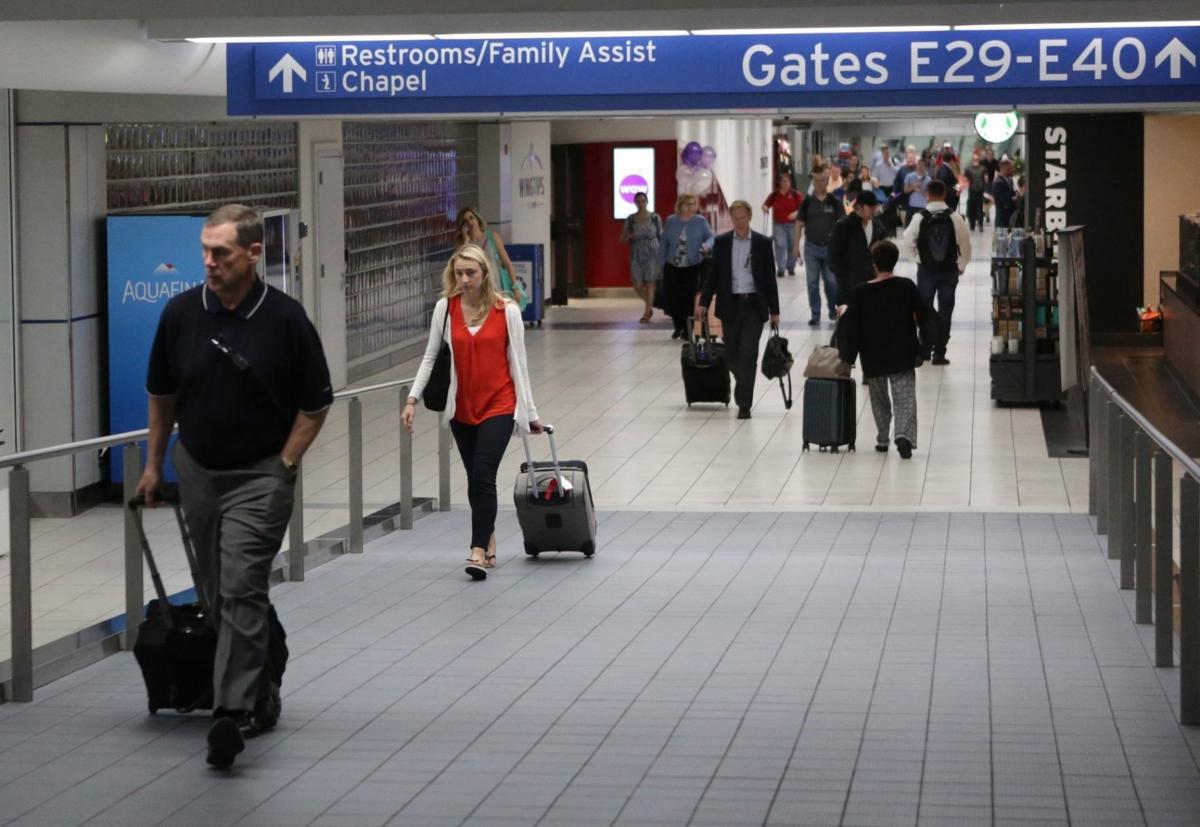 ST. LOUIS — Organizers of a petition drive aimed at privatizing St. Louis Lambert International Airport submitted more than 38,000 signatures Monday to try to get the issue on the Nov. 3 election ballot — about twice the number needed.
"Our proposal will transform St. Louis neighborhoods and provide opportunities to underserved St. Louis residents," Adolphus Pruitt, president of the St. Louis city NAACP, said in a statement.
That's a reference to hundreds of millions of dollars that would be generated for various programs and infrastructure projects in the city through the proposed city charter amendment.
While those two organizations have been the drive's public face, the petition effort has been funded largely by Pelopidas LLC, a firm with close ties to political megadonor Rex Sinquefield. Sinquefield is a longtime advocate of Lambert privatization.
A report submitted Friday by the petition committee showed Pelopidas kicking in $74,583 last week, increasing to more than $391,000 its total in-kind donations to the campaign.
A group opposed to leasing Lambert, STL Not for Sale, decried the petition effort, saying "the more voters know about this rigged deal, the more they see through its empty promises."
The group says a long-term lease would strip voters of their voice and elected leaders "of their ability to hold wealthy special interests accountable."
The charter amendment would, if passed by voters, require the city to lease all or a majority of Lambert to private operators if they pay at least $1.7 billion, with $1 billion upfront. The measure would require 60% approval at the polls.
The charter requires petitioners to get signatures of at least 10% of the number of registered voters at the last mayoral election in 2017. The minimum needed is 19,687, an Election Board official said.
While state law sets an Aug. 25 deadline to qualify for the November ballot, the charter says a petition measure must be before the Board of Aldermen for 60 days after signatures are verified by the Election Board.
Aldermanic President Lewis Reed recently introduced his own version of a charter amendment to restart the Lambert privatization process; it differs in various respects with the petition drive's plan.
But both plans would require the city to move ahead with leasing Lambert if a bidder guaranteed at least $1.7 billion and met other stipulations.
Reed said Monday afternoon that he was moving ahead with his own bill, which is set for a hearing Wednesday before the aldermanic Ways and Means Committee. Things are likely to move quickly on the measure; the board begins a two-month summer recess July 10.
Asked if he envisioned negotiating with petitioners so only one version ends up going before voters, Reed said the petition group would be free to withdraw theirs if aldermen vote to put something on the ballot that the group can support.
Meanwhile, the Ways and Means Committee on Monday held a hearing on a separate charter amendment that, if passed by voters, could potentially require a second citywide vote on Lambert.
That measure, sponsored by Alderman Megan Green, D-15th Ward, would require voters to approve any proposed city contract to lease city assets worth at least $10 million for more than 10 years.
Voters also would have to approve any outsourcing of city services to private companies worth $10 million in excess of five years.
Green, an opponent of leasing Lambert, said her proposal also would apply to any effort in the future to outsource major city operations such as the water department, refuse collection and jails.
Requiring a public vote after a contract is worked out, Green told the committee, "gives the city representatives more leverage to negotiate a better deal for the public."
Krewson's decision to end the city's exploration of privatizing Lambert had followed almost three years of controversy.
While supporters cited the potential revenue windfall, opponents complained that the city would be selling out to private interests and had been doing most of its analysis in closed meetings.
Pruitt and Carpenters Union officials say the coronavirus pandemic and weak economy underscore the need for a major revenue infusion in the city. They say black-majority neighborhoods are of particular concern.
Sinquefield and a longtime associate, Travis Brown, the founder of Pelopidas, had been heavily involved in the city's previous consideration of leasing Lambert.
Grow Missouri, a nonprofit funded by Sinquefield and headed by Brown, paid for the city's application to the federal government and covered millions of dollars in fees to the consultants advising a city working group that considered privatization.