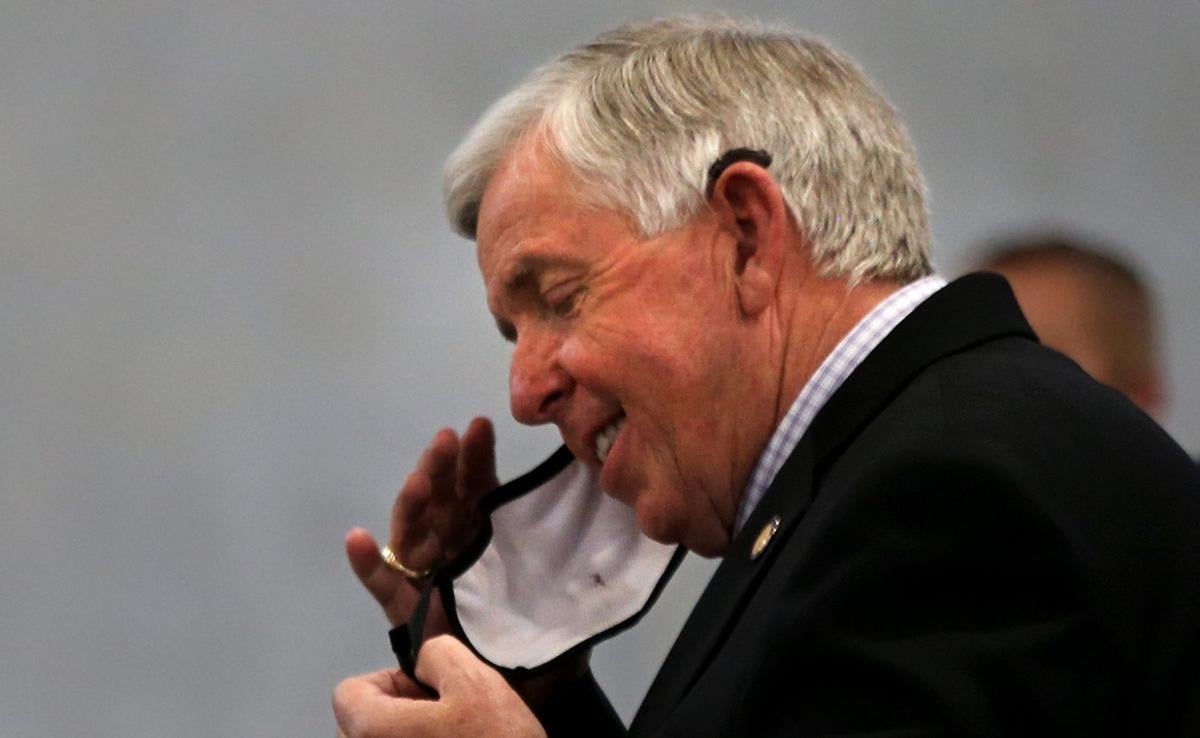 JEFFERSON CITY — A year after a St. Louis County woman became the first person in the state to test positive for the new coronavirus, Missouri has logged more than a half-million infections and 8,000 virus deaths.
Parson has said Missourians took it upon themselves to fight the virus, touting his "balanced approach" to fighting it. But others say the state could have done more. Critics have spotlighted shortfalls in the state's COVID-19 response, from problems with data reporting to a vaccine rollout that has left St. Louisans scrambling to find shots as some rural clinics have reported more supply than demand.
Despite not issuing a mask mandate or other statewide orders, Missouri's per capita case rate is lower than 26 other states, and its deaths per capita are lower than 28 other states and Washington, D.C., according to data from the Centers for Disease Control and Prevention.
Case counts, meanwhile, have fallen 92% since their peak in November, from a seven-day average of 4,723 on Nov. 20 to 357 on March 9.
Parson, a Republican, has said the state's approach to fighting the pandemic — public education combined with no statewide mandates — has put Missouri in a better economic position than it would have been otherwise.
"Missouri has NO STATEWIDE MANDATES and COVID-19 has declined for the 7th CONSECUTIVE WEEK," he tweeted on Friday.
He said the state was logging low case numbers "because Missourians are responsibly taking precautions."
Dr. Bill Powderly, director of the Institute for Public Health and co-director of the Division of Infectious Diseases at Washington University School of Medicine, said in an interview it was unclear why Missouri's case rates were lower than other states in the Midwest.
He said one reason why Missouri was faring better than some coastal states, such as California, in the earlier part of winter may be that there was less circulation of virus variants here.
"It does not appear as if we have much variant virus circulating," Powderly said. "If the variant viruses are coming from other places, it does take a little bit longer for them to get to the Midwest in general."
He said it "would be nice" to attribute declines to vaccinations, though Missouri's vaccination rate is lower than most other states.
Statewide orders would have restrained the virus even more, Powderly said.
"Overall, we would have been, in my opinion, better — in better shape had we had statewide mandates," Powderly said. "With that said, I think the important thing to realize is that the two major cities in the state — Kansas City and St. Louis, that have the most dense population and the highest number of people — did have local mandates.
"That, I think, is very important," he said. "The virus circulates more rapidly and easier in populated areas."
Virus effects
Effects of the virus penetrated seemingly every aspect of state government.
As the economy worsened, tens of thousands of Missourians laid off from work came face-to-face with the state's clunky unemployment system. Complaints of long wait times and delayed checks — or no checks at all — followed.
In early September, officials began facing COVID-19 outbreaks within the state's veterans nursing home system.
Parson's office mobilized testing resources in early October, but by then, dozens of veterans had succumbed. More than 160 veterans in the state's homes have died since September, according to the veterans commission.
Within the state's network of prisons, offenders and their advocates clamored for the release of some prisoners in order to reduce the prison population during the height of the pandemic.
Parson never released prisoners en masse. To date, 45 offenders and six staff members have died of COVID-19, according to the Department of Corrections.
The department has reported about 7,500 positive cases, but as of Tuesday, there were only 31 active infections.
Mixed messages
Though Parson has repeatedly told Missourians to wear masks, he has never required it, despite the federal government urging him to.
"You don't need government to tell you to wear a dang mask," Parson said to a cheering crowd in July.
Republicans have made fun of the face coverings, even though the CDC recommends communitywide adoption in order to slow the spread of the virus.
Sen. Andrew Koenig, R-Manchester, who recently recovered from COVID-19, complained recently that masks gave him a headache and constricted what he described as his big nose.
More than a dozen lawmakers have tested positive for the virus since the start of the pandemic, a situation that has periodically stalled legislative traffic as chambers have had to cancel business.
Still, Parson has not pushed for masking rules in the Capitol, where he works, and many if not most legislators go without masks on a daily basis.
Vaccine distribution
The state has said it has distributed vaccines to each of nine Highway Patrol regions in rough proportion to each region's population.
But both St. Louis and Kansas City officials complained the distribution was inequitable, with Kansas City Mayor Quinton Lucas even calling on the Biden administration for help.
Residents of both urban areas have traveled hours to mass vaccination clinics in rural parts of the state where extra doses have been available.