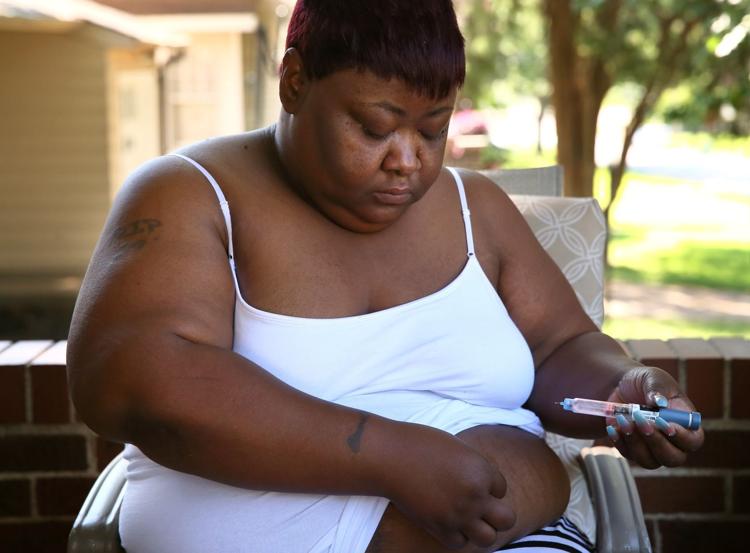 JENNINGS — Shonta Morgan had surgery for pancreatic cancer in 2016. Her pancreas was removed, and as a result, the 42-year-old resident of Jennings relies regularly on insulin.
Morgan, a home health worker, has been uninsured for about two years. She said she had Medicaid coverage until her daughters turned 18. Without dependents now, she no longer qualifies.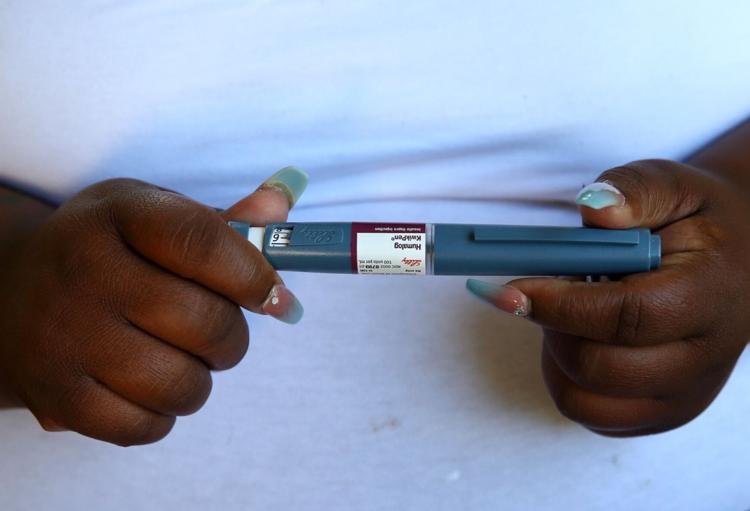 "I don't think people understand the severity of not having health insurance," Morgan said. "If I can't get my medications ... am I going to be able to still live a normal life?"
Morgan's prescriptions cost $837 each month. Of that, about $230 goes toward just one of the two insulin products she needs. Sometimes, she said, she skips doses to make them last longer and avoids doctors' offices in fear of $75 copays.
On Aug. 4, Missouri voters will decide whether to expand Medicaid, the federally subsidized health care program for the poor, after a decade of repeated rejections by the Republican-controlled Legislature. The outcome of that vote could decide whether Morgan and more than 230,000 other Missourians gain health coverage or not.
The Affordable Care Act, signed into law by President Barack Obama in 2010, expanded Medicaid coverage to all adults under 65 who make less than 138% of the federal poverty line, though a 2012 U.S. Supreme Court ruling made expansion optional for the states.
Missouri is among 13 states — most in the Deep South — that have resisted Medicaid expansion, arguing that it would cost too much, especially if the federal government were to stop sharing the cost.
The federal government covers about 65% of Medicaid costs, while the rest comes from the state. But populations covered under Medicaid expansion would have 90% covered by federal funding.
Republicans believe it will cost the state money, resulting in cuts to education and other state programs.
Sen. Dan Hegeman, R-Cosby, who chairs the Senate budget committee, is among critics of expansion.
"Medicaid continues to eat up more and more of that pie every year, And it's doing it the way it is right now with or without the expansion," Hegeman told the St. Joseph News-Press. "It's gonna exponentially make that growth of the Medicaid in our general revenue budget even more, and so that does concern me because I think I value some of the other services, the basic services that the state provides in the state of Missouri."
An analysis by the Washington University-based Center for Health Economics and Policy, found that expansion would add 231,000 adults and 40,500 children to the rolls, costing the state $118 million a year. But that additional cost would be offset by savings elsewhere, as well as an increase in tax revenue because of a boost in spending on health care services. The bottom line: Missouri would save $39 million a year by expanding the program. Supporters also say the increase in federal money flowing to doctors, hospitals and other providers could spur the creation of thousands of jobs.
BJC HealthCare president and CEO Richard Liekweg said he believes Medicaid expansion would be an economic boost for the state.
"It'll keep small, rural hospitals open that are operating on a thread of an operating margin today," Liekweg said. "For large systems — like BJC, SSM, St. Luke's in Kansas City, CoxHealth in Springfield, Mercy Health — it will allow us to continue to keep all of our doors and access points open."
If the vote doesn't pass, he said, Missouri will see an increase in charity care, which would strain the health care industry.
Morgan, the Jennings woman, is a patient of Affinia Healthcare, a federally qualified health center. Of the roughly 43,700 patients seen each year at Affinia, about 37% are uninsured.
"The economic argument has been made," said Dr. Alan Freeman, president and CEO of Affinia Healthcare. "The health status improvement argument has been made. In my view... the ethical argument has been made for Medicaid expansion."
'Not...a drain on our budget'
Other states that have expanded Medicaid have not been crippled by cost overruns.
The architect of expanding Medicaid in Nebraska in 2018, Sen. Adam Morfeld, D-Lincoln, said funding has not been an issue during the initial rollout.
"It has not been a drain on our budget and will have much greater economic impact across the state," Morfeld told the Post-Dispatch.
Plus, he said, there are health benefits associated with expansion.
"Given we are in a pandemic it will provide critical coverage to nearly 100,000 Nebraskans," Morfeld said.
"By saving our state money, we're able to better invest in our education system, various health care needs and the priorities of the people of Louisiana," said Gov. John Bel Edwards, a Democrat.
A March analysis by the Kaiser Family Foundation found a number of positive effects from expansion, including state budget savings, revenue gains and economic growth.
The Commonwealth Fund, which advocates for health care improvements, found that expansion states saw a 4.4% to 4.7% reduction in spending on traditional Medicaid.
Additional studies found that expansions resulted in reductions in uncompensated care costs for hospitals and clinics, which has helped stabilized struggling, rural hospitals.
In neighboring Arkansas, which expanded Medicaid in January 2014, a 2015 Gallup report showed the state's uninsured rate had been cut roughly in half, dropping from 22.5% to 11.4% ― the biggest reduction in the nation.
The reduced uninsured rate led to a 55% reduction in uncompensated-care losses at hospitals.
Lisa Norton, 51, of De Soto, said she has avoided going to the hospital because she doesn't have health insurance.
A couple of weeks ago, Norton said, she started to feel ill while she was working at a donation center.
She felt like she couldn't breathe. But she was terrified of calling an ambulance.
"For two hours or more I sat there and would not let them call 911," Norton said. "If I had Medicaid, I would have called them within two minutes."
She thinks she may have had heat exhaustion, but she isn't sure. She said it is scary to live without health insurance, and she thinks many people don't understand what it is like.
"It's just a heartache," Norton said.
"People are having to make choices between — 'do I put food on the table, or do I get this medicine?'" said Rick Stevens, president of Christian Hospital.
About 14% of the patients seen at Christian Hospital are uninsured, Stevens said.
Stevens said that if Medicaid expansion passes, he is hopeful that more patients would come in for preventive procedures like colonoscopies and mammograms.
"Medicaid expansion is one lever we can pull. It's not the end-all-be-all," Stevens said. "It's one lever we can pull to get individuals access to health insurance, so we can start to have health equity."
Missouri providers currently are forced to be creative to help treat poor patients who are uninsured or underinsured.
"Sometimes I have to adjust or step down patients' therapy to accommodate for the fact that they no longer have any kind of medication coverage," said Dr. Christine Jacobs, a primary care physician at SLUCare and the Family Care Health Center.
For example, some of the newer diabetes drugs are preferable to the standard, generic medications, Jacobs said. But they're often not realistic for patients, because they cost more.
"I see people who are trying to space out their medications," Jacobs said. "I have patients who will take half of their dose of insulin because insulin costs a lot, and they're trying to preserve it. Or they will just not fill prescriptions because they're trying to choose between whether to pay their rent or buy their medications."
When patients delay treatment, sometimes they end up needing more serious care, because their illnesses weren't addressed early, Jacobs said. Even more concerning, she added, since the pandemic started, more and more patients have lost health coverage, because they have been furloughed or laid off.
Hospitals back campaign
The effort to place the referendum on the ballot and convince voters to support it is being financed by hospitals, which stand to benefit if expansion is approved.
With more people insured, hospitals project they will spend less on caring for people who cannot pay.
Since beginning the campaign, the Healthcare for Missourians campaign committee has raised $5.8 million. It entered the final month of the campaign with $2.1 million to spend and has been collecting additional large donations as the primary approaches.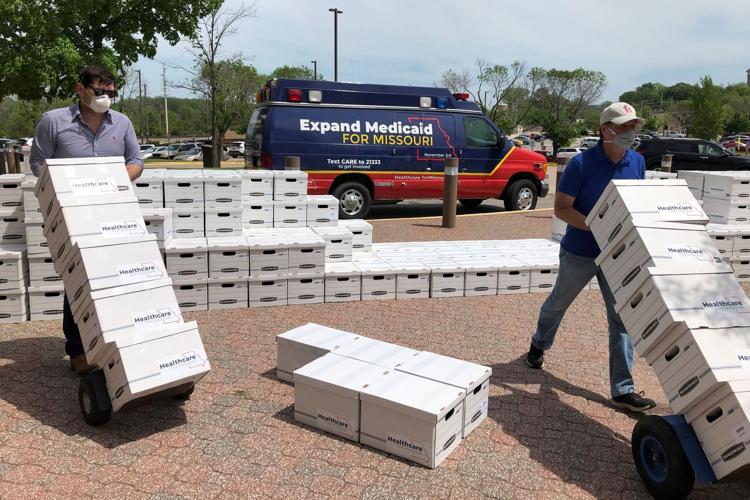 The campaign has held events around the state, including one in Ferguson, where advocates said expansion would be a lifeline to communities hit hard by COVID-19.
"African American Missourians have been disproportionately impacted by the coronavirus, and studies have shown that this is largely due to a lack of access to health care," said Rebeccah Bennett, co-chair, Forward Through Ferguson.
A political action committee pushing for a "no" vote was formed in June. The "No on 2 in August" committee has received at least $111,633 in contributions from Pelopidas LLC, a political consulting firm whose primary client is St. Louis billionaire philanthropist and political donor Rex Sinquefield.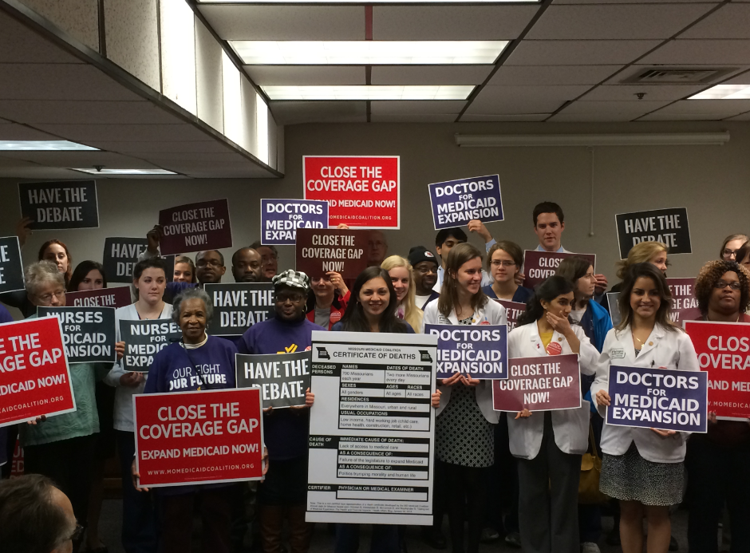 Americans for Prosperity, a libertarian advocacy group funded by Charles Koch and his late brother, David, also is pushing for a no vote.
A poll by St. Louis University and YouGov found 49% in support of expansion
"Our survey findings concerning Medicaid expansion suggest support for the ballot measure is weaker than suggested by many political pundits," said Steven Rogers, assistant professor of political science and director of the SLU/YouGov Poll. "Oklahoma voters recently decided to expand their Medicaid program with only 50.5% of support, and Missouri seems to be on track for a similarly close ballot contest."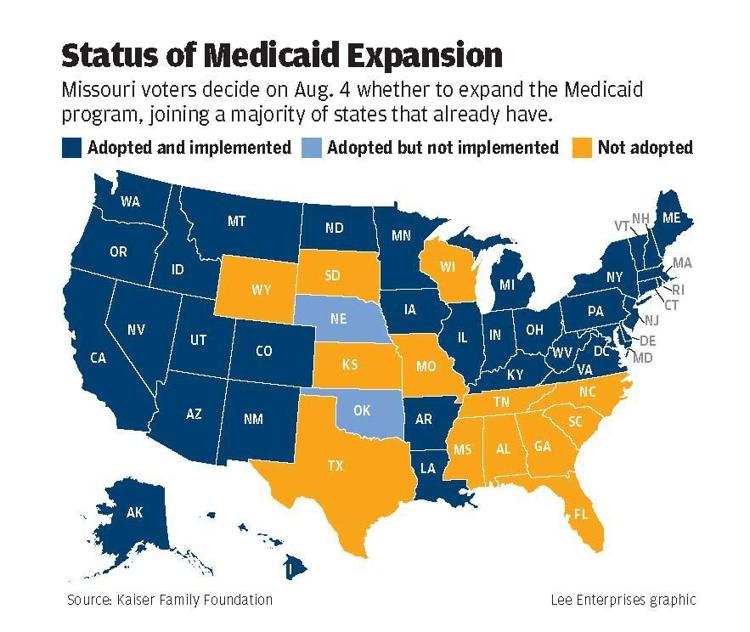 If approved, Missouri would join 37 other states that have expanded Medicaid, including Arkansas, where officials reported using savings from expansion to cut state income taxes and reduce payments previously allocated to the uninsured.
In 2018, voters in Utah, Idaho and Nebraska chose to expand Medicaid, and on June 30, voters in Oklahoma passed a Medicaid expansion ballot measure of their own.
Republican opposition
Despite studies and analysis suggesting that expansion could be a net positive, Republicans have fought against it.
Sen. Bob Onder, R-Lake Saint Louis, said hospitals and businesses stand to make money off the expansion. Hospitals will perform less charity care and businesses will shift low-paid employees from company paid insurance to taxpayer-financed insurance.
"They are just being greedy," said Onder, a doctor. "I just think that's despicable."
Gov. Mike Parson, also an opponent, used his power to move the referendum from the November general election to the lower-turnout primary next month.
Parson, a Republican, said he wanted the vote to happen as fast as possible to help officials deal with the potential cost of expansion at a time when tax revenues have plummeted because of the coronavirus pandemic.
Republicans employed a similar tactic in 2018 when the GOP-led Legislature moved a ballot question repealing a new right-to-work law to August.
The effort failed after labor unions pumped millions of dollars into a campaign to convince voters to vote in favor of killing the law.
The maneuver was viewed by Democrats as a way to keep Parson from having to defend his opposition to expanding the program as he seeks a full, four-year term.
"He knows that Medicaid expansion is more popular than he is in a general election, so he hopes that a smaller electorate will give him a better chance of misleading the voters and defeating it," said Chris Sloan, campaign manager for Galloway, the state auditor who is challenging Parson for governor.
Daily updates on the latest news in the St. Louis business community.