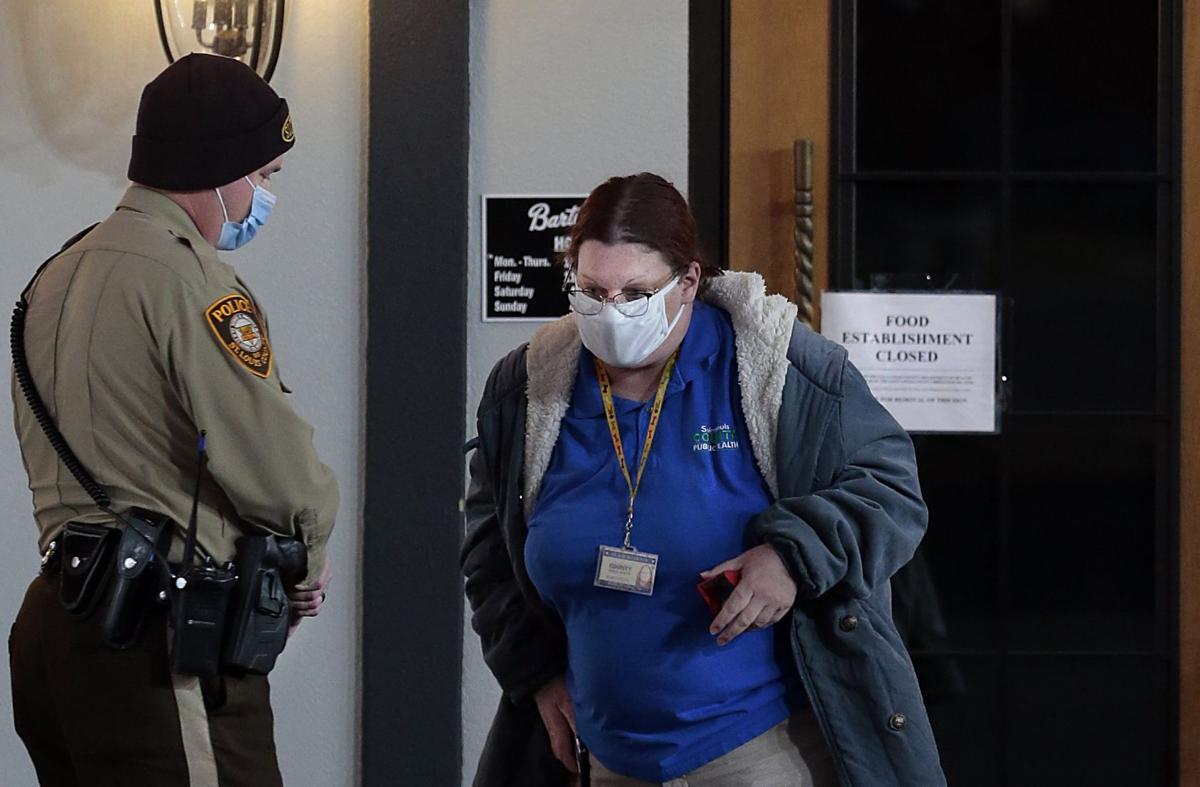 JEFFERSON CITY — Legislation giving local elected officials more oversight of public health orders is heading to Gov. Mike Parson's desk for final approval.
The proposal would require health officials to get approval from city councils or county government boards before extending emergency health restrictions beyond a 30-day period.
Sen. Bob Onder, R-Lake Saint Louis, earlier attached the measure to an unrelated proposal in an attempt to keep the legislation alive in the waning days of the General Assembly's annual session. It was among more than two dozen local government-related amendments tacked on to the underlying bill.
Onder introduced the proposed limits in response to an outcry from churches and businesses that faced restrictions on their operations in the past year under local emergency health orders to mitigate the spread of COVID-19.
The orders, which included early closing times, occupancy limits and outright closures, were imposed to keep people socially distant, a key measure identified by federal and local health experts to limit the spread of the potentially deadly respiratory virus.
While Republican-controlled areas of the state removed most pandemic-related restrictions in May 2020, Democratic areas including St. Louis and Kansas City took a more conservative approach as COVID-19 cases continued to climb through the year, only relaxing orders in response to declines in COVID-19 cases and increases in vaccinations.
Republican lawmakers said the health orders were a sign of "tyranny."
Opponents, including local public health departments, the state medical association and other health care groups, warned the change could politicize public health issues.
St. Louis County
The legislation, if signed by Parson, is expected to have a direct effect on the state's largest county, where a fight over emergency public health orders has raged for months. The three Republicans on the seven-member St. Louis County Council have pushed for oversight over orders issued by County Executive Sam Page, a Democrat, arguing that the county's restrictions have been too broad and inconsistent.
Councilman Tim Fitch, R-3rd District, said the bill would give the council immediate power over the county's public health regulations, pointing to limits on the number of spectators at youth sports games as one possible mandate the legislative body could revise.
"It's giving elected officials a say in what these mandates are," Fitch said. "That's what we've been arguing for since the mandates went into place."
Page spokesman Doug Moore said the bill would prompt "very difficult" decisions over public health orders meant to limit the spread of the potentially deadly virus.
"Public health decisions are best made by public health experts in the Department of Public Health," Moore said in a statement. "When the bill becomes effective, members of the County Council will participate in the very difficult decisions on protecting the health and safety of those in our most vulnerable communities."
Fitch also alleged the Page administration spent "thousands" to fight the Republican-backed bill in the Legislature, after the county asked lobbyists in Jefferson City under a $150,000 contract to oppose the bill curtailing public health orders.
Moore said the lobbyists were hired to represent the county on a range of issues including tax laws and economic development projects.
While four Democrats have in the past rejected bills by Fitch and other Republicans to require council oversight of health orders, Council Chair Rita Heard Days, D-1st District, said she expects to review county health regulations and possibly lift some requirements.
Days asked whether it was "necessary," for example, to require restaurants keep tables six feet apart.
The distance, Page and county public health officials have emphasized in public meetings, matches guidance from the federal Centers for Disease Control and Prevention to mitigate the spread of the respiratory virus.
"I'm sure they have a rationale for what they're saying. The problem is we were never consulted," Days said.
The state bill, "gives us options," she said.
Other provisions


The contentious issue was added to legislation sponsored by House Speaker Pro Tem John Wiemann, R-O'Fallon, urging local leaders to publish more financial information about government spending.
The proposed law is designed to boost transparency in local government. It would allow municipalities to post the information voluntarily, but also would give residents the ability to petition for the creation of a local database if local leaders are reluctant to participate.
The legislation also bars local governments from requiring vaccine passports to access public transportation of other services.
The legislation also includes provisions designed to address penalties charged to some St. Louis County residents for late property tax bills.
Under a separate amendment sponsored by Sen. Jill Schupp, D-Creve Coeur, taxpayers hit with late fees because of U.S. Postal Service delays would receive a credit for their 2021 tax bills equal to what they paid in late fees this year.
The issue began gaining attention earlier this year after residents who mailed their tax payments to the St. Louis County Collector of Revenue in late December were hit with substantial penalties because the mail was postmarked and arrived after the Jan. 1 deadline.
State law directs tax collectors to collect late fees on payments that are postmarked after deadline.
Updated at 5:55 p.m. with information about St. Louis County.(tncms-asset)d248c6d6-b26b-11eb-bf87-00163ec2aa77[0](/tncms-asset)(tncms-asset)8090f9dc-b291-11eb-b391-00163ec2aa77[1](/tncms-asset)(tncms-asset)cfcf430c-acef-11eb-9802-00163ec2aa77[2](/tncms-asset)