The economy and health care are among the issue flashpoints in big-spending battles for two Metro East Congressional seats targeted in Tuesday's election by national strategists for both major parties.
For weeks, ads for Republican incumbents Mike Bost and Rodney Davis and their respective Democratic challengers, Brendan Kelly and Betsy Dirksen Londrigan, have flooded TV screens here and across the two districts, which both stretch deep into rural Illinois.
The commercials — typical mixes of positive ads extolling a candidate's own positions and negative ones bashing the opponent — are continuing in the final days before the balloting.
"Both of these elections I view as pretty much microcosms of the national picture," said Ken Moffett, who chairs Southern Illinois University Edwardsville's political science department.
As for the ads, Kent Redfield, professor emeritus of political science at the University of Illinois at Springfield, said that "it's everything but the kitchen sink."
"You're playing your greatest hits in terms of energizing your base and trying to raise the (rating) unfavorables of the opponent," he said.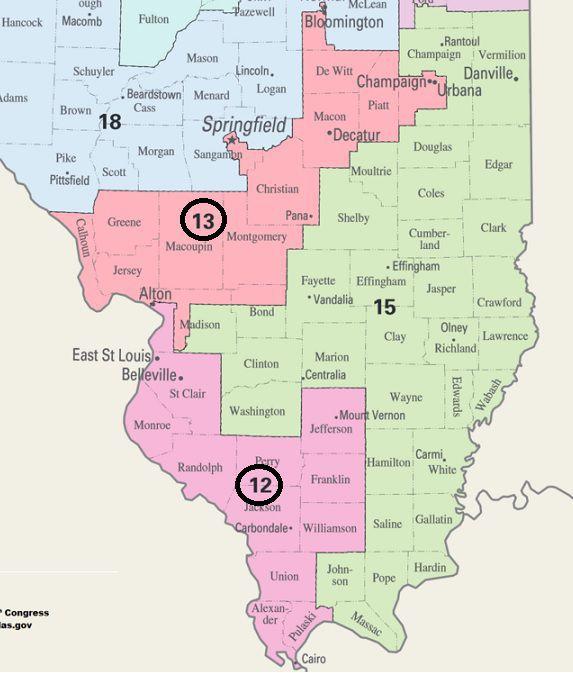 That referred to GOP ads trying to tie Londrigan and Kelly to Illinois House Speaker Michael Madigan, a familiar target of Republican commercials in recent years. GOP commercials also link Kelly and Londrigan with Nancy Pelosi, the U.S. House minority leader.
Democratic ads, meanwhile, allege that the GOP incumbents do the bidding of special interests, with pro-Kelly commercials, for example, railing against Bost for ties to big banks and big pharma.
All four candidates are well financed. When taken together, spending on the two races has reached nearly $23 million and is likely to go higher. That includes expenditures by the candidates' campaigns and by party committees and other outside groups.
It's all part of the effort by Democrats to take back the House and for Republicans to hold it.
Visits by big names
Bost, in warming up the crowd, said Trump has "the economy booming" with "more jobs available than we have people to fill them."
That followed Trump's visit with Bost in July to the U.S. Steel plant in Granite City, which put about 500 workers back on the job after Trump's imposition of tariffs on imported steel.
Meanwhile, former Vice President Joe Biden campaigned Wednesday for Kelly, the St. Clair County state's attorney, and other Illinois Democrats at an Ironworkers Union hall in Fairmont City.
"What's going on in Washington, D.C. is not working for people here in Southern Illinois," Kelly said at a debate last week in Carbondale. "This is one of the worst places for wage growth in the entire United States."
In addition, Vice President Mike Pence has campaigned for both GOP hopefuls and House Speaker Paul Ryan and Florida Sen. Marco Rubio made stops for Davis. Meanwhile, civil rights icon John Lewis — a Georgia Congressman — has done events for the two Democrats.
On health care, Kelly and Londrigan have repeatedly hit Bost and Davis for voting to scrap the Affordable Care Act, also known as Obamacare, and its requirement that health insurers cover pre-existing conditions.
Like GOP candidates across the country, they insist that they favor replacement legislation that they say would continue protection for people with pre-existing conditions.
They also say the tax cut bill championed by Trump and passed by Congress last year has helped fuel the economic upturn.
Their Democratic foes complain that it favored corporations and the wealthy and greatly increased the federal deficit. They warn that a GOP Congress could cut Medicare and Social Security to deal with it.
The candidates
Bost, 57, a former firefighter and longtime state legislator, in 2014 first won the 12th District seat that had been held by Democrats for decades.
He says he's worked in Washington to help farmers and small business owners and to ensure that veterans get quality care.
The district takes in part of Madison County, all of St. Clair and Monroe counties and stretches south to Cairo and east to Mount Vernon.
Kelly, 42, of Swansea, has been state's attorney since 2010. Among other things, he says he'd push in Congress "to literally rebuild Southern Illinois" with various initiatives.
Among them: a four-lane highway from St. Louis to Carbondale, expansion of internet access in rural areas, improving local water mains and making Cahokia Mounds a national park to boost tourism.
Also running in the 12th is Green Party nominee Randy Auxier of Murphysboro, who has reported raising less than $14,000.
Davis, 48, of Taylorville, is seeking his fourth term in the 13th District after working previously as an aide to U.S. Rep. John Shimkus, R-Collinsville.
The 13th takes in Edwardsville and some other parts of Madison County and veers far northeast to include Springfield, Decatur and the Champaign-Urbana and Bloomington-Normal areas.
While a reliable GOP vote in Congress, Davis says he also has worked with Democrats at times. An example, he said, was a bill he sponsored with a Democrat to allow companies to give a tax-free benefit to help employees pay off already-incurred student loan debt.
"I'm somebody who has promised results as a member of Congress and bipartisanship … and delivered on both of these," he said Monday at a debate in Normal.
Londrigan, 47, of Springfield, is a professional fundraiser who has worked with leading Illinois Democrats such as Sen. Dick Durbin.
She says she got in the race because of Davis' vote to repeal Obamacare. "I'm running for Congress to protect your health care," she said at the Normal debate.
Local issues
In addition to national issues, the two races have veered into some local matters.
In the 12th, Bost and a GOP committee ran ads ripping Kelly's record as a prosecutor, complaining that he approved conviction plea deals with men charged in sexual assault cases that allowed them to get probation.
"Kelly failed to do his job and victims suffered," an announcer on one ad proclaimed.
Kelly said at a news conference that in each case cited in the ad, "we fought for the victim and we did what the victim asked."
Kelly in his campaign has touted his office's increased emphasis on domestic violence and says he's more than doubled the rate of charges in such cases.
One Kelly ad has featured a rape victim commending his efforts on the issue, including getting a grant to set up a special victims unit.
He also has endorsements from more than 20 current and retired law enforcement officials in the district, including some fellow state's attorneys.
Meanwhile, Davis has run an ad attempting to link Londrigan, a former fundraiser for the Abraham Lincoln Presidential Library and Museum's foundation, to a controversy over the authenticity of a stovepipe hat bought by the museum.
In response, a Londrigan spokeswoman said Londrigan wasn't even working for the foundation when it spent $23 million to buy 1,400 Lincoln-related items, including the hat.
The spokeswoman also denied the ad's allegation that Londrigan had lobbied Madigan, the House speaker, for state aid for the debt-burdened foundation. But the spokeswoman said Londrigan had met with other lawmakers on the issue.
Bost's 12th District is generally believed to be the more conservative of the two. Trump carried the 12th in 2016 by about 15 points. His edge in the 13th was about 5 points.
Accordingly, Kelly has styled himself as a moderate Democrat, emphasizing his law enforcement background and running an ad declaring he wouldn't vote for the liberal Pelosi for speaker if his party takes control of the House.
Bost questions that, noting that Kelly benefited from a Washington fundraiser Pelosi attended.
Davis also has made an issue of Pelosi becoming speaker, talking up the subject at last week's Trump-Bost rally in Murphysboro. Londrigan hasn't said whom she'd support for speaker.
In the 12th District, the most recent reports compiled by the website Opensecrets.org showed Kelly raising $3.4 million and spending $3 million and Bost raising $2.6 million and spending $2.4 million.
But when independent expenditures by party committees and other groups are added to the mix, the pro-Bost side had an overall spending edge of $6 million to $5.5 million.
In the 13th, Londrigan reported raising more than $3.6 million and spending $2.9 million, while Davis raised $3.2 million and spent nearly $3.1 million. When outside spending is added in, the pro-Londrigan side's expenditures had an edge of $6.2 million to more than $5 million.
The Associated Press contributed to this report.