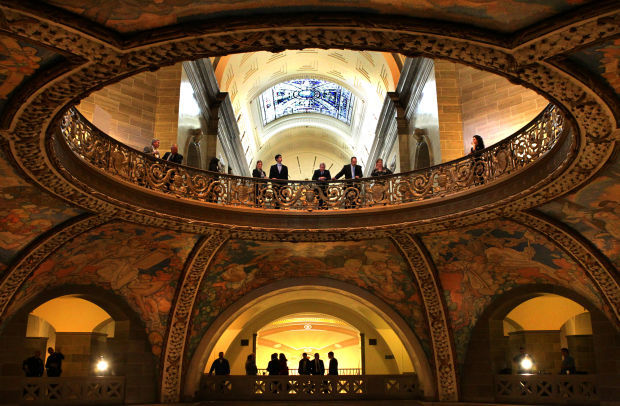 JEFFERSON CITY • The Missouri House gave initial approval Tuesday to a measure that would block recent changes to St. Louis' anti-discrimination ordinance, marking the second time this year the chamber acted to override the city's laws.
In February, St. Louis aldermen banned employers and landlords from discriminating against women who have had an abortion, use contraceptives, or are pregnant.
The bill in the Legislature would block cities such as St. Louis from enacting ordinances that would infringe on the free speech and religious rights of alternatives to abortion agencies or facilities that counsel pregnant women against abortion.
Those agencies have seen strong support from the GOP-led Legislature, which has awarded them millions in state tax credits.
But Democrats balked at the proposal, having long argued the centers disseminate medically inaccurate information to discourage women from terminating their pregnancies and therefore shouldn't be awarded additional funding or protections from the state.
"We should be respecting pregnant women and giving them the care they need, not giving them faulty information under the guise of protecting them," said Rep. Stacey Newman, D-St. Louis, who called the bill dangerous.
City aldermen excluded religious organizations from the requirements of the law, but anti-abortion advocates maintain that without action from the state, those who choose not to hire employees or rent to tenants based on their beliefs about abortion could be fined. They also fear businesses could be expected to include abortion coverage in their employee benefits.
Opponents say the bill warrants state interference in city politics by a body that typically favors local control.
Sponsoring Rep. Tila Hubrecht, R-Dexter, countered that the Legislature has gotten involved in local politics before, by enacting laws regulating firearms, plastic bags and most recently, nullifying a minimum wage increase in St. Louis.
"We have a history of deciding that when there's one agency or group trying to infringe upon another one, we have a history of protecting our citizens from unwarranted government intrusion by local public officials," she said.
After one more vote in the House, the measure will head to the Senate, where it is expected to pass.
Legislative leaders and Gov. Eric Greitens recently endorsed efforts to block the city ordinance at a Right to Life event at the Capitol, vowing there will be no "abortion sanctuary city" in Missouri under their oversight.