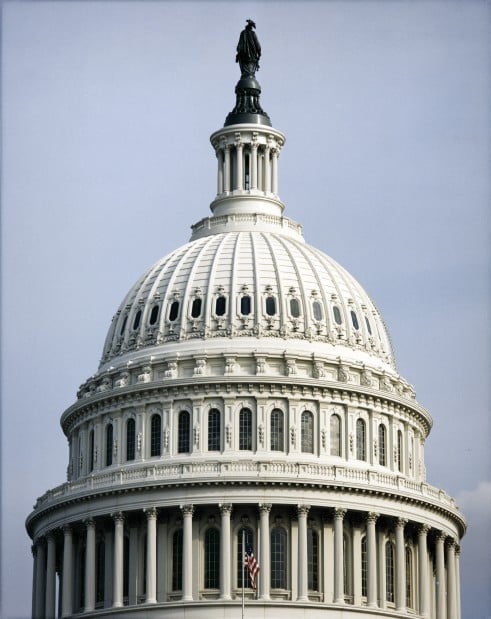 WASHINGTON • One by one, senators marched to the floor Wednesday afternoon to speak passionately about an amendment that has renewed a fierce debate across the country about religion and birth control.
The politically explosive legislation engineered by Sen. Roy Blunt, R-Mo., has halted progress on the nation's multibillion highway bill to which it is amended, galvanized many religious groups and provided fodder for Democrats seeking campaign cash from women.
Blunt's amendment would allow employers to refuse to cover contraceptives or other kinds of health care service for religious or moral reasons. It is scheduled for a vote today by the Senate at 11 a.m. Eastern time (10 a.m. St. Louis).
Senate leaders weighed in this morning before a vote.
Senate Majority Leader Harry Reid, D-Nev., said Blunt and his allies of holding up vital transportation legislation with an assault on the new health-care law.
"Everybody in this body knows the Blunt amendment has nothing to do with highways or bridges or train tracks," he said.
But Minority Leader Mitch McConnell, R-Ken., said Democrats were waging a "campaign of distraction" to obscure larger issues at stake in the legislation.
"This is precisely the kind of thing the founders feared. It was precisely because the danger of a government intrusion into religion like this one that they left us the First Amencment in the first place," he said.
Sensing a political advantage in the debate, Democrats are waging an aggressive campaign that includes fundraising appeals.
"It's time to end Republicans' unrelenting war on women," House Minority Leader Nancy Pelosi, D-Calif., said in a fundraising letter Wednesday on behalf of the Democratic Congressional Campaign Committee.
Likewise, an appeal from Sen. Dick Durbin, D-Ill., on behalf of Senate Democrats asserted that Blunt's legislation "would let any employer deny coverage for any health care treatment for any reason."
Blunt and a half-dozen other GOP senators held forth for an hour on Wednesday, arguing that the new health insurance law violates religious liberty protections that have been around since the nation's early days.
The issue has mushroomed since the mandate from the administration of President Barack Obama requiring coverage of contraception services for employees of religious-affiliated institutions. The White House later revised the rule to shift the cost of birth control to insurance coverages. But that distinction did nothing to quell the outrage from the U.S. Conference of Catholic Bishops and other organizations.
Blunt and others are fighting to frame the debate about threats to religious freedom. But critics argue that the amendment that bears Blunt's name amounts to a broadside against the new health insurance law and poses special threats to women.
In leading the debate Wednesday afternoon, Blunt asserted that "freedom of religion defines who we are and has defined who we are since the very beginning of constitutional government."
"I understand the fundraising ability to make it about something else. I understand the PR ability to make it about something else. But it's not about anything else," he said.
Blunt said during the debate that employers who chose to exclude coverage for any health service would be required to prove that their objection was rooted in long-held moral convictions.
Sen. John Cornyn, R-Texas, read references from the Constitution to guarantees of religious liberty. It is an absolute right, he said, that once generated bipartisan support.
"It's very obvious to me that some of our colleagues on the floor believe they can make political hay by scaring people," he added.
When Democrats had their turn, Sen. Jeff Merkley, D-Ore., argued that Blunt and others were holding up a vital transportation bill to press an amendment that would "allow the personal convictions of one imposed on the dozens or hundreds or thousands of employees of that company. That's an incredible philosophy."
Sen. Jeanne Shaheen, D-N.H., contended that the new Congress has brought "assaults on Planned Parenthood, on federal funding for family planning and on contraception."
"But now, we're facing the Blunt amendment, which is even more far-reaching and extreme than any of these other efforts to politicize women's health," she asserted. "In short, the Blunt amendment would let your boss make your health care decisions instead of you and your doctor."
Get Government & Politics updates in your inbox!
Stay up-to-date on the latest in local and national government and political topics with our newsletter.