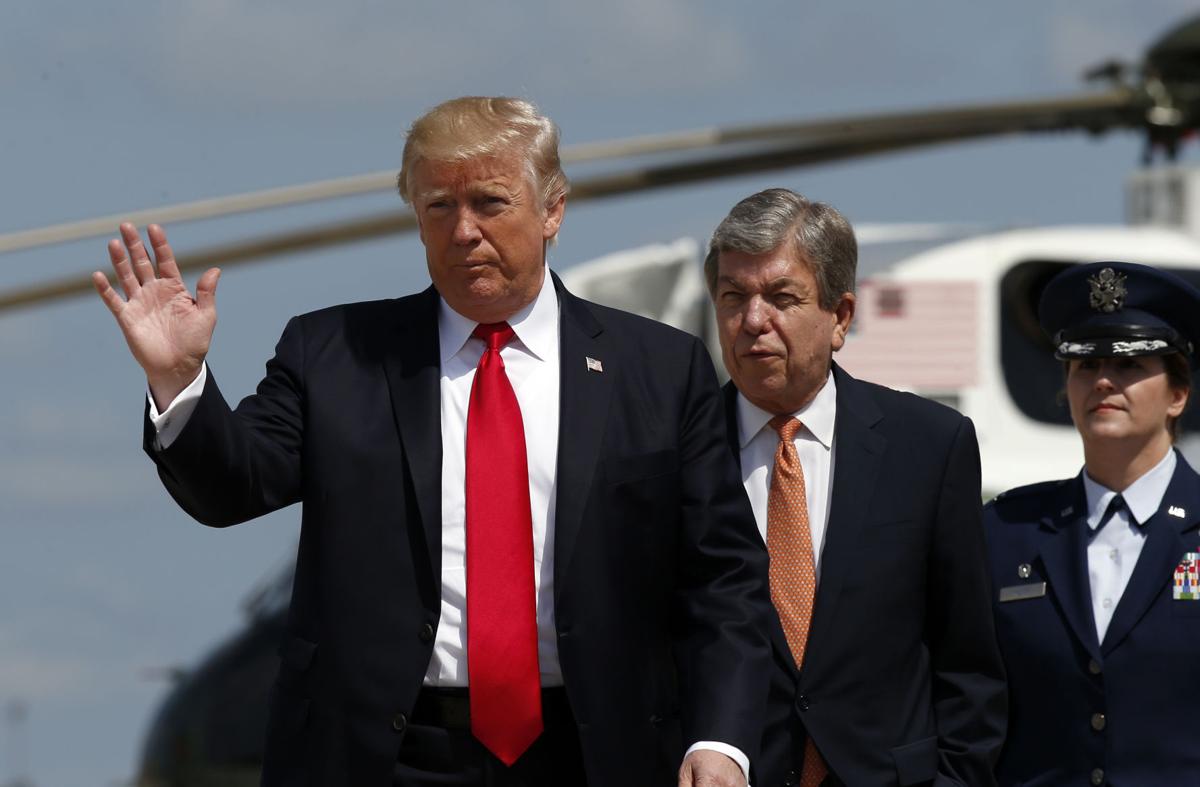 WASHINGTON • Sen. Roy Blunt, R-Mo., while not confirming conversations with the president about Senate Intelligence Committee investigations into Russian interference in the 2016 elections, defended President Donald Trump's motives for wanting the investigations to end soon.
The alleged conversation between Blunt and Trump took place in August when the two took Air Force One to a presidential speech on tax changes, according to the New York Times.
Blunt would not comment on that claim with KTRS radio host McGraw Milhaven Friday morning. But the senator said he had tried to limit contact with the president as the Senate Intelligence Committee's investigation into Russian influence had continued.
Blunt told Milhaven that he also understood Trump's motives for saying publicly that he had been told three times by then-FBI Director James Comey that Trump was not a target of investigations and that, because of that, Trump hoped the investigations would not drag on.
Blunt portrayed Trump's actions as a businessman not savvy to politics and how his actions might appear in an investigatory climate.
Blunt said that the Intelligence Committee on which he served, which has been investigating Russian influence largely in secret for more than a year, should wrap up its investigation and issue a much-anticipated report before the Illinois primaries in March.
Blunt told Milhaven that "even though I have gotten to know the president fairly well," Blunt has "largely stayed away" from meeting with the president as the Intelligence Committee has continued its investigation.
"I have pretty limited conversations with the president, but I have had lots of conversations with lots of people on Russian involvement in our election, and I think the proper place for me to be on that is not to talk about any of those conversations or even confirm that I have had them," Blunt said. "The president has clearly publicly asked that the Russia probe be ended."
Blunt noted that Comey told the Intelligence Committee in open hearings that on multiple occasions he had told Trump that he was not under investigation without the president asking for that assurance.
"In that case the president saw saying 'Why can't you tell the people that if you are telling me that?' as a logical move," Blunt said.
"And I think that is an understandable question for the president to ask, particularly from somebody who has had a career in business, not a career in government in politics," Blunt told Milhaven. "'Just why, if you can tell me without me even asking, you can't tell other people?'
"I think it is not unlikely that the president continues to wonder why this goes on and on, and I think it is time to bring this to a conclusion as quickly as we can."
Blunt added: "I think it is not a good idea to talk about individual conversations you have had with anybody on this topic until we come to conclusions, and we need to come to conclusion pretty quickly. There is no question the Russians were messing around with our elections."
Karen Hobert Flynn, president of the watchdog organization Common Cause, said Trump's outreach to Blunt and other senators involved with the investigation "raises troubling questions" about interference.
The revelations came on another day of political and legal intrigue, with the headline-grabbing revelations that Trump's former National Security Adviser Michael Flynn has pleaded guilty in federal court on a charge of lying to the FBI about his meetings with the then-Russian ambassador to the United States.
The plan could increase the nation's debt by at least $1 trillion over the next decade.
Early Saturday, the Senate was voting on the bill, which seemed headed for near party-line approval. Next would be negotiations with the House for a final package.