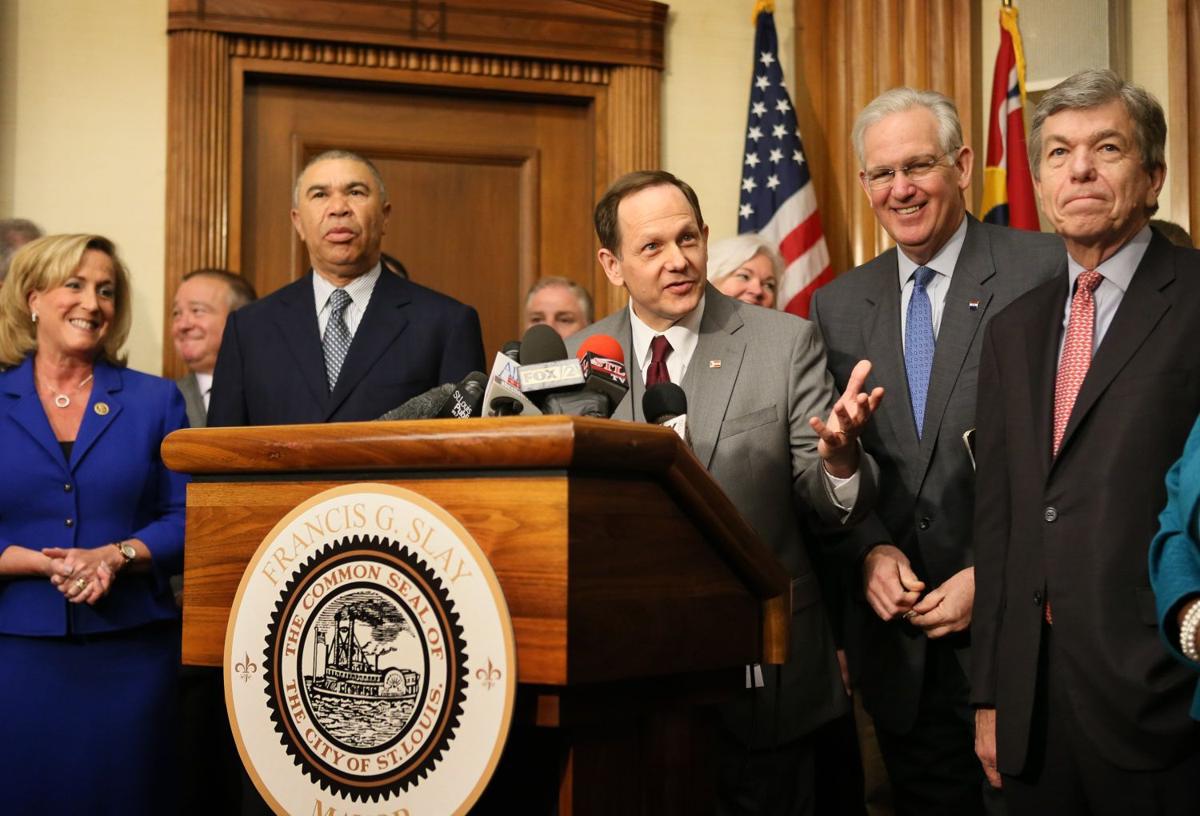 A Senate defense spending bill sets aside $801,000 toward acquiring land in north St. Louis, and $72 million to plan and design the $1.75 billion facility, which would replace the current, aging one in St. Louis.
But the House Appropriations Committee has tentatively zeroed out money for acquisition and cut the planning funds to $36 million, meaning that the Senate and House must negotiate final numbers on the project's initial phases. That process could take months, and is likely to last beyond the June 2 date that NGA Director Robert Cardillo says he will announce a final decision on the NGA site.
Illinois members of Congress want the NGA to go against its initial recommendation and build the new facility near Scott Air Force Base in St. Clair County. They have argued that the environmental assessment report backing the St. Louis site is flawed. They also say the facility would be safer and more integrated into national military and intelligence communications networks if located near the Illinois air base.
Bost and Sens. Dick Durbin, D-Ill., and Mark Kirk, R-Ill., and Reps. John Shimkus, R-Collinsville, and Rodney Davis, R-Taylorville, met Thursday with Cardillo to reiterate their arguments. Bost said Cardillo turned down his request to extend the public comment period on the decision, which Cardillo has already done once.
David Berczek, a spokesman for Cardillo, said that the director "felt it was a constructive engagement that helped him to continue to think through the process leading to his issuance of a record of decision in early June."
Missouri members of Congress have made dual national defense and local economic benefit arguments for the St. Louis site, saying it is important for the federal government to keep the high-tech facility in an urban area, with all its amenities, while boosting the St. Louis economy in an area of the city that needs it.
Sen. Roy Blunt, R-Mo., told reporters this week that he saw no roadblocks to the St. Louis site, and a member of his staff pointed out that the House's defense budget blueprint cut the new site funding before Cardillo announced its tentative location in April. Blunt's staff attributed the House's lower funding levels to displeasure among House appropriators over how much information about the new site NGA officials were providing.
Rep. Ann Wagner, R-Ballwin, said that there is nothing in the tentative House funding proposal that will sidetrack the project from going ahead in St. Louis, and that she has been working with House appropriators, whom her staff describers as supportive of the NGA relocation, to make sure the proper levels of funding are available. Part of the problem, a Wagner spokeswoman said, is that the NGA has not yet provided House appropriators with a full cost estimate.
Sen. Claire McCaskill, D-Mo., said Friday she would be surprised if the Illinois opponents prevail.
"I believe that the agency is confident in their decision," McCaskill said. "I do not think that anything has come up that would change their decision, and I would be bitterly disappointed that, after a thorough process, that the member of a congressional delegation that didn't prevail is going to say we will just stop it altogether if we can't win. .... I would be surprised if you would see that level of irresponsibility exhibited in the Senate."
But Bost has written the Corps of Engineers' inspector general asking for an investigation into how NGA arrived at the St. Louis site for the new facility. That process could take time and may not even come to fruition, and it's unclear if it would have any effect on the final site.
Without naming names, Bost said he believed there has been political pressure to locate the new facility in St. Louis. Members of the Missouri delegation have publicly disclosed their lobbying efforts with the Obama White House, but they have maintained that the national security argument for St. Louis was a powerful one.
Illinois delegation members have raised concerns that the St. Louis site does not provide big enough buffer zones against possible attacks. Bost said an Army Corps of Engineers official in the meeting with Cardillo on Thursday suggested that the facility may have to "go subterranean" — underground — to meet government safety requirements.
NGA spokesman Berczek said that "building below ground has not been part of the master planning for any of the four sites considered" for the new facility.
Bost, whose district includes the site near Scott, said he told Cardillo that he was left with "no other choice" than to continue to fight the St. Louis location, including using the government's purse strings to stop or slow planning and land acquisition.
"These are things if you don't have the money you can't do." Bost said.
"Obviously I knew from the get-go that one delegation or the other was going to be unhappy about this decision-making process," Clapper said. But he also said he had "no basis for countermanding" Cardillo's decision.