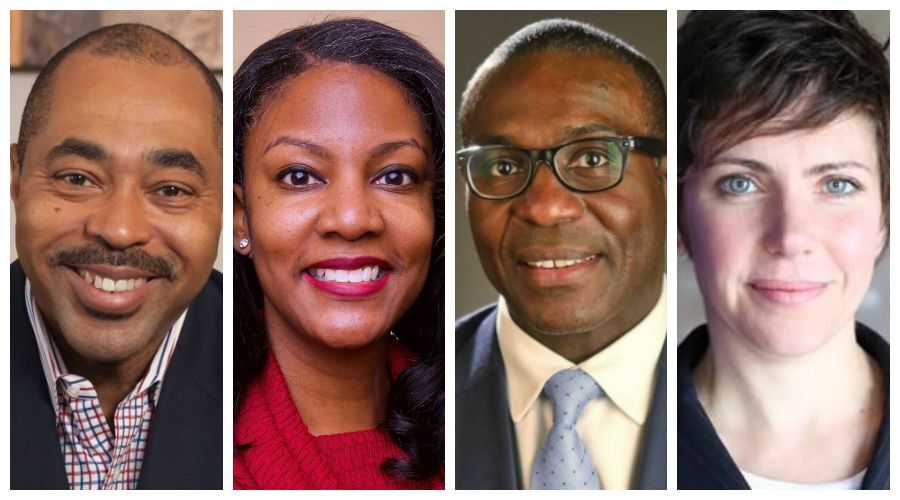 ST. LOUIS — Mayoral candidate Cara Spencer, who trailed opponents Tishaura Jones and Lewis Reed in a recent poll, is doing much better when it comes to fundraising, according to reports filed Thursday.
Spencer's campaign committee pulled in $252,199 in donations, ahead of Reed and Jones' respective campaign totals of $161,806 and $155,646.
Spencer also led in the important category of cash on hand, reporting $153,702. Jones reported having $84,583 and Reed $61,317.
The financial position of pro-Jones forces improves when a separate political action committee supporting Jones, 314 Forward, is added to the mix. 314 Forward reported raising more than $64,000, with more than $62,000 on hand.
A fourth candidate, Andrew Jones, was far behind in the money competition leading up to the March 2 primary. His committee reported raising only $11,100, including a $10,000 personal loan he made to his campaign.
The campaigns' financial situation was outlined on reports submitted to the Missouri Ethics Commission that covered activity through last week.
Spencer, the 20th Ward alderman, is making her first race for citywide office. She announced her candidacy last January, long before her opponents, and has been raising money ever since.
Spencer's fundraising success presumably will allow her to afford advertising and other campaign efforts to try to narrow the gap with her two better-known foes — Tishaura Jones, the city treasurer, and Reed, the aldermanic president.
Those two each have run citywide multiple times in the past, including for mayor.
Spencer had 11% and Andrew Jones, a utility executive, 5%. About 27% were undecided.
Among Spencer's donors were former Mayor Vincent Schoemehl Jr. and former Aldermanic President James Shrewsbury, who each gave $2,600, the maximum total allowed per donor. Their wives, Lois Schoemehl and Mary Michael Shrewsbury, gave $2,500 and $1,725, respectively.
Other well-known names on the Spencer report included former Washington University chancellor Mark Wrighton, who gave $1,000, and former state Sen. Joan Bray of University City. Bray, who gave $1,418, is Spencer's campaign coordinator.
Among those giving the $2,600 maximum were construction company CEO Robert Brinkmann, a member of the state highway commission; Lee Kling, a businessman and city Airport Commission member; and Samuel Koplar, president of Koplar Properties.
The local law firm of Schlichter Bogard and Denton and individual lawyers with the firm gave $11,500 to Spencer's effort.
Among Tishaura Jones' $2,600 contributors were the Firefighters Institute for Racial Equality, which advocates for Black firefighters; John Beuerlein, a retired Edward Jones general partner; political consultant Richard Callow; Reginald Blackwell, CEO of Players Management Group, and Jamala Rogers, executive director of the Organization For Black Struggle.
Chuck Hatfield, a Jefferson City lawyer who has represented Jones in an ongoing lawsuit over the authority of the treasurer's office, contributed $1,000. Former state Rep. Vicki Englund of south St. Louis County gave $500.
The separate pro-Jones committee, 314 Forward, which isn't bound by the $2,600 donation limit, received $20,000 from Fuse Advertising and $5,000 from a Fuse official, Clifford Franklin. Cafe Soul St. Louis gave $8,000 and Kwame Building Group $5,100. Emily Pulitzer, widow of the late publisher of the Post-Dispatch, gave $2,600.
Among well-known names on Reed's list were Jeff Rainford, a former top aide to then-Mayor Francis Slay, who gave $1,000.
Nine attorneys with Greenberg Traurig, a law firm hired in 2018 to advise the city on airport privatization at Reed's request, contributed a total of $8,500. Clayco CEO Bob Clark gave $2,600, as did Clark's wife, Jane Clark, and their son, Shawn Clark, who heads a Clayco affiliate.
Reed's campaign also got $2,600 from a political committee tied to the Carpenters Union, which, like Reed, supported privatization. Vasey Aviation Group, an Indiana firm which was part of a consortium applying to lease St. Louis Lambert International Airport, and one of its employees donated $2,600 each.
Gary and Jack Pohrer, co-chairmen of St. Louis Parking Co., each gave $2,600 to Reed.
Show Me Victories, the firm that did the mayoral race poll released recently, played a major role in Mayor Lyda Krewson's successful 2017 race for the job but says it isn't working for any candidate this year.
A former Show Me Victories staffer, Patrick Lynn, said he began work this week as Reed's campaign manager.
Editor's Note: An earlier version of this article incorrectly stated that John Beuerlein, a donor to Tishaura Jones' campaign, currently works for Edward Jones.