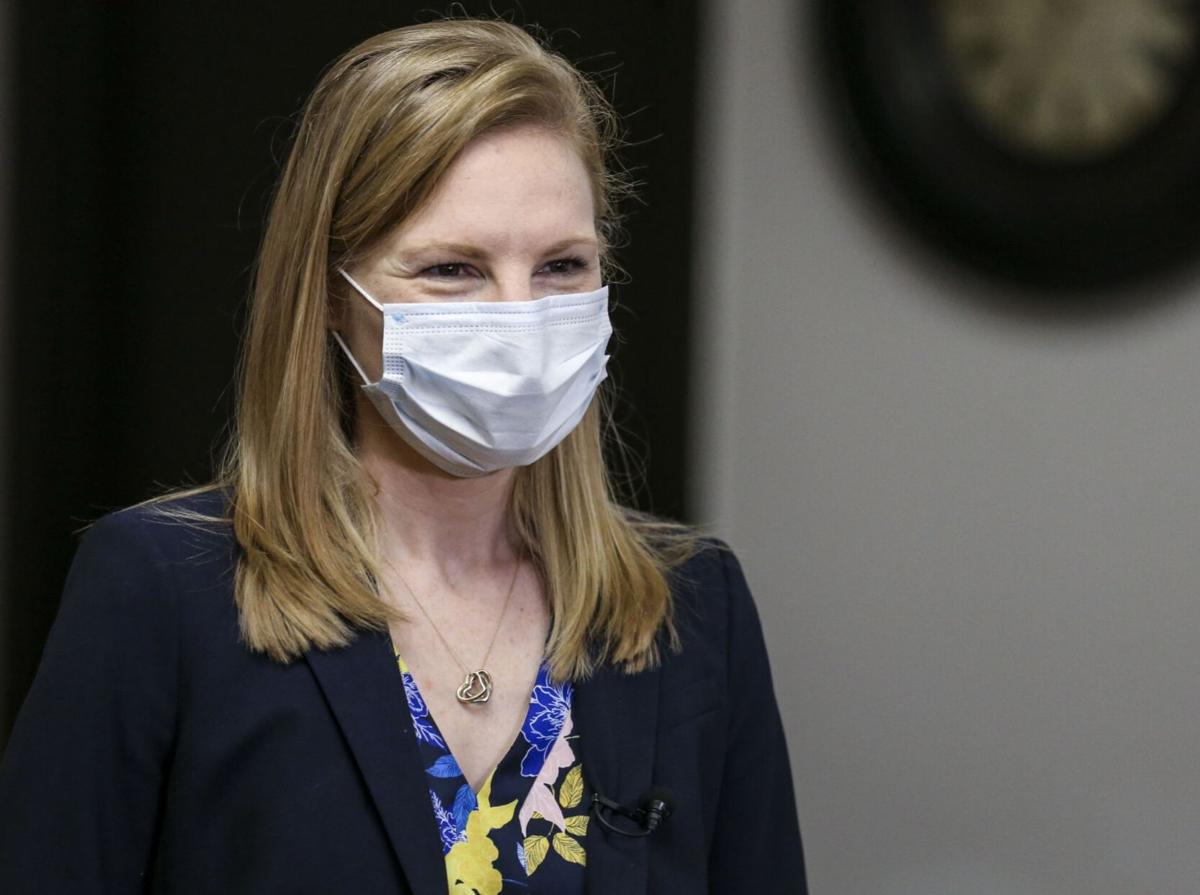 JEFFERSON CITY — State Auditor Nicole Galloway's campaign for governor fired off cease-and-desist letters to television station managers across Missouri this week, saying an ad produced by a GOP-allied political action committee falsely accused her of committing a crime.
Legal pressure by the Galloway campaign had, as of Friday, resulted in nine stations removing the original Uniting Missouri PAC ad from the air, said Kevin Donohoe, spokesman for the Galloway campaign. A spokesman for Uniting Missouri said the group voluntarily replaced the ad with an edited version.
Uniting Missouri supports Gov. Mike Parson, Galloway's Republican opponent on Nov. 3.
The skirmish highlights the rough-and-tumble nature of election advertising, where opposing campaigns and groups portray other candidates in the worst light possible. In some cases, TV station managers get caught in the middle, acting as referee between lawyers for both sides.
The dispute centers on one claim at the end of Uniting Missouri's 30-second spot, that "as auditor, Galloway flagrantly ignored ethics laws, failing to disclose her husband lobbied for state tax credits."
"The claim is false: Auditor Galloway's husband never lobbied for state tax credits," Jonathan S. Berkon and Courtney T. Weisman, of the PerkinsCoie law firm in Washington, D.C, said in a Wednesday letter to station managers. 
"As you know, falsely accusing someone of a crime constitutes defamation per se," they said. "Your station must cease airing this advertisement immediately."
Jon Galloway, the auditor's husband, was a registered lobbyist for the Mortgage Research Center, also known as Veterans United Home Loans, from September 2013 to March 2015.
In 2013, the company received $11 million in state tax credits from the Missouri Works and Quality Jobs programs, according to the Missouri Accountability Portal.
Legal tussle
Greg Steinhoff, vice president of industry and regulatory relations for Veterans United Home Loans, told the Post-Dispatch on Tuesday that "no member of the Galloway family has ever lobbied the State of Missouri for tax credits on behalf of Veterans United Home Loans."
Galloway's attorneys cited the statement in letters to stations, including KDNL-TV (Channel 30) and KTVI-TV (Channel 2) in St. Louis, which had both committed to running revised ads, according to communications provided by the Galloway campaign.
Because Missouri law criminalizes knowing omissions to personal financial disclosure forms, the letter said, "this advertisement constitutes defamation per se, as it falsely accuses Auditor Galloway of a crime by saying she 'flagrantly ignored ethics laws' by 'failing to disclose' activities that never happened.
"The Governor's campaign has the dishonor of being the first and only group to have TV stations take down their ad because it was so dishonest," Donohoe said.
"No one can trust a word they say about Auditor Galloway," he said.
Mike Berg, spokesman for Uniting Missouri, said Galloway's campaign was "playing semantic games to hide the extent of her husband's lobbying."
He said the PAC made "minor semantic changes" to the ad and that it submitted a revised version to stations in order to "resolve the issue at hand."
Instead of saying "Galloway flagrantly ignored ethics laws, failing to disclose her husband lobbied for state tax credits," the new ad says, "Galloway ignored ethics laws, failing to disclose her husband lobbied for a company that got state tax credits."
A station manager said that in his experience, stations deal with a handful of complaints each election cycle from campaigns. He said that 99% of the time, the ad isn't removed from the air. Edits are more common, he said.
Suing the broadcasters would have resulted in a time-consuming and difficult legal battle, said Sandra Davidson, professor emerita of communications law at the University of Missouri-Columbia.
"The purpose of the letter, it seems to me, is to have the stations voluntarily take down the ads," Davidson said. "This puts the burden on the stations to weigh the evidence. The result of a voluntary take-down is certainly much more time-effective than trying to win a defamation suit."
Davidson said that because of the Federal Communications Act of 1934, broadcasters wouldn't be able to censor the material if it were coming directly from Parson's campaign.
"But this is a PAC, and it doesn't receive that same protection from not having its material censored," she said.
The revised ad still says Galloway failed to disclose that her husband was a lobbyist, something Galloway's campaign disputes.
Eric Slusher, spokesman for the Galloway campaign, said earlier this week that Galloway did disclose, on time, that her husband lobbied for Veterans United.
He said that in 2018, Galloway's campaign noticed when the disclosures were requested from the ethics commission, the Jon Galloway disclosure was missing.
"The PDFs were filed correctly with the information, it just didn't display correctly when produced," he said in an email. "It got cut off. So, amended reports were filed that did produce information correctly in the interest of transparency. To be clear, we did this because MEC's system had an error."
A Missouri Ethics Commission official said Friday there was no one available to verify Slusher's claim. Slusher provided copies of 2013, 2014 and 2015 personal financial disclosures that do disclose Galloway's husband lobbied.
The bottom of the paperwork said it was electronically filed before the state-mandated deadline for personal financial disclosures each year.
Get Election 2020 & Politics updates in your inbox!
Keep up on the latest in national and local politics as Election 2020 comes into focus.