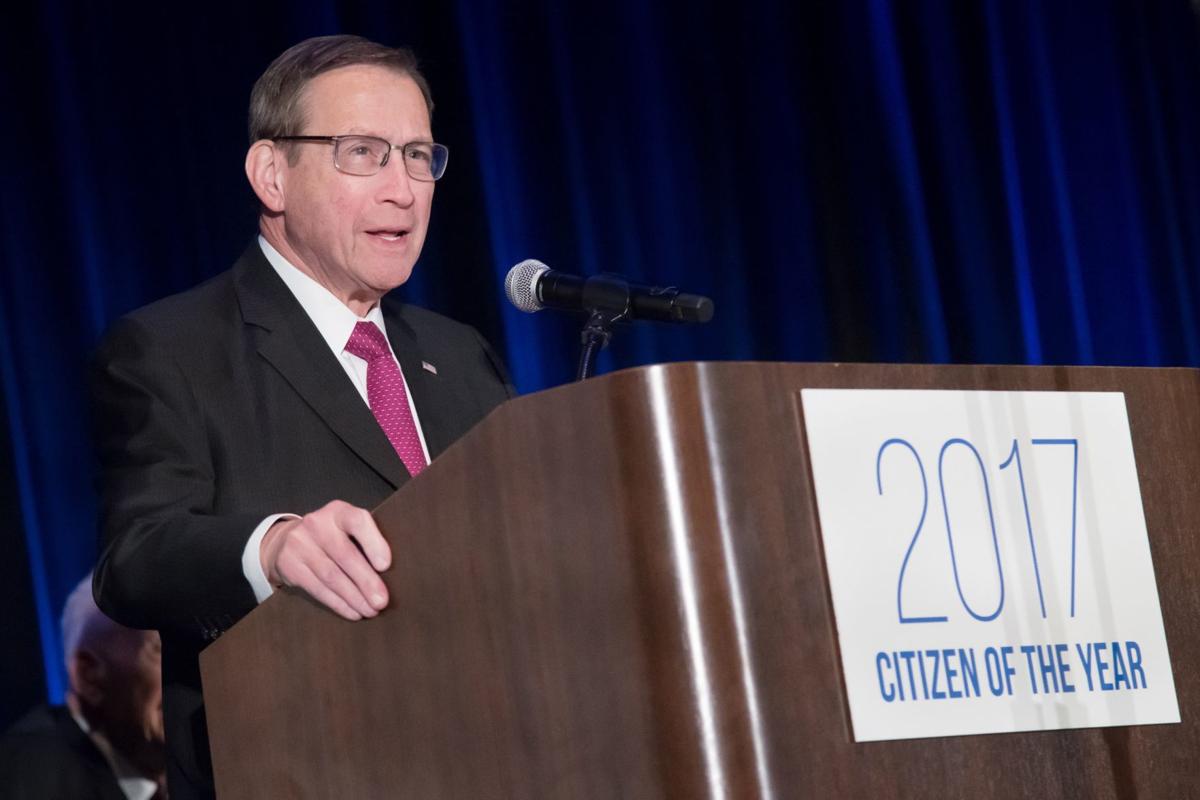 JEFFERSON CITY — Calling Missouri an "embarrassment," the CEO of one of the largest companies in the region is again threatening to abandon the state for a new corporate headquarters in North Carolina.
In comments to Health Payer Specialist, a health industry trade publication, Centene Corp. chief Michael Neidorff warned that Republican Gov. Mike Parson's and the GOP-controlled state Legislature's failure to approve funding for a voter-backed expansion of Medicaid has Neidorff again questioning whether he should move his company out of Missouri.
"As the largest provider of Medicaid in the United States and a Fortune 42 company I have to ask myself, 'Why am I in this state?'" Neidorff told the publication. "This is a state that frowns on this business — what am I doing here?"
"It's an embarrassment," he added.
Marcela Hawn, a spokeswoman for Clayton-based Centene, told the Post-Dispatch in a statement Wednesday that the company is "disappointed that the legislature did not honor Missouri voters' wishes."
"We believe that now, more than ever, Americans must have access to high-quality healthcare as we navigate these uncertain times. We are committed to our employees, our members and the communities we serve here in our home state, and we believe that increasing access to healthcare is an important step forward for Missouri," the statement said.
Lawmakers left the capital city Friday without funding the constitutionally mandated Medicaid expansion, despite Parson including the money in his budget blueprint and a handful of Republicans breaking ranks to push for the funding.
Senate Democrats proposed an amendment during debate over the budget to fund the Medicaid expansion at the same level Parson proposed. But the proposed change failed on a 20-14 vote, with four of 24 Republicans siding with Democrats.
Sen. Dan Hegeman, R-Cosby, who chairs the Senate Appropriations Committee, sided with the Republicans, saying voters would have made a different decision if they had more information about the state budget and the future "unknown" reliability of the federal government.
Democrats said Republicans were ignoring the will of voters.
"The people have finally weighed in on this. And now the Legislature is going to abdicate its duties and leave its responsibility to a judge?" Senate Minority Leader John Rizzo said. "I don't know what shark we have jumped here. God forbid the people have a voice."
Some Republican supporters of expansion scoffed at GOP claims that the state can't afford the added cost.
"Obviously I think we should do it. We do have an influx of cash right now," said Republican Sen. Lincoln Hough of Springfield. "The idea that we don't have the money to do this, I don't buy."
Expansion, which received 53% of the vote last August, would bring health coverage to 275,000 low-income adults. The change goes into effect July 1, but without money to pay for it, it is expected to generate a court battle.
Neidorff last year raised similar concerns and said he was considering moving the health care giant to Charlotte, North Carolina, where the company is building a $1 billion eastern headquarters.
He said his efforts at recruiting top-notch talent to the region were being hurt by crime and the image it gives St. Louis, as well as the state's ongoing reluctance to expand Medicaid, which is a core part of Centene's business as a provider of managed care health insurance plans.
Centene, via subsidiary Home State Health, covers about one-third of the state's current Medicaid managed care population.
Former Clayton mayor Harold Sanger said Wednesday that it would be "beyond a shame" to lose a company like Centene.
"Centene is a very generous supporter of all things St. Louis," Sanger said. "I think everybody that has anything to do with anything needs to make every possible effort to keep Centene here."
Jason Hall, CEO of business booster Greater St. Louis Inc., described Centene as a "major corporate citizen."
"If we want to be a growing community, we need more companies like that," Hall said.
Hall referred to the STL 2030 Jobs Plan, released earlier this month, which identified health care as one of the region's most significant areas for potential future growth.
"We should be looking at ways to help expand and build upon those strengths," Hall said.
Parson said in a statement Wednesday that, though he never supported expansion, he always said he would uphold the amendment if it passed.
"The majority of Missouri voters supported it, and we included funds for the expansion in our budget proposal," Parson said. "However, without a revenue source or funding authority from the General Assembly, we are unable to proceed with the expansion at this time."
Parson said he has a good relationship with Neidorff, and is grateful for Centene's investments.
Parson last year said he doubted Medicaid expansion would form the basis of a major business decision like moving away from Missouri. The Republican governor, at the time, said he would continue to focus on "education, health care, workforce and infrastructure."