ST. LOUIS • A few years ago, more than 2,000 event planners met at the downtown convention center.
The event was a coup for the St. Louis Convention & Visitors Commission. Members of the association, Meeting Professionals International, plan 700,000 meetings a year and usually hold their World Education Congress in "first tier" cities.
So when the planners came to St. Louis, the Visitors Commission threw them an opening-night bash at Busch Stadium, red carpet included.
Party vendors billed the commission, a public agency, for one Clydesdale ($300), two bullpen catchers ($300), three sets of swing dancers ($600), three hot-air balloons ($4,200), one troupe of aerial acrobats ($16,000), a Gateway Fireworks display ($20,000) and one red carpet ($1,600), among other things.
The total cost for the soirée? More than $600,000.
Area businesses helped foot about half the bill. The Visitors Commission paid the rest.
Leaders here said such activities were entirely worthwhile.
"If this convention center didn't exist, that economic activity simply would not be occurring in our community," said Kitty Ratcliffe, the commission's chief executive.
"Take a look at FIRST Robotics this week," she continued. "FIRST Robotics is filling every hotel in St. Louis city and St. Louis County. It's putting people to work."
Conventions bring hundreds of thousands of visitors to St. Louis, often from outside the region. They buy flights, rent cars, book hotel rooms, eat at restaurants and spend hundreds of millions of dollars at area businesses.
But cities also give away hundreds of thousands of dollars to land conventions, steeply discounting rates in the face of stern competition from other cities. Moreover, leaders pay hundreds of millions in tax dollars to build new convention facilities.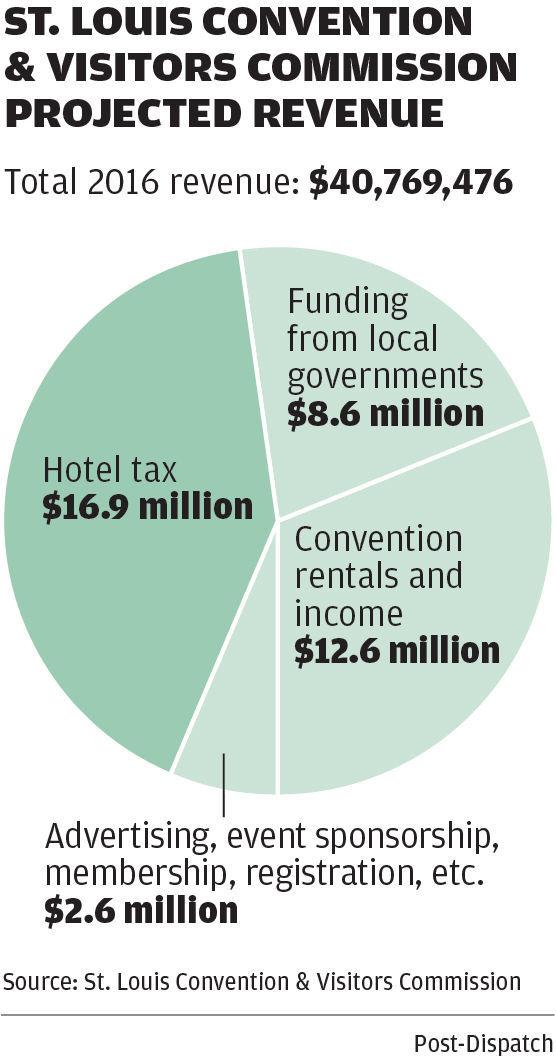 And it's unclear exactly how much they boost taxes or create jobs.
Regional leaders are now contemplating an overhaul of the downtown convention center, called America's Center, and its domed football stadium where the St. Louis Rams used to play. Proposals range from $350 million to $450 million; all include expanding the convention center and retrofitting the Dome.
Leaders say they have little choice but to renovate.
But skeptics say the behemoths are too big to be much use.
"That's called throwing good money after bad," said Stanford University economics professor emeritus Roger Noll. "The number of conventions that need something the size of a football stadium is extremely small."
St. Louis leaders say they will have no problem making up the $4 million annual tax hole left by the Rams.
Noll says they have some hard decisions to make.
'They keep building'
This weekend, about 40,000 students, teachers and families from schools and cities around the world descended on St. Louis for the annual four-day FIRST Robotics championships — one convention that uses the Dome.
Convention leaders say the visitors will spend almost $24 million here, creating about $2.4 million in local tax dollars.
But, to land FIRST, the St. Louis Convention & Visitors Commission had to offer a three-year deal that would beat four other cities: Atlanta, Detroit, Indianapolis and Louisville, Ky.
The Post-Dispatch requested bids from all five convention centers. Detroit and Indianapolis refused, claiming they weren't public records. Atlanta responded quickly. Louisville and St. Louis pushed back, but relented. (Last year, the St. Louis Visitors Commission successfully lobbied the state Legislature to protect bids from public disclosure.)
The bids reveal that the St. Louis convention commission had to give up more than $600,000 in rent to land the three-year contract. It cut its retail convention center rent to $175,000 from $375,000 each year. It added an annual $25,000 credit plus an annual $10,000 donation to cover team entry fees. It promised to find 30 corporate sponsors, pay up to $2,500 for planners' airfare, discount electric usage by 75 percent and provide free Internet, facility cleaning and signs.
Moreover, convention leaders partnered with area hotels to offer FIRST hundreds of free hotel rooms, plus a $15 to $20 rebate per room, valued at about $400,000 a year.
Louisville and Atlanta offered discounts, too. Atlanta cut its facility rental fee by almost 50 percent, to $516,000 in the first year. It also pitched a $750,000 yearly credit, a $750,000 corporate sponsorship, a $50,000 yearly team donation and several discounted services.
Louisville proposed a $100,000 yearly rental charge but fewer service discounts.
"Twenty-six years I've been doing this, and I've been watching it get worse, more and more competitive," Gregory Pierce, chief financial officer of the Atlanta Convention & Visitors Bureau, told the Post-Dispatch after submitting a bid for the FIRST championship. "Demand for meetings has not gone up. But cities keep building convention centers."
Atlanta, Detroit and Indianapolis all have new convention center complexes, either completed or on the way.
Indianapolis doubled the size of its convention center, built Lucas Oil Stadium and wrapped up $3 billion in tourism-related infrastructure in late 2013, largely with new tourism taxes.
Detroit renovated its old arena and center, spending $280 million and adding 200,000 square feet of meeting and public space, 100,000 square feet of exhibit space and a 40,000-square-foot ballroom, among other changes.
"There's a newness here," VisitIndy Vice President Chris Gahl said after submitting the city's FIRST bid. "And that's one way to stay competitive, to showcase new amenities."
Losing money
A recent planning report said the St. Louis Convention & Visitors Commission hosted, on average, 109 events a year, with more than 600,000 attendees who buy 350,000 hotel room-nights and spend more than $250 million in the area.
Politicians say conventions expose outsiders to St. Louis and create a bustling downtown while also boosting taxes.
"It's not really about the cost of operating a facility, or for that matter, building a facility," Ratcliffe said. "It's about the return on that investment."
Commission leaders estimated that the Meeting Professionals International delegates, for instance, spent $6.5 million here. Within two years, the convention center sales team had booked 10 new meetings, representing about 7,000 visitors and 18,000 nights in area hotels, thanks to the planners. Leaders declared the convention a "great success."
But the new business had a cost: The four-day event that July weekend in 2012 totaled more than $1.5 million, half of which was covered by taxpayers.
Meanwhile, the Visitors Commission loses millions of dollars annually. St. Louis and St. Louis County send the agency more than $16 million a year for operations, plus $33 million for debt and upkeep on the downtown convention center and domed stadium.
The taxes dedicated to covering those costs — 7.25 percent in hotel taxes in St. Louis city and county, plus a 1 percent restaurant tax in the city — fall short by a few million dollars a year.
"Virtually every convention center in the country loses money," said University of Chicago economist Allen Sanderson. "And just because you have a new one doesn't mean Alcoholics Anonymous is going to meet more often."
"The convention business is pretty cutthroat," he continued. "It's hard to make any money."
Tami Hartley and her two dozen students from Plainfield Township, Mich., represent the problem with predicting convention economics.
Over the past few years, Hartley and fellow coaches have packed minivans with students, coolers and slow cookers, before driving 450 miles to St. Louis for the annual FIRST Robotics championship.
They buy food at Costco in Michigan, make sandwiches in go-bags, and start a line of slow cookers; dinner bubbles in hotel rooms while students compete.
"We still do that," Hartley said, on a break last week.
Lunch that day, she said: cold cuts, tuna salad, and peanut butter and jelly sandwiches.