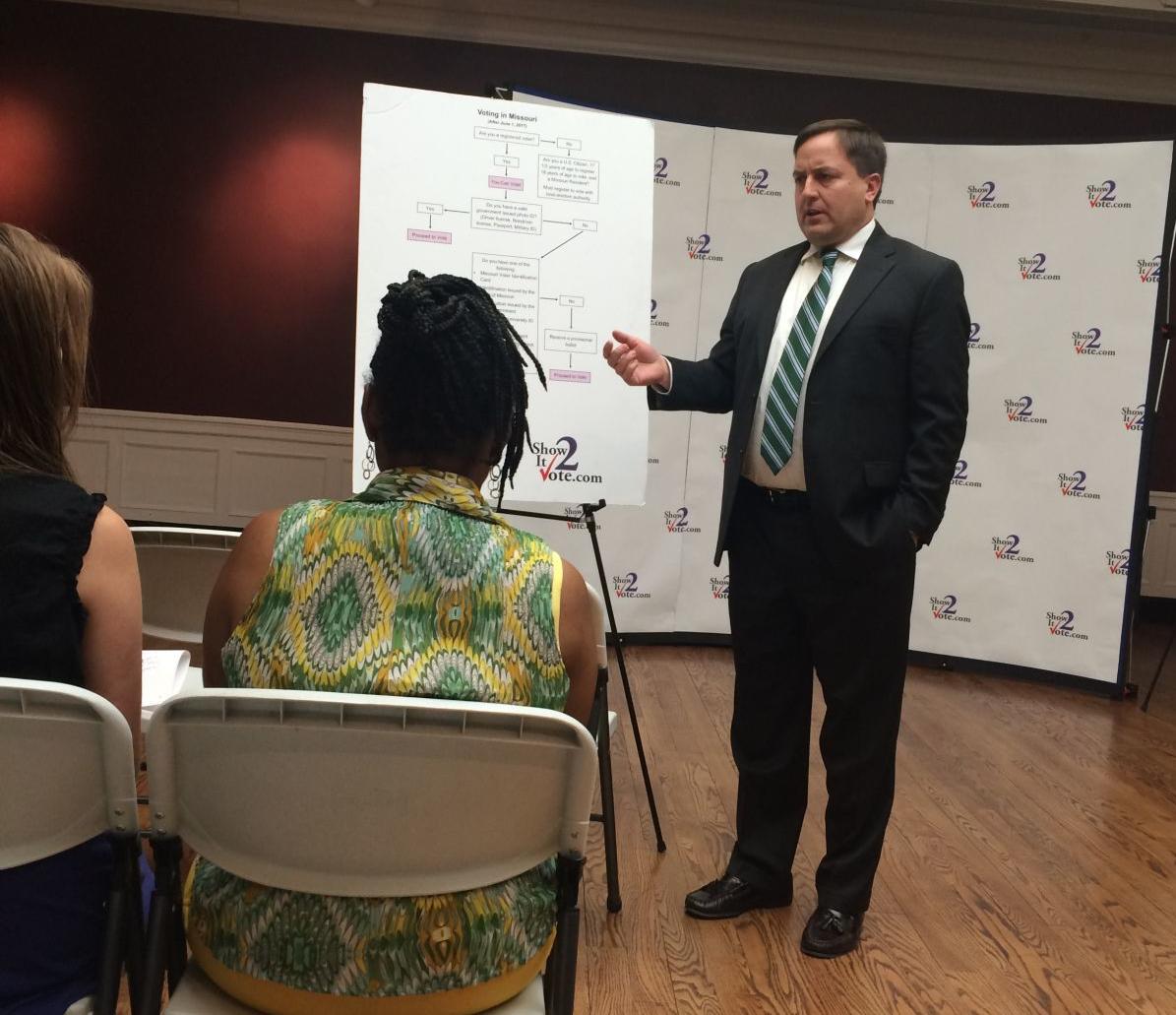 ST. LOUIS • The American Civil Liberties Union and another civil rights group filed suit Thursday seeking to stop implementation of Missouri's new photo ID voting law in advance of a July 11 St. Louis special election, claiming the law is an attempt to disenfranchise voters.
The suit, filed in Cole County Circuit Court in Jefferson City, alleges the state has failed to provide adequate public education about the new requirements.
"Voters were promised that this law was not about disenfranchising the most vulnerable in our state," Tony Rothert, legal director of the ACLU of Missouri, said in a written statement. "The state's lack of funding and implementation of this law tells another story."
The suit was filed by the ACLU and Advancement Project, a civil rights group based in Washington, D.C., on behalf of the NAACP and the League of Women Voters.
"Missouri's restrictive photo ID law was designed to make it harder for people to vote," said Denise Lieberman, co-director of power and democracy at Advancement Project's national office, and coordinator of the Missouri Voter Protection Coalition.
"It is a gimmick that — as we've seen in other states — inevitably leads to blocking people from the ballot, especially people of color, young voters, seniors, women, and people with disabilities."
The lawsuit comes as Missouri Secretary of State Jay Ashcroft completes a five-day tour around the state explaining and defending the new law.
The July 11 city election is to fill the 28th Ward aldermanic seat vacated by Lyda Krewson when she was elected mayor.
Ashcroft this week is defending the state's new photo ID voting law in a series of public meetings, disputing critics who fear it will suppress voting and demonstrating how many safeguards there are to prevent that from happening.
But in one of the meetings Thursday, with a small St. Louis group that included several skeptical members of the League of Women Voters, Ashcroft was able to point to just one actual Missouri case of voter impersonation, the generally rare type of voter fraud that supporters of the new law say it was necessary to combat.
"If you are registered to vote, you can vote," Ashcroft repeatedly told a small audience at the main St. Louis Public Library downtown.
He warned of what he said was misrepresentation of the law in the media, where some activists have alleged the new rules are a deliberate attempt by the Republican-led state Legislature to hold down the Democratic vote by intimidating minority, low-income and other voters who might lack government-issued photo IDs.
Using flow charts, Ashcroft, a Republican and key proponent of the law, made a case that voting won't be any more difficult under the new law, and in some ways will be easier. The point of the new law was to require photo IDs of voters, but he showed how, as implemented, it will allow registered voters who don't have IDs to vote using other alternative documentation, or to cast provisional ballots with nothing but a signature.
Ashcroft said the goal is to gradually get more people using photo IDs while voting, even if that's not the effect immediately. The state is providing photo IDs free of charge to those who request them and fill out required paperwork.
"Don't be scared, don't be confused," said Ashcroft, who bantered amiably for about an hour with the audience of less than a dozen residents. "We want you to vote."
Some audience members brought up the question of why the law was necessary in the first place, prompting Ashcroft to rattle off a litany of verified voter-fraud anecdotes — most of which involved purchasing of votes, voting in the wrong jurisdiction and other issues that aren't addressed by the new law.
Under persistent questioning, he ultimately acknowledged that the one Missouri case of voter-impersonation fraud that he cited was in fact the only one he was prepared to cite.
"It seems to me that if there's basically one case ... I think that's insufficient justification for a law like this," said Louise Wilkerson, one of the League of Women Voters members present at the meeting. "I am concerned that those people who don't have a government-issued ID will be discouraged" from voting.
Ashcroft's five-day tour throughout Missouri explaining the law wraps up Friday with these meetings:
10 a.m.: Diekroeger Park (Wil Heiliger Activity Building), Wright City
11:45 a.m.: Washington Public Library, 410 Lafayette Street, Washington
1:45 p.m.: Northside Hall, 205 North Clark Street, Sullivan
4 p.m.: Farmington City Hall, 110 West Columbia Street, Farmington