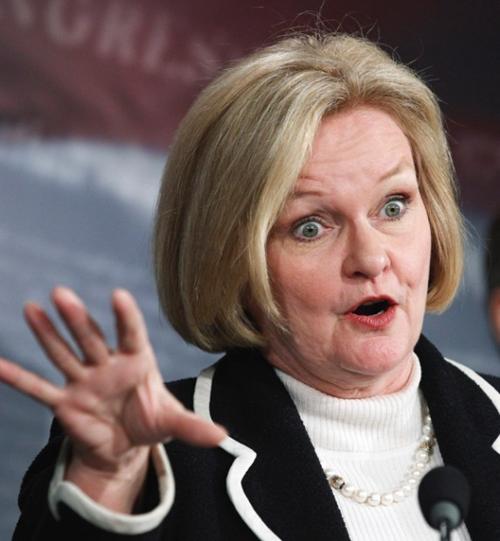 ST. LOUIS • When Claire McCaskill disclosed last week that she had not been paying taxes on her private airplane, she did more than just open herself up to charges of hypocrisy.
The admission by Missouri's senior U.S. senator brought into sharp public focus just how wealthy she is. Not only does she own a $2.1 million plane, but when questions emerged about what she owed on the aircraft, she was able to immediately deposit tens of thousands of dollars into public coffers.
That type of financial wherewithal is a stark contrast to the image McCaskill has cultivated in nearly three decades of politics in Missouri - where she has traveled the state in an RV and stumped with her mother - and in Washington, where she has fought to increase the minimum wage and railed against Wall Street bonuses.
While she acted quickly to satisfy her tax obligations, the perception of McCaskill as disconnected may be hard to shake, even though she's a career public servant who married into money later in life.
No one knows better than McCaskill that she has gift-wrapped prime fodder for the opposition to attack her re-election bid in 2012.
"I have a feeling that the Republicans will try to, many, many times over the next 18 months, make this about the fact that my husband has been very successful in business," McCaskill said last week when divulging her missed tax payments. "But in this instance, in all fairness to the Republicans, I made this mistake. And I am being accountable for the mistake."
McCaskill may be hard-pressed to find voters who can relate to owning what, for many, is the ultimate luxury item.
"Not everybody owns an airplane," said Rich Magee, chairman of the Republican Party in St. Louis County. "It's very difficult to sympathize in this situation."
McCaskill's deep pockets stand out even in the millionaire's club that is the U.S. Senate. The Center for Responsive Politics ranks McCaskill as the 12th-richest of 100 senators, with a net worth between $15.6 million and $27.5 million.
In addition to a $700,000 condo in Washington, McCaskill has a sprawling three-story, 15-room home at the end of a long driveway in Kirkwood.
The plane that has fueled her political angst as of late is actually her second. Previously, McCaskill enjoyed use of a Piper Navajo manufactured in 1977. In 2006, McCaskill, through a holding company, purchased a newer Swiss-made Pilatus PC-12, a single-engine, turboprop designed for corporate travel.
The high-flying lifestyle is relatively new for McCaskill. Aides say there was a time, when she was a single mother, when she had to wait until her paycheck cleared to pick up her dry cleaning and save for months to take her three children to Disney World. In state government, her salary topped out at about $97,000 as state auditor, before she became a senator.
Growing up, McCaskill sewed her own clothes. Before her father was appointed state insurance commissioner, he worked at the family mill in Houston, Mo. McCaskill still has an old flour bag from the McCaskill Milling Co. encased in a frame that hangs in her Senate office.
After graduating from high school, she worked her way through college and law school waiting tables at the Lodge of the Four Seasons. She began her political career at age 29, when she was elected to the state House, giving birth to her first child while in office.
In 1994, when McCaskill was the prosecuting attorney in Jackson County, her first husband, David Exposito, was busted for smoking marijuana in a casino near Kansas City. The pair split a year later.
In 2005, months after McCaskill announced her candidacy for Senate, Exposito was fatally shot in a hardscrabble neighborhood across the border in Kansas.
By then, McCaskill was married to developer Joseph Shepard, whom she met at the birthday party of a mutual friend. Their union meant that the details of Shepard's vast business enterprise had to be revealed under disclosure rules for elected officials and their spouses.
Shepard has made a fortune investing in affordable housing, an industry that employs complex investment vehicles and intricate tax credit swaps. Shepard's holdings, according to forms filed with the U.S. Senate, are divided among dozens of limited partnerships, from Abilene, Kan., to Zephyrhills, Fla.
When McCaskill was state auditor, Republicans said her office's review of Missouri nursing homes represented a conflict of interest because of Sherpard's links then to senior living facilities. Now, McCaskill's rivals are calling for renewed scrutiny on the Delaware limited liability company that is the registered owner of the airplane.
In 2006, when McCaskill was running for the Senate against incumbent Jim Talent, the GOP criticized McCaskill for not charging her campaign for use of her private plane, claiming it amounted to a violation of a pledge to keep family money out of the race. (Her campaign was, in fact, charged about $57,000 for the flights.)
Republicans began questioning this month whether McCaskill made a profit by seeking reimbursement from the government when using her plane for official duties. McCaskill paid back to the U.S. Treasury more than $88,000 used to fuel and fly her plane since she took office in 2007, though she insists there was never a net income gain. One of those flights was purely political - a trip to the state party's annual gathering in Hannibal.
Last week, McCaskill's problems intensified when she announced that she would pay four years of delinquent personal property taxes on the plane, a bill that came to nearly $320,000 when interests and late fees were calculated. She took blame for the missed taxes, saying it was an unintentional blunder.
McCaskill - a former two-term state auditor who has fashioned herself as an ethics cop in the Senate - was slammed for the failure to pay property taxes on the plane. On Friday, a popular Washington Post blog awarded her its "Worst Week in Washington" award.
"Maybe Claire McCaskill thinks she can write a big check and make everything disapear," said Lloyd Smith, executive director of the state GOP. "We don't think that's the case."
Peddling the notion that a candidate's wealth makes them out of touch has been a common tactic by both parties. During the 2008 presidential campaign, Republican nominee John McCain took heat when he had trouble answering the question of how many houses he owned. Four years earlier, Democrats winced at an ad showing John Kerry - who married the heir to the Heinz ketchup fortune - windsurfing off the coast of Nantucket.
Wary that attacking such images could come across as class warfare, Republicans are unlikely to criticize McCaskill's prosperity, at least not directly, said Robert Dewhirst, a professor of political science at Northwest Missouri State University.
"They won't say rich," Dewhirst said. "They'll just say she's out of touch - she's 'not one of us.' "
That argument may resonate with some independent voters, but Dewhirst said it wouldn't go far within her own party. "Democrats have elected wealthy people before," he said. "Start with the Kennedys."
Explaining her ownership of a pricey airplane at a time when many of her constituents are worried about house payments could be tough, especially for a politician who has tried to hone a working-class appeal on the campaign trail.
When she ran for Senate in 2006, McCaskill's last-minute frenzy across the state aboard the camper she dubbed "Big Blue" included visits to a truck stop, diners, fire stations and auto plants.
Still, McCaskill's long history in state Democratic politics may afford her some good will among party faithful.
"Claire definitely understands what it's like to work hard, and work hard every day," said Mike Frame, a former state legislator and union organizer from Eureka. "I don't see anything in her voting record that shows she's disconnected with the working men and women of Missouri."
Many of the state's ground-level activists have known McCaskill long before she was wealthy, and describe her as still accessible and down to earth.
"She can afford a $2 million plane. More power to her - I can't," said Jackie Hosack, a veteran St. Charles County Democrat. "You know, when I meet Claire, that money doesn't come between us because she doesn't act like that."
It helps McCaskill's political future that she has more than 18 months to repair the damage from the plane controversy before Election Day. McCaskill said she had persuaded her husband to sell the plane and pledged to travel more modestly. She already has usually taken commercial flights back from Washington.
On Thursday evening, McCaskill flew to St. Louis on Southwest Airlines, the carrier that has no first-class seats.