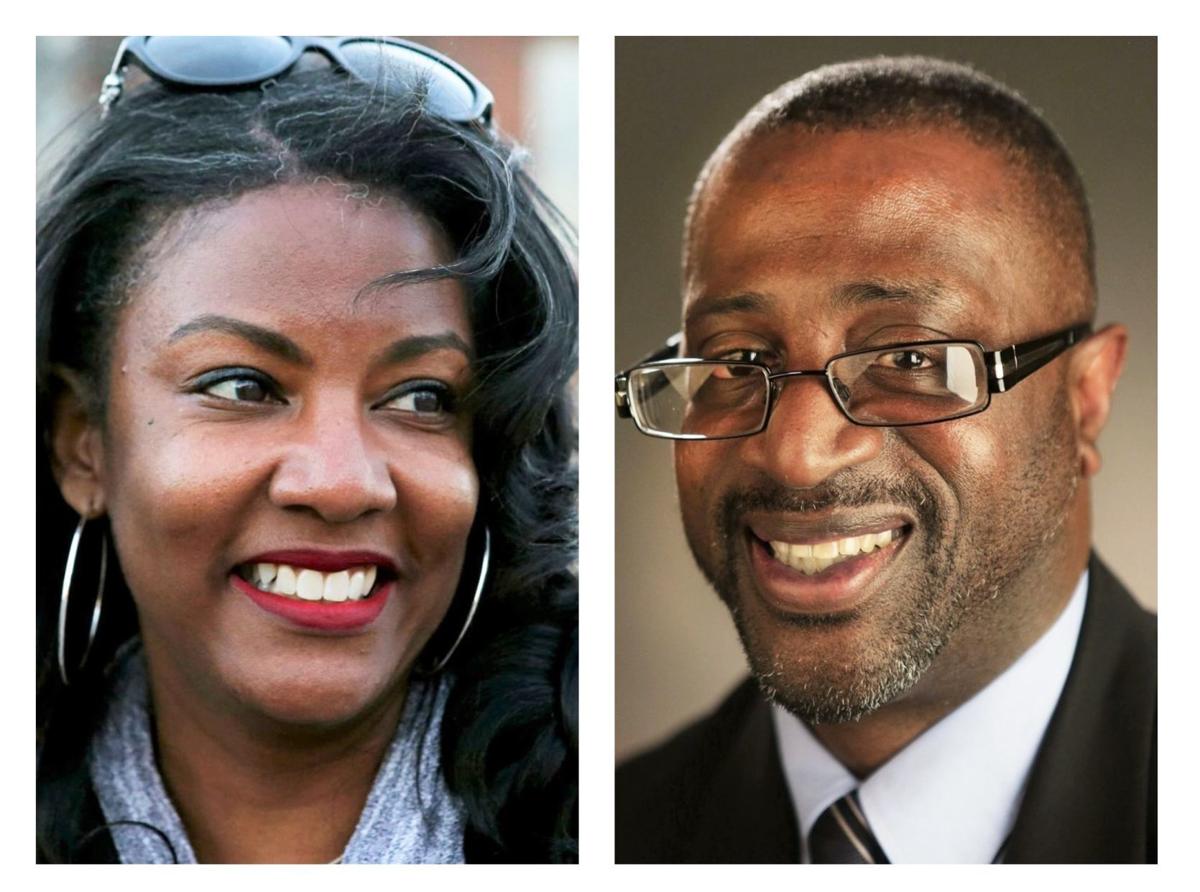 ST. LOUIS — Three years after narrowly losing a race for mayor, City Treasurer Tishaura Jones says she's strongly considering making another try for the city's top post next year.
But Jones is preoccupied now with getting reelected as treasurer, working to fend off a spirited challenge in the Aug. 4 Democratic primary from Alderman Jeffrey Boyd.
The two — who have clashed on and off in recent years in aldermanic hearings and court over Jones' oversight of city parking garages, lots and meters — are at it again in this campaign.
Jones, 48, regards parking as a positive part of her resume.
"Our goal has been to modernize the office into a 21st-century department," said Jones, who was elected treasurer in 2012 after four years as a state representative.
For example, she said, parking meters used to take payment only in coins. Now, she said, "people can pay any way they like" at meters.  "We take credit cards. We take app-based systems."
In another change, she added, meters spit out paper receipts, giving motorists proof that they paid. She also says the number of tickets issued has been reduced.
Boyd, 56, complains that Jones doesn't channel enough of the city's parking revenue — projected this year at $18.5 million — to help pay for general city services.
He also alleges that she uses some of it as a "slush fund" for pet projects such as an amnesty program waiving late-payment penalties on ticket fines paid by Aug. 31.
Jones says the amnesty "is a way to be compassionate" to people hurt by the pandemic-slowed economy and still enforce the law.
Boyd, if elected, promises to take steps to move the parking division from the treasurer, one of the city's county-type offices, to the general city administration headed by the mayor.
"All across America municipalities are in control of their parking operations," Boyd said. The office instead, he says, should focus on its other main role: managing and investing city funds.
Boyd is among plaintiffs in a long-running court battle that seeks to give more authority over parking revenue to the Board of Aldermen and the city's top fiscal body, the Board of Estimate and Apportionment, and less to the treasurer.
The Missouri Supreme Court earlier this year dismissed Jones' appeal of a circuit judge's 2018 decision voiding state laws outlining the treasurer's role but didn't rule on the merits of the case.
Instead, the high court said it couldn't consider an appeal yet because the lower-court judge has yet to rule on some other points raised by plaintiffs in the case. So the two sides are back before the trial judge.
Among other things, Boyd wants aldermen to have authority to tap more than the maximum 40% of parking revenue after expenses that state law says can go into the general city fund.
Boyd also has used his roles as chairman of the aldermanic streets committee and a member of the city parking commission, which is chaired by Jones, to press his points.
Jones, meanwhile, says her office has consistently contributed to the city general fund the maximum allowed by state law. She also points out that she cooperated with city officials to fund a study needed for the proposed MetroLink north-south line.
Boyd also complains that Jones has fought to maintain her office's control of parking despite telling voters when she first ran for treasurer in 2012 that she would move it to another city agency.
Jones says she changed her mind following a report from a financial adviser assigned to review the situation. The adviser, she said, determined that shifting garages and related debt to the general city administration could adversely affect the city's credit rating.
She added that shifting parking employees to the city civil service system would require approval of all the city bondholders, a process she called "lengthy and hard."
Boyd also has changed positions on the issue. In 2012, when he ran unsuccessfully for treasurer, he opposed moving parking operations out of the office. He says he didn't believe then that a shift could be carried out legally; he thinks differently now.
Jones-Krewson
Jones on Monday accused Krewson and her supporters of backing Boyd "to get me defeated."
"This whole race was designed to muddy me up ... and make me a less viable candidate if I decided to run" for mayor next year, Jones said.
One indication, Jones said, was a $1,000 contribution Boyd's treasurer campaign received in April from Krewson's chief of staff, Steve Conway.
Boyd denied that he was running to help the mayor. "I am running for treasurer because I want to serve my city," he says.
Conway, a former longtime alderman, said he made the donation because Boyd has been supportive of him over the years and not because of the mayor.
Conway said he doesn't believe that the mayor has taken a position on the treasurer's race.
"The mayor is not concerned about any particular candidate" who may run against her, Conway added. "She's very comfortable that no matter who gets in the race that she'll be successful."
Contract, grant disputes
Boyd has raised questions about a three-year, $7 million contract Jones executed in April with Hudson and Associates LLC, a Jones campaign donor, to manage parking meter collections and maintenance, and the city's parking violations bureau.
Among other things, he complains that the parking commission didn't approve the contract and questions whether the process Jones' office used to pick Hudson was truly competitive.
Jones says the company, previously a subcontractor for the office, was chosen competitively and that the commission signed off on the deal when it voted last September to endorse the contract term sheet. Boyd argues that the meeting wasn't legally constituted.
City Counselor Julian Bush, the city's top attorney, last month said he regarded the contract as invalid for several reasons. On Friday he said his office had endorsed a revised version worked out with Jones' office. However, the contract on Monday still awaited Comptroller Darlene Green's approval, which Bush said also was needed.
Jones, meanwhile, questions a $40,000 federal grant Boyd got in 2017 through a city development agency to improve the facade of a banquet hall he owns on Dr. Martin Luther King Drive in his ward, the 22nd.
She says because Boyd as an alderman has access to certain information before his constituents do, he may have had a conflict of interest.
Boyd insisted he did not get favored treatment and said he was absent when the Board of Aldermen voted on the general allocation of funds for the grants.
The federal Department of Housing and Urban Development approved the Boyd grant, issuing a waiver of its regulation on conflicts and appearances of conflicts.
Campaign backing
Committees backing Jones reported raising more than $212,000 by July 23, while Boyd's treasurer campaign committee pulled in nearly $80,000 by then.
In addition, a separate committee, STL Justice, funded by an $88,000 donation from a dark-money nonprofit group, reported spending $43,971 on promoting Boyd's campaign.
Meanwhile, Jones recently trumpeted endorsements from two prominent Massachusetts Democrats — Sen. Elizabeth Warren, the former presidential candidate, and U.S. Rep. Ayanna Presley. Boyd said St. Louisans aren't interested in that and that he doesn't want to be "a national celebrity treasurer."
The winner of the Jones-Boyd race is likely to win the office in the November general election in the heavily Democratic city over Republican Robert Vroman and Green Party nominee Don DeVivo.
Get Election 2020 & Politics updates in your inbox!
Keep up on the latest in national and local politics as Election 2020 comes into focus.