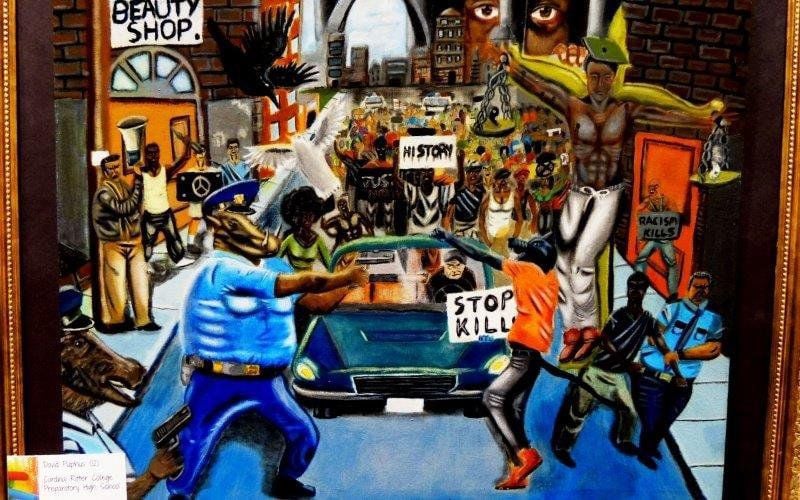 WASHINGTON • Amid the frantic choreography of the new Congress, with families in tow for the swearing-in ceremonies and children afoot in places they normally do not tread, Rep. William Lacy Clay, a Democrat from urban St. Louis, and Rep. Dave Reichert, a Republican from rural Washington state, talked quietly about a piece of art.
In a conversation Tuesday, they agreed to disagree about "Untitled #1," a painting about police by former Cardinal Ritter Prep student David Pulphus, who Clay said is now studying art in college in Chicago.
Critics have cried foul, saying the painting, which hung without controversy for months in plain sight in a busy legislative corridor, depicts police officers as animals.
The painting will stay until summer, when a new contest will choose another. It's part of the House of Representatives' "Artistic Discovery" contest, described as a "competition established to encourage and recognize the creative endeavors of our Nation's high school students."
But long after "Untitled #1" is removed and replaced, the issues that brought Clay and Reichert to their private conversation will linger: Police-community relations. Freedom of expression. The willingness to get to the root of issues that provoked an 18-year-old from St. Louis to fill a canvass with enough symbolism to become an image in the culture wars — and cause two members of Congress with very different backgrounds to talk frankly about it.
In the short term, Clay's office has been receiving calls from people asking him to take it down. He will not, he said, and Reichert has announced no plans to try to force him to do it.
Clay said he has told House colleagues who raised concerns: "You want [an 18-year-old] to get on TV and cry about why his painting is taken down, you can go down that path."
Clay said he had fielded some of the angry calls to his office. Callers told him the painting should be removed and was "hateful."
"I said, 'Look now, we cannot be selective about people's constitutional rights. The Supreme Court has said artistic expression is a form of speech, and we cannot abridge freedom of speech.'"
What does the painting say to him?
"It tells me that this is this young man's collective experience, and what he has dealt with on a daily basis in his community, and so he expressed that on canvas," Clay told the Post-Dispatch. "Yes, some people find it offensive. I don't find it offensive. I find it to be an expression of what one of my constituents is feeling about what he has experienced."
Reichert, a former sheriff's officer who helped catch the Green River serial killer in 2001 and wrote a book about it, has a different take. He has made police-community relations a top-drawer issue, leading the formation in 2015 of a community policing task force with five of his white Republican House colleagues and six members of the Congressional Black Caucus. Clay is not among them.
"I understand that in many neighborhoods across America, the wounds are deep and the rift is wide," Reichert said. when he announced the formation of the group."It will take time and hard work to regain the trust and civility that has been lost. It must begin and end by recognizing that we are all on the same team."
Reichert's office wouldn't make him immediately available to talk about his private conversation with Clay, but it did issue a statement expressing Reichert's disappointment in Pulphus's painting.
"It is disheartening to see this depiction of law enforcement hanging in the hallway of our nation's capital where officers work every day to protect our safety and freedoms," Reichert said. "Unfortunately, many people of influence have taken part in promoting offensive and inaccurate caricatures of the very people who do the most to protect our families."
Reichert and colleagues had walked past the painting for months without even noticing it.
It's one of scores hanging on the walls of a long, white-walled tunnel that connects the Capitol with congressional office buildings.
"Untilted #1" is one of eight from Missouri alone, each representing a congressional district, whose representative's name is displayed below their district's winner. The other seven range from a portrait of an old woman entitled "Grandma," to "Welcome Home," a depiction of a soldier shouldering a small child who is clasping a tiny American flag.