ST. LOUIS — The Democratic contest for the 1st Congressional District, where longtime incumbent William Lacy Clay faces another challenge from Cori Bush, reflects some of the still-unresolved division in the national party, as centrists and liberals face a progressive insurgency determined to pull the party left.
Clay, running for his 11th term in Congress, points to his record of longtime support for Democratic policies and a senior ranking he says is necessary to bring federal dollars and support to the St. Louis region.
"These times in the middle of a global health pandemic, with a cratering economy and people crying out for economic and social, racial justice — now is not a time for amateur hour," said Clay, 64, Missouri's senior congressman.
Bush, 44, a registered nurse, ordained minister and activist making her second bid for Congress, says Clay's rank and time in office haven't benefited everyday residents in the congressional district, which takes in the city of St. Louis and most of north St. Louis County.
Her background, including being a single mother, roots her in the real-world issues of the district, Bush said, and those issues haven't improved for most people living in Clay's district in his 20 years in office.
"This campaign is about equity, about changing the lives for the better for regular, working people," Bush said.
The Aug. 4 primary, a rematch of the 2018 race, pits the Ferguson activist against a political dynasty, and is enmeshed in a wider political battle between establishment Democrats and left-wing challengers to the status quo.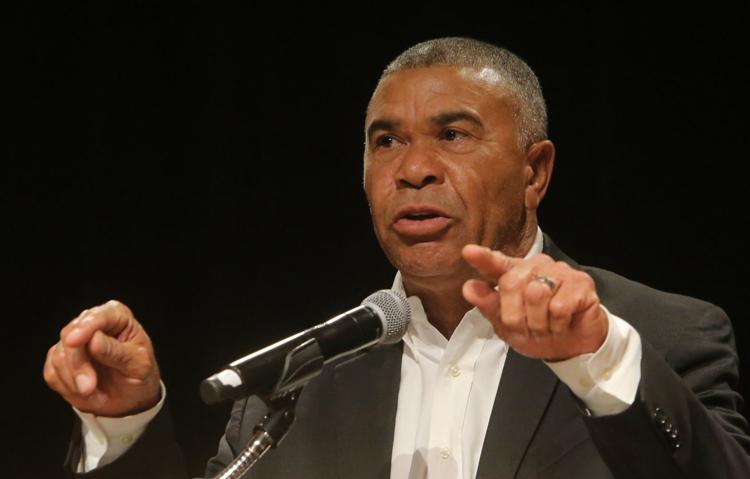 Clay, who joined the Missouri Legislature in 1983, was elected to Congress in 2000. He succeeded his father, Bill Clay, who had held the seat since 1969. Together, they've represented St. Louis in Washington for more than half a century.
Bush, whose father, Errol Bush, has been a Northwoods alderman and mayor, entered electoral politics in 2016 after taking part in demonstrations in Ferguson following the police killing in 2014 of Michael Brown.
She ran unsuccessfully for the U.S. Senate, losing the 2016 Democratic primary to then-Secretary of State Jason Kander. Two years later, she challenged Clay for the first time, falling short by more than 28,000 votes — a 20-point margin that remains the closest any challenger has come to unseating Clay.
Bush, with a much-smaller campaign war chest than Clay's, ran a grassroots campaign centered on universal health care, free public education and raising the minimum wage — policies advocated by U.S. Sen. Bernie Sanders, a Vermont independent who describes himself as a democratic socialist.
No AOC this time
This time, Bush has triple the campaign donations, which she attributes in part to "Knock Down the House," a 2019 Netflix documentary that followed Bush and three other candidates seeking to replace incumbent Democrats with progressive women, including Rep. Alexandria Ocasio-Cortez.
Clay and Bush have touted support for Ocasio-Cortez's Green New Deal plan to combat climate change as part of a bid to position themselves as the more progressive candidate for the overwhelmingly Democratic district.
Bush, of Florissant, has pointed to her experiences leading protests across the area over the years as informing her politics, accusing Clay of being absent from the community.
"His expertise, his relationships, should have told him you know what, show up," she said.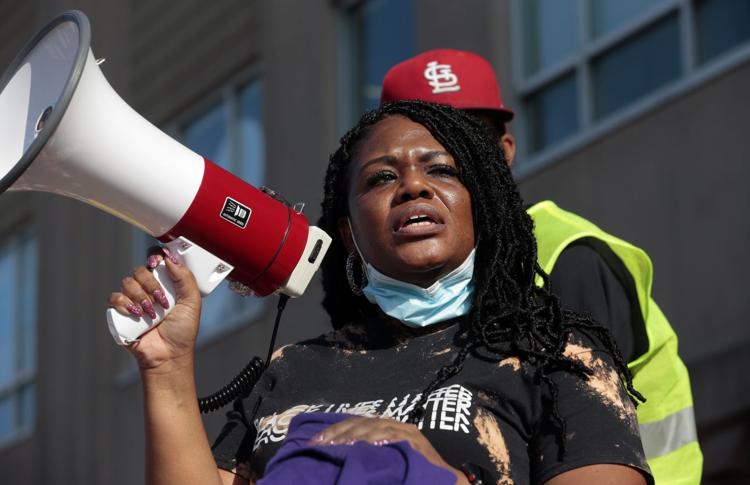 "My role is to be a legislator," he said, "and to effect change at the legislative level, and that is what I do."
Clay is endorsed by House Speaker Nancy Pelosi and Sen. Kamala Harris, D-Calif., whose presidential bid he backed. But he also points to positions he's taken that put him to the left of the party's establishment, including supporting Sanders' universal health care legislation, Medicare for All.
"I would put my record up against any progressive's, and compare my career to theirs and see who has been more effective," Clay said.
Bush is backed by two Sanders-aligned groups, Justice Democrats and Brand New Congress, that have supported other left-wing challengers to Democratic incumbents like former school principal Jamaal Bowman in New York, who endorsed Bush last week after upsetting 16-term incumbent Rep. Elliot Engel.
Fight Corporate Monopolies, an anti-corporate PAC, meanwhile launched television advertisements attacking Clay for his opposition to efforts by President Barack Obama's administration to bar financial advisers from directing low-level investors to risky, high-fee investments.
Bush, who supports "defunding" the police, says that her platform in 2016 addressed issues now spotlighted by COVID-19 and protests over the police killing of George Floyd.
"I've been saying the same things since 2016," she said.
Campaign cash
Bush also has taken aim at Clay for his campaign contributions from political action committees and corporations, touting a fundraising haul over the last few months nearly all of which was made up of individual contributions.
Bush's campaign had raised $569,051 as of July 15, compared with $743,124 that Clay had raised, according to FEC reports. Her campaign had spent $441,700 in the primary so far, and Clay had spent $548,289, leaving him with more cash on hand in the final weeks of the race.
Clay, meanwhile, has attacked Bush for paying $22,125.18 out of campaign donations to herself as a salary. The Federal Election Commission in 2002 allowed the practice for candidates, but not incumbents, to make it easier to run for office.
Beginning April 1 and through June 30, Bush paid herself a total $22,125.18 in seven disbursements of $3,160.74 each, according to FEC reports.
"I gave up being a full-time nurse to be a full-time candidate," she said. "I'm working class, I'm a single mother. I have to be able to support myself and my children."
Clay said the amount Bush was paid is "outrageous."
"It betrays the people who are supporting her," he said. "Nobody donates to a candidate to have them pocket the money personally."
Clay paid the firm $210,000 since January 2019 in 27 disbursements for "community organizing," "legal compliance" and "fundraising" work, according to FEC reports.
Clay also has launched print advertisements attacking Bush for being evicted three times in recent years, failing to pay taxes and for her nursing license being suspended in 2013. Bush's nursing license was suspended Sept. 28, 2013, after she failed to pay state taxes, but was restored Oct. 18 after she made necessary payments, according to state records.