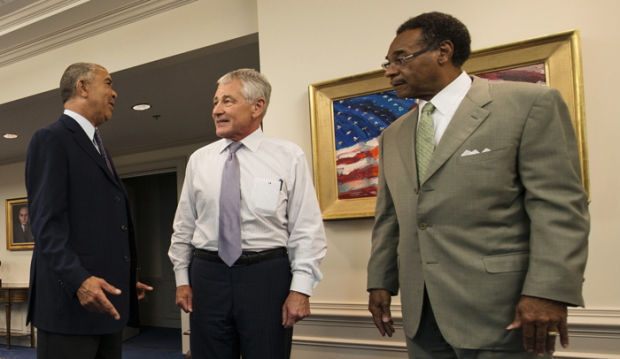 WASHINGTON • U.S. Rep. Emanuel Cleaver, D-Kansas City, said Monday he will introduce a bill in Congress outlawing criminal and traffic law enforcement activities that are "motivated by revenue-raising purposes."
Cleaver said his "Fair Justice Act" will make it a civil rights violation, punishable by up to five years in jail, to enforce laws "solely to raise revenue." It would give people the ability to seek redress under the Fifth and 14th Amendments and offer other protections against jurisdictions that use citations as revenue raisers.
"Ferguson police officers from all ranks told us that revenue generation is stressed heavily within the police department, and that the message comes from city leadership," the Justice Department report said. "The evidence we reviewed supports this perception."
The Justice Department issued 26 reforms Ferguson should take, including several aimed at how officers write tickets and how the court system levels fines, charges late fees, and works with citizens to pay them.
The Justice Department decided to not seek civil rights charges against Ferguson police Officer Darren Wilson, for the Aug. 9 shooting death of Michael Brown, 18. But Holder has been highly critical of Ferguson's police and courts after his department's release of its "patterns and practices" investigation last week.
Ferguson and Justice Department officials now must work out an agreement on how the reforms will be implemented. The city could resist all or some of them. Holder has said the Justice Department could sue the city or even move to shut down the police department, if Ferguson does not move toward a voluntary agreement on implementing the reforms.
When the report was released last week, Justice Department officials said they were encouraged by Ferguson's initial response, and they praised several reforms already underway.
But Cleaver, citing news reports on allegations of similar revenue-generating police practices in other communities across the nation, including Jennings, Mo., said his bill is aimed far beyond Ferguson.
"This legislation will help prevent the kind of reprehensible activities that occurred in Ferguson," Cleaver said in a statement announcing his planned legislation.
Paul, who is considering a run for president, has worked with liberal Democrats such as Sen. Cory Booker, D-N.J., on criminal and civil law.
Jones said that Cleaver believes that libertarians and conservative Republicans should have an interest in his bill because of their philosophical aversion to the heavy hand of government, and because the fines and citations are often aimed at poor people least able to pay them.
Cleaver calls raising revenue through traffic tickets "overtaxation by citation."
Rep. Hank Johnson, D-Ga., has introduced legislation calling for independent investigators in police-involved shootings. Rep. William Lacy Clay, D-St. Louis, says he will co-sponsor it.
Both Clay and Sen. Claire McCaskill, D-Mo., plan to push legislation that would prioritize federal aid to local police departments to help speed up use of police body cameras.
Get Government & Politics updates in your inbox!
Stay up-to-date on the latest in local and national government and political topics with our newsletter.