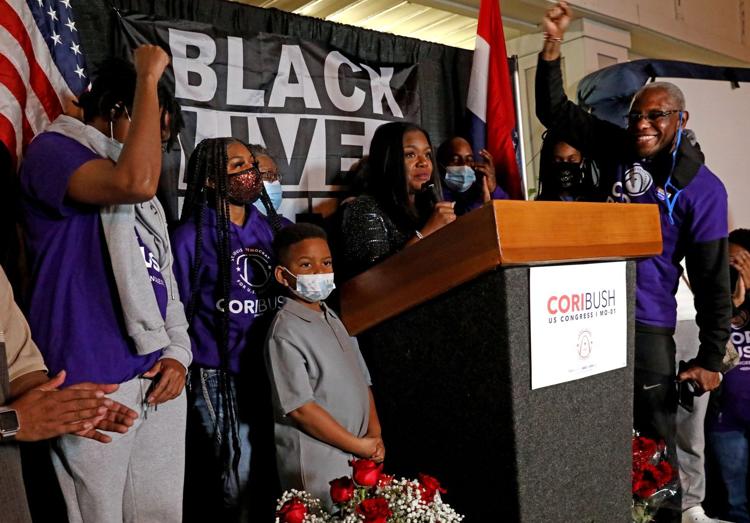 WASHINGTON — After her first day of freshman orientation in the U.S. Capitol, Democratic Rep.-elect Cori Bush called out Republican lawmakers who she says did not recognize the name of a woman slain by police in Louisville, Kentucky. 
Bush, elected to represent the 1st Congressional District this month, said on Twitter Friday that her face mask displaying the name of Breonna Taylor appeared to confuse several GOP colleagues who thought it was Bush's name.
"Breonna Taylor was murdered in March, and there has been protest upon protest across the country under the rallying cry of 'Say her name,'" Bush said in a statement. "To arrive at Congress to find out that several Republican colleagues do not know her name is not only shocking, but incredibly hurtful."
Kentucky officials declined to charge police in the death of Taylor, who was killed in a shootout during a botched drug raid targeting her ex-boyfriend. Taylor became one of the most commonly invoked names of people killed by police during a summer of demonstrations led by a reinvigorated Black Lives Matter movement. 
It's Day One, so I'm wearing my "Breonna Taylor" mask.

A few of my Republican colleagues have called me Breonna, assuming that's my name.

It hurts. But I'm glad they'll come to know her name & story because of my presence here.

Breonna must be central to our work in Congress.

— Cori Bush (@CoriBush) November 13, 2020
Bush, who has quickly become well-known among national progressives after defeating 20-year incumbent William Lacy  Clay in the August Democratic Party primary, built her name recognition locally as a Black Lives Matter activist since the 2014 Ferguson unrest. 
Bush told NBC News Friday that "several" GOP members called her Breonna while she wore the mask. 
"I didn't hear it once; I didn't hear it twice," Bush said. "I heard it several times."
In her statement, Bush said she would continue to talk to her colleagues in order "to tell Breonna's story."
"So I will educate, and I will make clear the consequences of the epidemic of police violence in communities like St. Louis," Bush said.