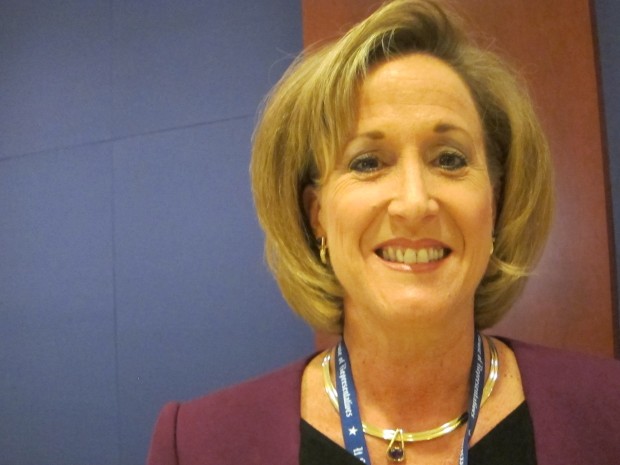 ST. LOUIS • Beneath the historic dome of the Old Courthouse, U.S. Rep. Ann Wagner on Thursday announced a proposed law that would shut down and criminalize marketplaces that willfully promote sex trafficking.
Wagner, R-Ballwin, cited the 1857 Dred Scott trial which took place in the historic courthouse and "aroused public outrage over slavery."
"And today we're here to end what I call modern-day slavery," she said.
Wagner, a former European ambassador, said she had long been involved in curbing sex trafficking internationally. But she was dismayed to learn that more than 300,000 American youths are at risk of trafficking annually in the United States, and that the youths typically enter the sex trade when they are 13 or 14. St. Louis ranks in the top 20 cities nationally for sex trafficking, according to the U.S. Department of Justice.
"Never ever did I believe that it was so rampant in the United States of America," Wagner said.
The Stop Advertising Victims of Exploitation bill — or SAVE — filed in Congress today targets enterprises such as Backpage, an online and print advertising marketplace that generates more than $37 million a year in revenue and is estimated to garner more than 80 percent of advertising profits generated by the sex trade. Wagner's office said revenue from U.S. online prostitution advertising totaled $45 million in 2013, surpassing a benchmark set when Craigslist abandoned its adult services section in 2010.
The law proposes amending federal code offenses to criminalize the sales or promotion of advertisements that facilitate human trafficking. Wagner said it gives prosecutors greater power to charge those engaging in such activity with a federal crime.
Wagner said the measure would protect First Amendment rights and third parties who might unwillingly aid in sex trafficking.
But it would go after those with direct intent to promote sexual exploitation. She said the law was intended as a deterrent to those advertisers.
"If they continue in this horrid industry, we'll see them in court with a jury of their peers and a judge," Wagner said.
While Wagner did not allude to the nearby Crowne Plaza hotel, several in the audience noted the location, as well as recent arrests of pimps for sex trafficking in the St. Louis area. The Crowne Plaza is among St. Louis hotels pictured in ads for female escorts on Backpage.com. Photos taken in upper-floor rooms depict the landmark green dome of the Old Courthouse through the hotel windows.
Crowne Plaza owners have said they will investigate and take appropriate action.
Wagner said while the marketing of the sex trade has exploded online, laws have not kept pace. The last law to be created to combat sex trafficking was 13 years ago, she said.
Wagner said her bill is one of several being introduced in Congress to deal with the issue. She is also a co-sponsor of a bill that would better protect foster children from being coerced into sex trafficking.