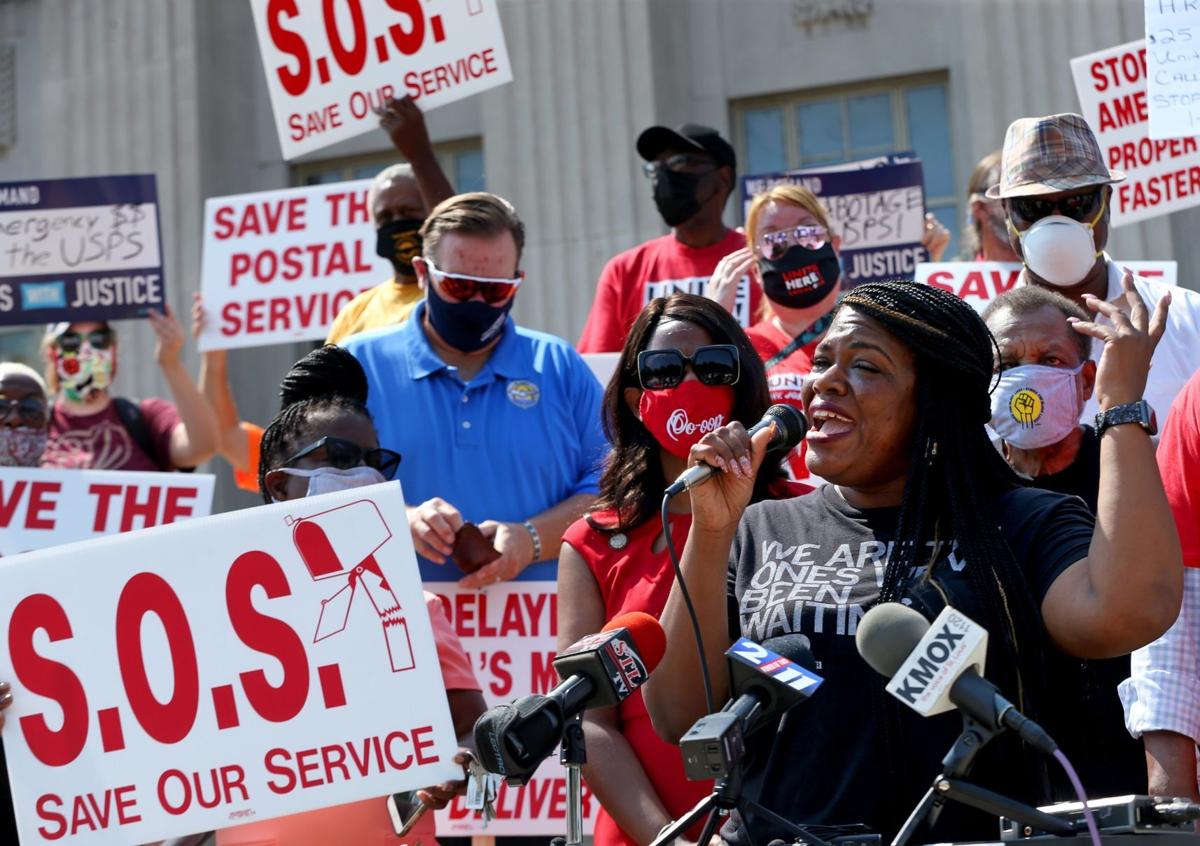 ST. LOUIS — Cori Bush, the Ferguson activist poised to become St. Louis' next representative in Congress, says Mark and Patricia McCloskey were "just trying to get attention" when they named her during their appearance Monday in the Republican National Convention.
"This is their way of just trying to get attention, trying to get some notoriety," Bush said Tuesday about the McCloskeys, the St. Louis couple facing felony charges for waving and pointing weapons — an AR-15 and a handgun — at Black Lives Matter protesters. 
Bush, a nurse and pastor, was among the marchers who encountered the McCloskeys on June 28 when they entered Portland Place, a gated, private city street in the Central West End. The protesters were on their way to Mayor Lyda Krewson's residence, and the unexpected confrontation with the McCloskeys, which was recorded, went viral. President Donald Trump and Gov. Mike Parson both defended the McCloskeys; Parson vowed to pardon the couple if they are convicted of any gun-related charge.
During the RNC appearance, McCloskeys called the protesters "an out-of-control mob," and named Bush as their leader in a speech that sought to paint Democrats as complicit in incidents of looting that have occurred amid the vast majority of peaceful protests for racial justice in recent months.
"The Marxist liberal activist leading the mob through our neighborhood stood outside of our home with a bullhorn screaming 'you can't stop the revolution.'" Mark McCloskey said. "That Marxist revolutionary is now going to be the congresswoman for the 1st District of Missouri."
The couple also accused Democrats of wanting to "abolish the suburbs."
Bush on Tuesday pointed out that the couple live in a gated neighborhood of the city of St. Louis, not suburbs, and pushed back against the couple painting her as an angry radical.
"I don't hate anyone," she said. "I don't hate any occupation. I don't hate any group of people. But if you are pressing folks, I'm coming for justice no matter who you are or what you look like."
Bush on Aug. 4 unseated longtime U.S. Rep. William Lacy Clay, ending his 20-year hold on Missouri's 1st Congressional District and putting her on a path to become the first Black woman to represent Missouri in the nation's capital.
Her campaign focused on universal health care, defunding and reforming police departments, free public education and raising the minimum wage, policies advocated by other left-wing Democrats like U.S. Sen. Bernie Sanders and U.S. Rep. Alexandria Ocasio-Cortez.
Bush also expressed concern Tuesday that by naming her a "Marxist radical" and showing her pictures to a national audience, the McCloskeys highlighted her as a target for racist or anti-Black sentiments.
"They just put a target on my back that was bigger than the one that I had," Bush said. "They just made it really difficult for me to navigate, move around, simply because there are people who are looking at me — especially people who are white supremacists — as if I am a danger."
On Tuesday, an attorney for the McCloskeys issued a statement, asserting the couple are the ones facing threats, and have been "subjected to an onslaught of threats and acts of intimidation" since their convention appearance.
But Albert S. Watkins said the couple have added security, and won't be intimidated.
"My clients will not shake like small dogs passing razor blades," Watkins said in the statement. "Instead their resolve to stand true to their core constitutionally protected beliefs are steeled."