St. Louis County Executive Steve Stenger said Thursday he will seek $3 million to study three new MetroLink routes, but not the north-south expansion, which St. Louis Mayor Francis Slay says is key to redeveloping north St. Louis.
Stenger said the north-south route already has been the subject of one study, and the other routes need to be examined before he decides which route to support, whether that be one of the three or the north-south extension.
The north-south route — a 17-mile line estimated to cost $2.2 billion that would stretch from north St. Louis County near the Florissant Valley campus of St. Louis Community College, into downtown and south St. Louis and down Interstate 55 to Bayless Avenue — was studied in 2008.
But it requires further analysis, something $2 million from the city of St. Louis treasurer's office is expected to help fund.
So before endorsing any route, Stenger wants to examine three others: the "Daniel Boone" from Clayton to Westport; "MetroNorth" from the North Hanley station to Interstate 270; and "MetroSouth," from the Shrewsbury station to Butler Hill Road. The MetroSouth route is the only one of the three in which a portion runs through the city of St. Louis.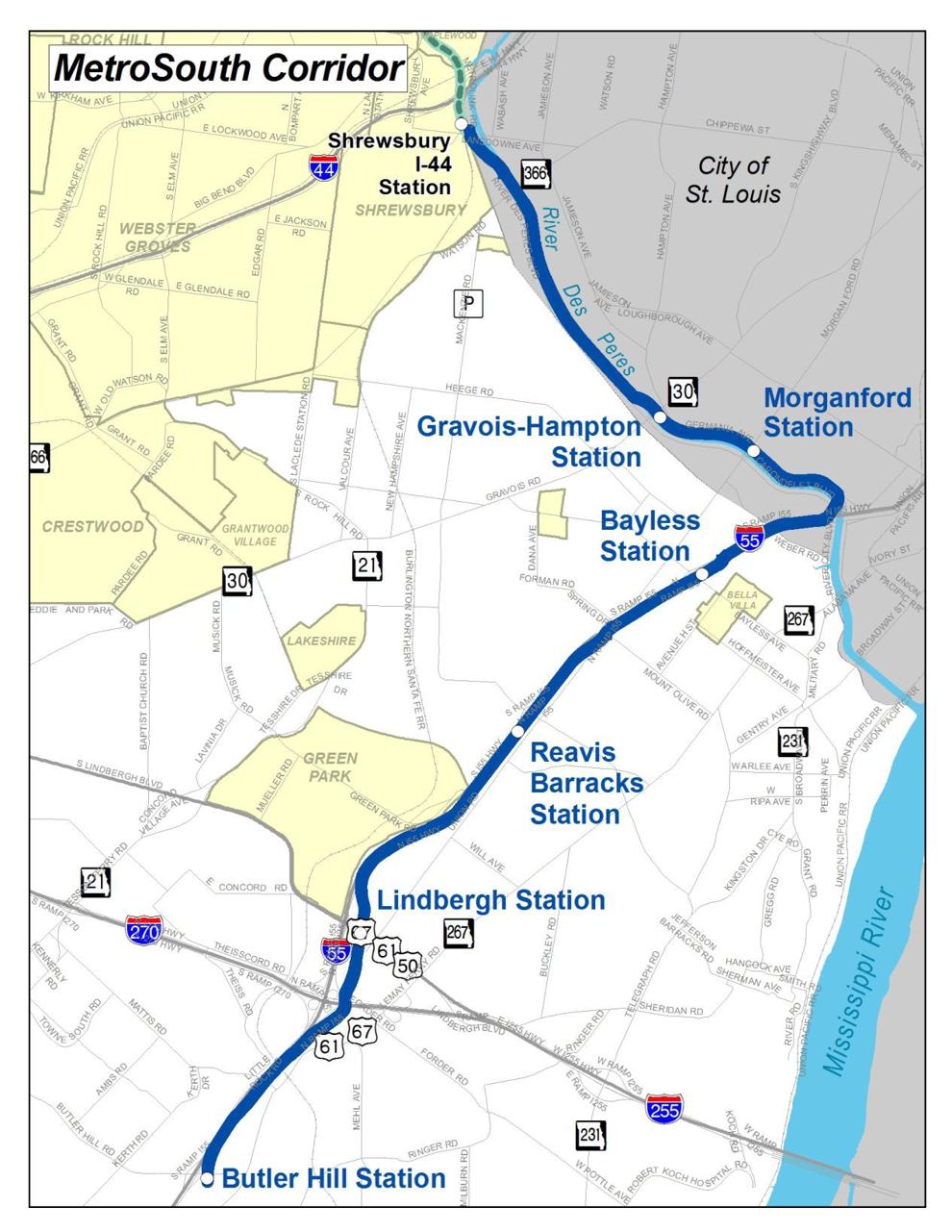 Last spring, Stenger said he would choose one of the three alternatives to the north-south route for a $1 million study. The county sought public comment about which to pursue, but no route rose above the rest in responses.
"It was pretty even among all the routes," Stenger said, which is why he decided all three corridors warranted a closer look.
The lack of consensus between Stenger and Slay about MetroLink expansion was highlighted this week when a letter written by Stenger to the Federal Transit Administration, in which he said he will not endorse the north-south route until other proposed routes are studied, was widely circulated.
Stenger's letter came in response to a $530,000 grant application to study the route that included Slay's signature.
"When one group declares regional priorities to the exclusion of key stakeholders we become divided," Stenger tweeted Thursday.
Slay a few days earlier signaled his support for north-south remained strong, tweeting his thanks to the Rev. Starsky Wilson, a co-chair of the Ferguson Commission, "for reminding us that the region has a plan to move forward. It includes N/S MetroLink."
Slay's spokeswoman on Thursday said he did not want to comment on Stenger's decision of which routes to study.
And the north-south line could get some financial help from the city.
Calling that extension one of the most important projects in the region, Treasurer Tishaura Jones supports giving $2 million in parking revenue toward studying the line.
"We committed to funding the study because we are interested in ensuring future parking needs are coordinated with public transit development," her office said in a statement Thursday.
Such a move would require the approval of the St. Louis Parking Commission, whose next meeting is in August.
Stenger is set to ask the County Council for $3 million from proceeds of Proposition A, a half-cent mass transit sales tax approved by voters in 2010, at the council's meeting Tuesday.
The fund contains about $46 million.
The studies are required to secure federal funding that will be an important part of any MetroLink expansion, Stenger said, and will show which routes are most likely to qualify for those federal dollars.
St. Louis County is working with the East-West Gateway Council of Governments to issue a request for proposals for consultants to perform the study, a process that East-West Gateway will coordinate.
The request for proposals should be ready in three weeks.
Thanks to @RevStarsky for reminding us that the region has a plan to move forward. It includes N/S MetroLink. #fgs

— MayorSlay.com (@MayorSlay) June 21, 2016
When one group declares regional priorities to the exclusion of key stakeholders we become divided.

— Steve Stenger (@StengerSTLCo) June 23, 2016