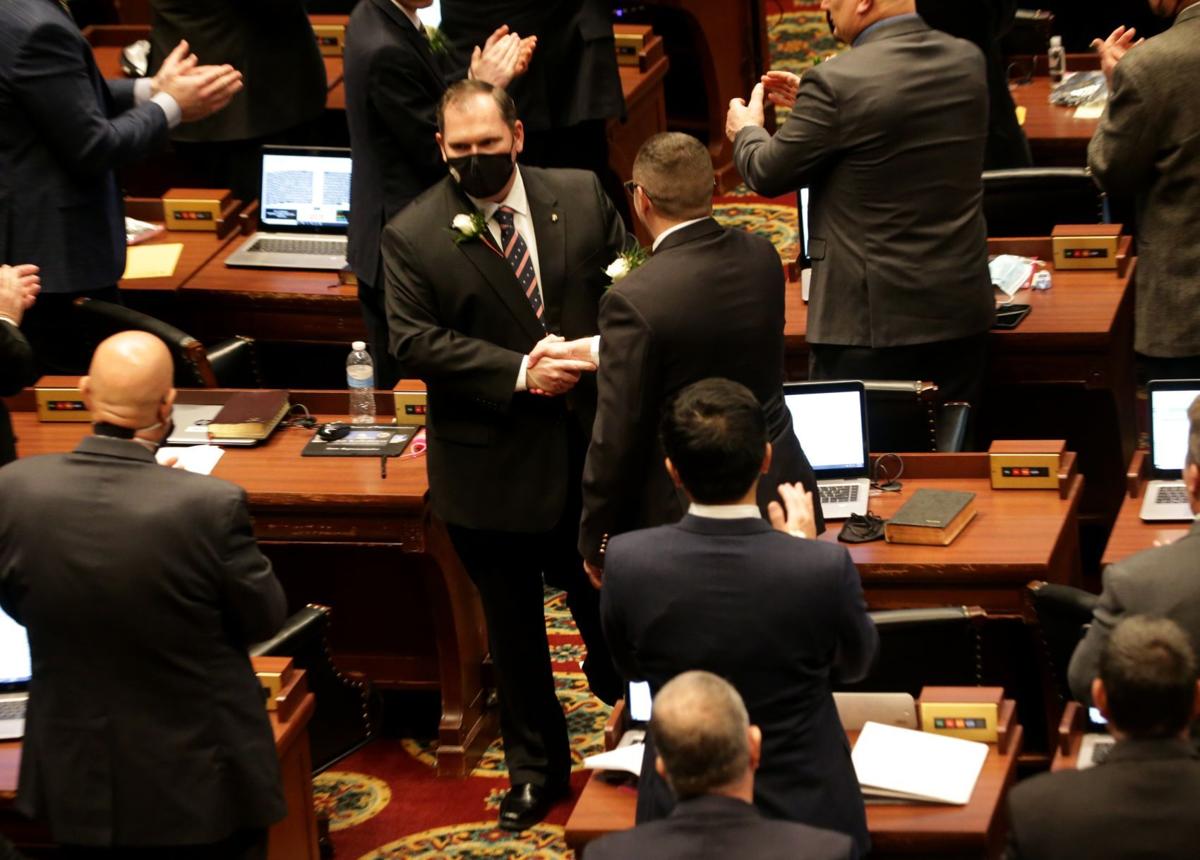 JEFFERSON CITY — Missouri lawmakers made it just one full week into their annual four-month legislative grind before the rapid spread of COVID-19 forced the cancellation of next week's session.
A day after the Post-Dispatch reported that at least one Kansas City lawmaker had tested positive for the virus, a new handful of cases surfaced Thursday, forcing leaders in the GOP-led chamber to put the brakes on next week's schedule.
The House rejected a mask requirement on Tuesday.
"Due to the rising number of COVID-19 cases in the building, we are exercising an abundance of caution to protect members, staff, and visitors by canceling session next week. Our goal is to return to work the following week," said a joint statement from Republican leaders.
The Senate, where at least one member was in quarantine, also could choose to cancel next week. A spokesman for Senate Majority Leader Caleb Rowden, R-Columbia, said members of the Republican majority were meeting Friday to decide whether to follow suit.
The decision by House Speaker Rob Vescovo, R-Arnold, came as Gov. Mike Parson is urging the lower chamber to approve millions in federal stimulus funds on housing and rent assistance as the clock ticks down on a deadline to spend the money.
Lawmakers also had been poised to approve a change in law aimed at helping kids in foster care, which is a top priority for Vescovo.
But, the rapid growth in cases alarmed House leaders, who worry that more exposures this week could cause a more severe outbreak.
Among those infected with the virus is Rep. Wes Rogers, D-Kansas City. His Jefferson City roommate, Sen. Greg Razer, D-Kansas City, is in quarantine.
Rep. Keri Ingle, D-Lee's Summit, and another lawmaker also are in quarantine.
Senate Minority Leader John Rizzo, D-Independence, said Thursday that outbreaks are unavoidable in a building that swells with lawmakers, lobbyists and staff when the Legislature is meeting.
The Legislature began its work Jan. 6 and has been in session in each of the past four days, including the swearing-in ceremony of Parson, a Republican who tested positive last summer.
Cole County has a positive testing rate of 27% and there are no mask mandates or significant business restrictions, meaning lawmakers can still mingle at downtown bars and restaurants at day's end.
In the Capitol hallways and chamber floors, a largely Republican contingent wears no face coverings.
On Tuesday, the House rejected a Democrat-led proposal to require all 163 members to wear masks on the floor.
The pause in action mirrors last year when the pandemic shut down business for both chambers, leading to a series of special sessions later in the year.
The General Assembly's main constitutional duty each year is to craft a spending plan for the fiscal year beginning July 1.