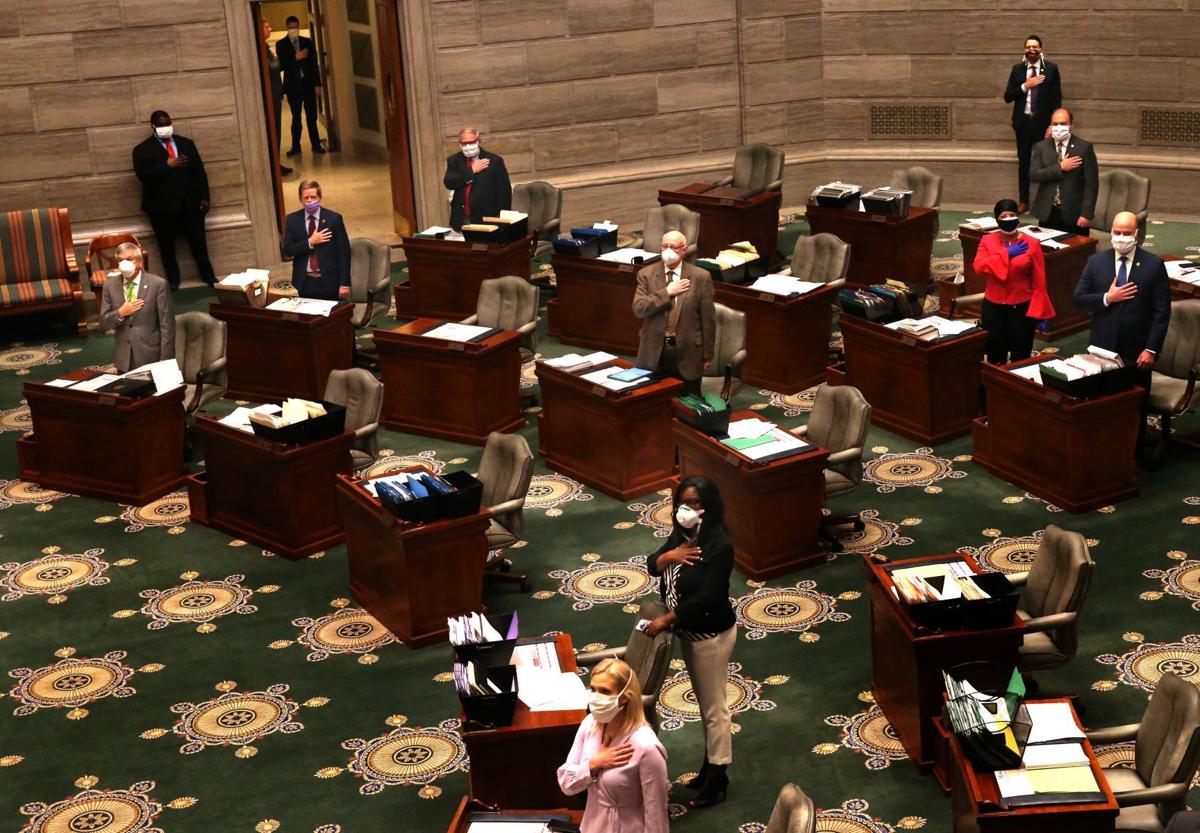 JEFFERSON CITY — The end of an unprecedented legislative session during an unprecedented national emergency comes Friday for Missouri lawmakers.
After missing six weeks of their annual January-through-May session because of the spread of COVID-19, the House and Senate are poised to wrap up their business at 6 p.m.
Issues still on the table as lawmakers worked into Thursday night include the long-sought creation of a prescription drug monitoring program, a massive crime package and a host of transportation-related proposals.
Backroom negotiations were underway across the Capitol on Thursday as Gov. Mike Parson met with individual lawmakers who were balking at various provisions that were tucked away into omnibus bills. "There was no arm-twisting," Parson told reporters at his daily press briefing.
The governor traveled to Cape Girardeau on Thursday and is going to the Ford truck plant in Claycomo on Friday to highlight his efforts to jump-start the economy.
He said he was glad to see the House and Senate sending bills to his desk after lawmakers hit the pause button in mid-March.
"I'm surprised at some of the things that are getting done," Parson said.
Parson's security team milled about outside Sen. Scott Sifton's office on the fourth floor Thursday afternoon as the Republican tried to convince the Democrat from Affton to support a package of crime legislation.
The idea of the legislation is to ensure people can safely testify at trials of violent criminals without facing reprisals.
"It was a priority for the inner cities and the African American community. This is something that really does have an impact," Parson said. "We've got to try and figure out how we deal with violent crime. This was a tool for that."
Parson had been against a vote-by-mail concepts, but now says he's willing to entertain the idea if there are protections against voter fraud.
"I'm not for sure what all that language is," Parson said.
A proposal to shield health care providers from legal liability in cases related to the treatment of coronavirus also is awaiting final action.
And, a last-minute bid to allow restaurants to continue to serve takeout cocktails because of social distancing orders awaits possible debate, but is not expected to advance.
Another measure that appears to have fizzled is a plan to require Medicaid recipients to work. The proposal was floated in the House, but did not get out of the chamber as time was ticking down.
Daily updates on the latest news in the St. Louis business community.