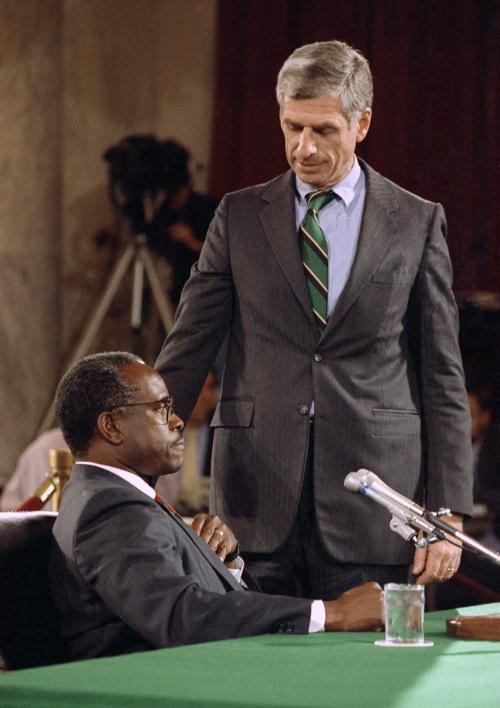 WASHINGTON • Former U.S. Sen. John Danforth, the Missourian who 27 years ago was embroiled in the tumultuous Supreme Court confirmations hearings of his friend Clarence Thomas, said Wednesday that confirmations to the highest court have become "just totally out of control," and so beholden to political pressures that they're not fair to anyone.
Danforth made his comments in an interview with CNN about the stalemate involving President Donald Trump's latest nominee, federal Court of Appeals Judge Brett Kavanaugh. That nomination appeared on its way to a narrow approval in the Senate until Christine Blasey Ford came forward publicly to accuse Kavanaugh of sexual assault at a teen party 36 years ago. Ford had made her allegations in a letter to Sen. Dianne Feinstein, D-Calif., in July, but those allegations did not become public until late last week.
Danforth said that lawyers, not senators, should question Kavanaugh. The former senator also said he believed that the FBI already has the authority to interview Kavanaugh's accuser as part of its background-check responsibility.
Danforth was Thomas' mentor and sherpa during Thomas' confirmation hearing in 1991, when Anita Hill came forward with allegations of sexual impropriety by the nominee. Thomas, who denied her charges and called the confirmation hearings a "high-tech lynching," won confirmation, 52-48. But Hill's treatment by an all-male Senate Judiciary Committee upset many Americans, and propelled more women — including Feinstein — to run for Congress and other offices.
In his interview with CNN, Danforth cited Thomas' hearing, as well as the politicized rejection of Robert Bork in 1986 and now the highly inflamed nomination of Kavanaugh, as examples of the nomination process being thrown off the rails.
Democrats would add to that list Republicans' refusal, on political grounds, to even consider Barack Obama's nomination of Merrick Garland during the last year of Obama's presidency.
Danforth argued that the combination of the #MeToo movement and politicians "looking over their shoulders" distorted the hearing process to the point where it has become a disservice to both Kavanaugh and his accuser. He said he believes that the "torment" he saw Thomas go through is being experienced by Kavanaugh.
Kavanaugh "is a man who has had such a sterling reputation, and clearly his reputation means a great deal to him, and he has got a family and he has got two little daughters and then this thing comes up," Danforth, a Republican, told CNN's Jim Acosta.
"His reputation was lauded during the hearing — serving in soup kitchens for the poor and coaching kids and so on and so forth. People recognized that, whatever you thought of his jurisprudence, here was an excellent human being. And now all of that is in the trash."
Citing what he witnessed with Thomas, he added: "What I really think now is there has got to be some reasonable end to the torment, and the longer it goes on the more hurtful it is to the human being."
Acosta pointed out that Ford, who reportedly has had to move from her home and employ security because of threats, had faced the torment of what she says happened to her 36 years ago.
"Doesn't her story deserve to be told, too?" Acosta asked.
"Yes, of course, and I think everybody has made that clear," Danforth said. "But I have been saying that from the standpoint of someone who has been nominated for the Supreme Court — obviously (Kavanaugh) wouldn't be in a position unless you had a wonderful reputation. All of the checks made, background checks and so on, that have gone on over a long period of time to vet this person. People are proud of their reputation. That is what they live for.
"All of that is put in jeopardy because one person makes a charge about something that happened 30-some-odd years ago," Danforth added. "That is the situation we are in."
Danforth said that "I think that it is very important that Judge Kavanaugh be represented by counsel and then an experienced lawyer be able to conduct the questioning. Because lawyers have an ethical responsibility to selflessly represent the interest if their client, whereas members of the Senate are looking over their shoulder (and asking), 'How is this going to affect the next election?'"
He said that "the more it can be like a court proceeding, where there are presumptions of innocence, where there is burden of proof, where there are lawyers who are able to ask questions, not just politicians in 10-minute bursts of time — I think that is very important."