WASHINGTON • Rep. Rodney Davis said Saturday he thinks Democrats voted against a bill to keep the government open in order to score political points on the anniversary of President Donald Trump's first year in office.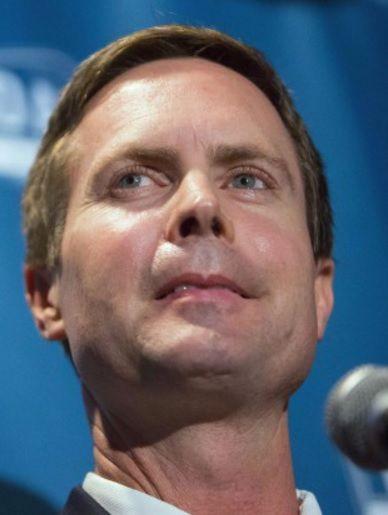 Davis, R-Taylorville, Ill., said that repeatedly in a call with reporters Saturday afternoon, saying that for Democrats, "it's more about messaging on their part than governing."
He pointed to statements made by Senate Democratic Leader Chuck Schumer of New York made as the shutdown hour approached Friday night.
"Tomorrow marks a year to the day President Trump took the oath of office on the Capitol steps," Schumer said. "Unfortunately a Trump shutdown would encapsulate of the chaos he's unleashed on our government."
While Davis was talking with reporter, Democratic National Committee Chairman Tom Perez sent a press release also noting the one-year anniversary, and declaring that "this shutdown happened because this president and his party are too incompetent and ill-intentioned to do their jobs and keep the federal government up and running."
The shutdown also came on the same day that marchers gathered in cities around the country to commemorate the anniversary of women's "resistance" marches against Trump.
Behind-the-scenes negotiations continued Saturday as members of the House and Senate gave speeches or held show votes as they waited for a possible resolution of the shutdown, which began at midnight Friday.
Frustrated members took to Twitter and issued statements, mostly blaming the opposing party for the impasse.
Sen. Angus King, I-Maine, quoted the Rolling Stones' "You Can't Always Get What You Want" while imploring for renewed negotiations. Rep. Ann Wagner, R-Ballwin, had to postpone a weekend trip to meet her first grandchild, born Thursday in Savannah, Ga.
Davis, who is one of scores of Republicans targeted by Democrats in the fall, joined with Rep. Mike Bost, R-Murphysboro — another on the Democrats' target list — and other GOP House members from Illinois blaming their state's two Democratic senators for the shutdown. The impasse happened late Friday when Republicans fell 10 votes short of the 60 necessary to stop a filibuster, and Illinois' Sens. Dick Durbin and Tammy Duckworth voted no.
Sen. Claire McCaskill, D-Mo., who herself is in a tough re-election fight, was one of five Senate Democrats who voted against the shutdown. But an hour after the vote, she issued a statement saying she was "disgusted" with Senate Majority Leader Mitch McConnell for pushing off a resolution of a children's health insurance program until it got entangled in greater government funding differences.
"While I voted yes tonight to continue funding the government, it's embarrassing how badly this place is being run," McCaskill said.
Republicans said if Democrats wanted to avoid shutting down the children's health care plan, they could have voted for the bill, which extended it for six years.
Davis said he has "bipartisan scorn for the Senate and Senate rules" requiring 60 votes to pass major legislation. Republicans now hold a 51-49 majority, but three Senate Republicans voted for the shutdown, unhappy with levels of funding for the military , among other things.
The statement Davis and other Illinois Republican members signed accused Durbin and Duckworth of putting "their party's leadership over the priorities of Illinois by voting to shut down the government."
Rep. John Shimkus, R-Collinsville, also signed the statement.
Duckworth, a wounded Iraq War veteran, said that she voted for the shutdown, in part, because of the deleterious effect on the military of short-term budget fixes.
"Even the Pentagon this week warned about the 'wasteful and destructive' national security ramifications of failing, once again, to provide long-term funding," Duckworth said.
Republicans said a shutdown was worse for the military than the short-term funding bill that was rejected.
Wagner and McCaskill were among members supporting initiatives to withhold pay from members of Congress during the government shutdown. Members are currently paid because of constitutional requirements, but their staffs are not, although back pay has been appropriated in past shutdowns.