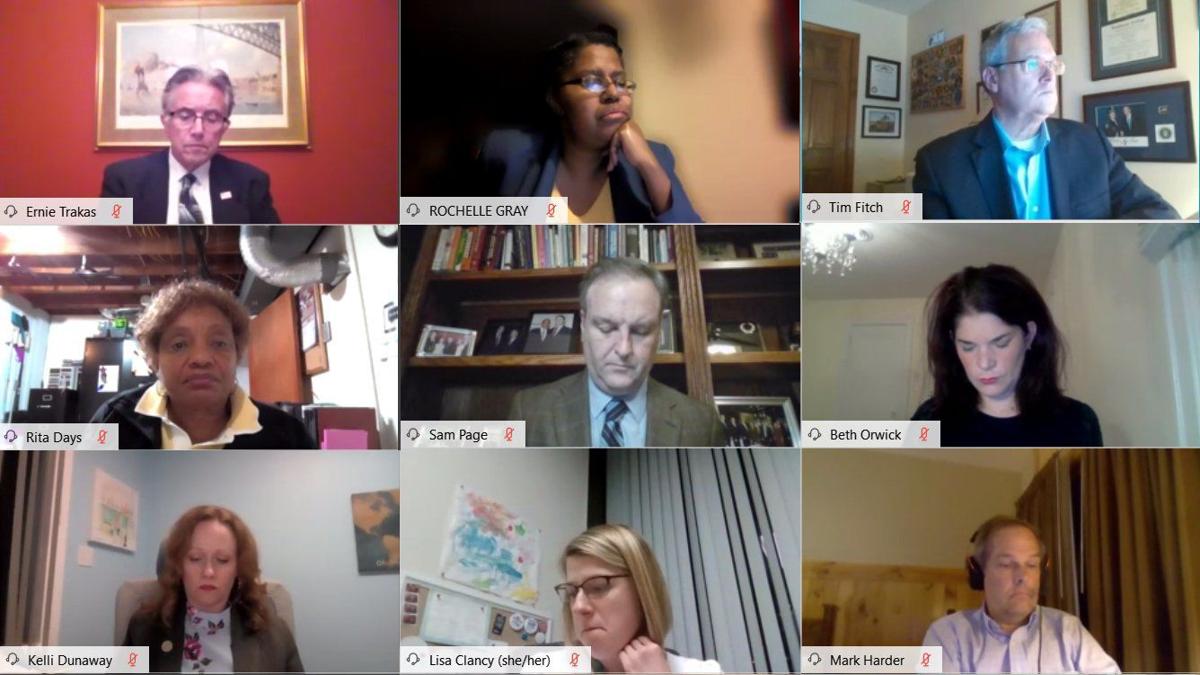 CLAYTON — The St. Louis County Council on Wednesday delayed for a second day a final vote on controversial bills curbing the authority of County Executive Sam Page and the health department to issue emergency orders during a pandemic. Instead, the council continued reading a list of more than 2,000 public comments debating the issue.
From noon to 6 p.m. Wednesday, the council heard hundreds of written statements, before voting to pick back up again Thursday.
That will mark the third day of wading through 2,230 comments, a process that began Tuesday at the council's weekly meeting. At that meeting, the council also delayed a final vote on three Republican-sponsored measures to require council approval over Page's emergency powers.
The whopping number of comments — a likely record for any council meeting — reflects a power struggle between Republicans on the council and Page, a Democrat, over the county's public health measures to curb the spread of the coronavirus.
Page over recent weeks has been the target of protests by groups upset with health orders that limited social gatherings and activities, particularly youth athletics. Supporters of the bills on Wednesday argued they weren't aimed at current health orders, but at checking overreach by Page's administration.
Critics — including Local 655 of the United Food and Commercial Workers, which represents union grocery workers, and the St. Louis County NAACP — cautioned that the bills politicize health regulations and would lead to the reversal of measures recommended by health officials to limit the spread of COVID-19.
Page has said he will veto the bills if they're approved.
At previous meetings, facing hundreds of comments, council members voted to limit the public comment period to two hours, and submit remaining entries to the council's written records.
But on Tuesday, the council voted 5-2 to continue reading comments indefinitely. Councilman Ernie Trakas, R-6th District, joined Democrats in voting in favor of continuing the public comment period. Republicans Mark Harder and Tim Fitch opposed the measure.
The vote represented a reversal of past meetings, when Democrats voted to limit comments that were overwhelmingly critical of Page, and Republicans argued for no limits. Since Tuesday, both sides have publicly accused the other of encouraging supporters to flood the public comments.
On Wednesday, after about four hours of comments, the council voted 6-1 to continue reading into the evening and then reconvene Thursday afternoon. Trakas voted against the motion because of a scheduling conflict.
Concerned about COVID-19?
Sign up now to get the most recent coronavirus headlines and other important local and national news sent to your email inbox daily.