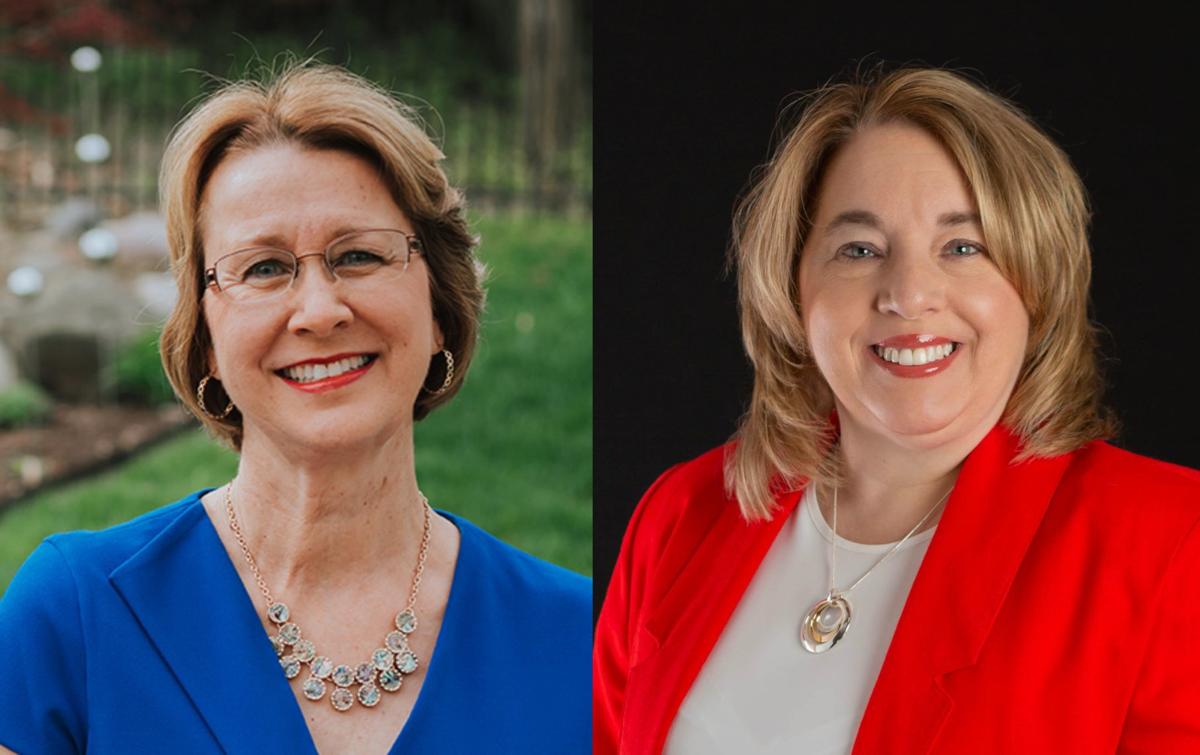 Democrat Trish Gunby won a convincing victory Tuesday in a hotly contested Missouri House race in west St. Louis County.
Final unofficial returns showed Gunby with 3,357 votes, or 54%, and Republican Lee Ann Pitman with 2,855 votes, or 46%.
The district, including areas such as Ballwin, Manchester, Valley Park and Twin Oaks, had been inundated with mailings, canvassers, radio ads and other get-out-the-vote efforts.
Both parties focused money and other attention on the district because it was considered winnable for either side.
In 2016, Republican presidential candidate Donald Trump carried the district, although by a smaller margin than he enjoyed across Missouri. But Claire McCaskill, the incumbent Democratic U.S. senator, also won the district while losing statewide to Republican Josh Hawley.
Gunby will succeed former Rep. Jean Evans, R-Manchester, who resigned her post last January to become the Missouri Republican Party's executive director.
Gunby, 59, who formerly worked in the marketing field, embraced key Democratic planks such as protecting abortion rights and instituting universal background checks for gun purchases. Both candidates live in unincorporated areas.
Pitman, 50, an accountant, focused in her campaign on workforce development issues. She also said the district needed continued conservative representation.
Gunby said Tuesday night that voters in the district wanted to shift from the policies of the Republican-led legislature.
"It was truly the climate in Jeff City,'' she said. "People were tired of it and wanted a change."
She said she planned to begin work on one of her issues — pushing for an expansion of absentee voting in the state and simpler voter registration.
Meanwhile, the state Democrats' executive director, Lauren Gepford, said that "flipping this district from red to blue" shows that voters "are going to hold extremist Republicans accountable." She also noted that Democrats won four of five other House special elections across the state Tuesday. However, the other Democratic wins were all in areas that generally vote Democratic.
Meanwhile, Pitman's campaign manager, former state Rep. Scott Dieckhaus, said, "Special elections are difficult to predict … they become a turnout game."
"I don't really think it's (the outcome in the 99th) indicative of a trend necessarily," he said.
He pointed to Democrat Mike Revis' victory in a special election in February 2018 in a House district covering parts of Jefferson and St. Louis counties. But Revis was then unseated by Republican Mary Elizabeth Coleman in the November general election, which drew many more voters. That could happen again when Gunby comes up for re-election next November, Dieckhaus said.
Elsewhere Tuesday, Democrats Mike Person and Rasheen Aldridge won easy victories in races for open House seats in the 74th and 78th districts in North County and St. Louis.
The two areas are heavily Democratic and the Republican Party didn't field nominees.
Person, of Ferguson, got 57% of the vote in his district. With no Republican running, his lone opponent, Libertarian Party nominee Nick Kasoff, also of Ferguson, got an unusually high percentage of votes for his party — nearly 43%.
Person, 62, is an Ameren employee and the Ferguson Township Democratic committeeman. He is a former Riverview Gardens School Board member. Kasoff, 53, is an IT consultant.
The seat opened up when Cora Faith Walker, a Democrat, resigned to work in County Executive Sam Page's administration.
Aldridge, 25, is the 5th Ward Democratic committeeman and an employee of the city recorder of deeds office. Aldridge had no ballot opposition. A Republican committeeman ran as a write-in candidate but said he expected Aldridge to win handily.
Aldridge will replace Democrat Bruce Franks, who said he quit the House to focus on his mental health and his family.
The 78th District takes in downtown and stretches along the Mississippi River from Dutchtown on the south to the Old North St. Louis neighborhood on the north.
Tax propositions
In other returns across the metro area:
• St. Ann voters approved creating a citywide transportation development district with authority to levy a sales tax increase of as much as 1% to pay for street and sidewalk improvements.
Unofficial final results showed almost two-thirds of voters in favor.
• Jennings voters passed a half-cent sales tax increase by just one vote. Final returns showed 344 votes in favor and 343 against.
City officials plan to use the new revenue to pay for a new city hall and community center to be built on the site of the old River Roads shopping mall.
• Proposals for new city "use taxes" on out-of-state purchases in St. Charles and Cottleville were rejected overwhelmingly. About 59% of St. Charles voters and nearly 64% of Cottleville voters said no.
St. Charles officials earmarked the estimated $1.4 million annual revenue from the proposed tax for the city's police and fire departments. The Cottleville tax would generate about $65,000 annually for various city services.
• Voters in the Wright City and Warrenton school districts rejected joining the St. Charles Community College District.
Final returns showed the propositions, which also called for property tax increases, losing by large margins. The proposal was turned down by 58% of the Warrenton district voters and 57% of the Wright City district voters. Similar measures were defeated last April in the two school districts.
Get Government & Politics updates in your inbox!
Stay up-to-date on the latest in local and national government and political topics with our newsletter.