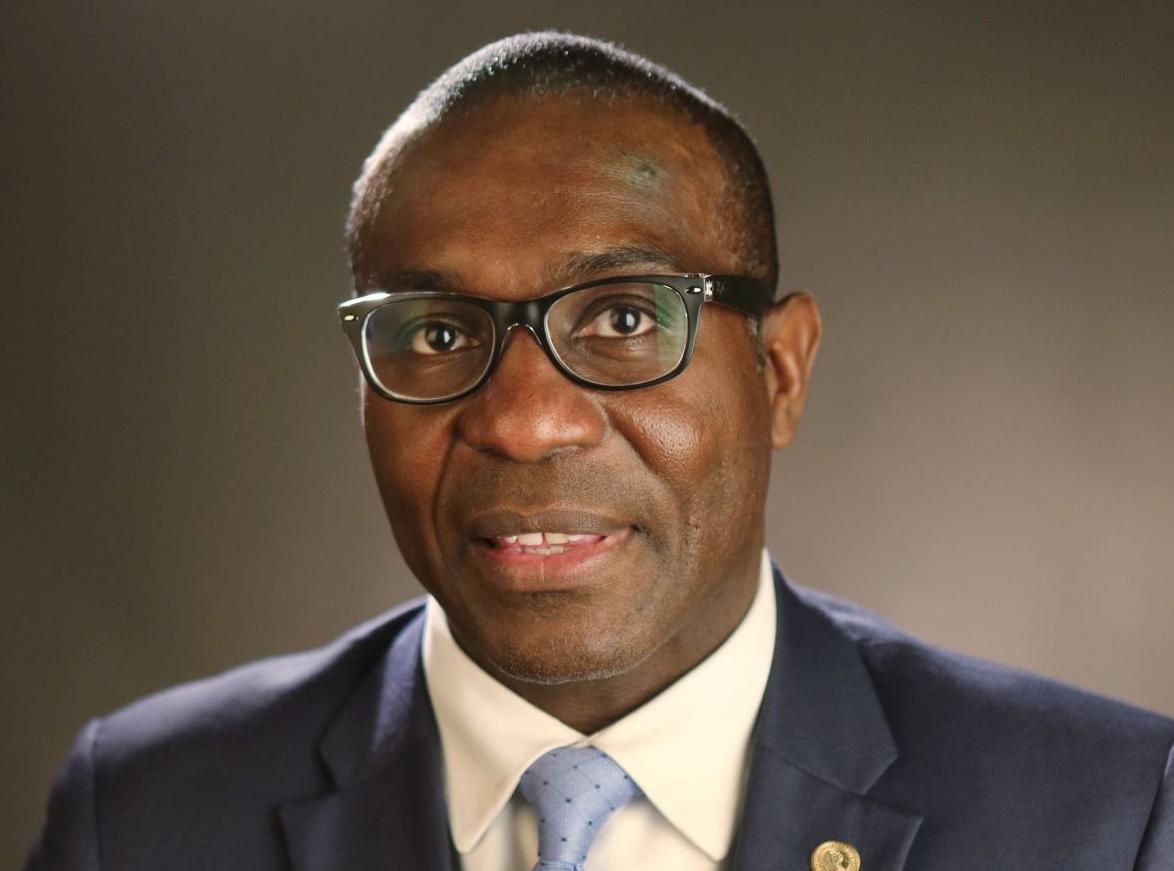 ST. LOUIS • At a mayoral forum in mid-January, someone asked Democratic candidate Lewis Reed what he would do to bridge the racial divide in the city.
Reed, who is black, responded by asking his wife, Mary Entrup, to stand. Entrup is white.
It was a simple answer to one of the more complicated issues in the city's upcoming mayoral primaries. Reed and the other candidates competing to succeed outgoing Mayor Francis Slay seek to a lead a city with a long history of racial strife — an issue pushed forcefully to the forefront by the civil unrest in Ferguson two years ago.
"Raising four biracial kids, a biracial marriage, I understand the challenges there," Reed said in a recent interview in his campaign office on south Jefferson Avenue near Chippewa Street. "My family, we don't all look alike, we don't all think alike, but our strength comes from our shared belief in something greater. In St. Louis, we need to come together around something like that."
Currently president of the city's Board of Aldermen, Reed, 54, is one of seven candidates seeking the Democratic mayoral nomination in the March 7 primary. In heavily Democratic St. Louis, the winner of the party's primary is expected to win the April 4 general election.
Reed is running on a platform of vowing to reduce the city's crime rate by 50 percent in his first two years in office, which would be virtually unprecedented in any major American city in modern times. Reed insists he can do it by reallocating resources to get more police on the streets, assigning them to smaller geographic areas, bringing more economic life to poor neighborhoods and building trust between residents and the police.
"Public safety is the absolute top issue. There isn't even a close second," says Reed. "All the other things we want to address have their roots in public safety."
Reed knows well the toll of violent crime on families. His own extended family had migrated from Mobile, Ala., to Joliet, Ill., where Reed was reared. In 1982, Reed's brother Eugene and their father were sitting at a stop sign in Joliet when two young men approached the car and opened fire. Eugene was hit in the head and killed. His murder was never solved.
"When my brother was shot and killed … the violence around that caused all of them to uproot and move back to Mobile," said Reed.
But he stayed, attending Southern Illinois University Edwardsville on a wrestling scholarship and majoring in mathematics and computer science. The pregnancy of his fiancée ended his college career before he could graduate. "I had to make the decision to either finish my degree or provide for my family. I opted for the latter."
After leaving college he became director of networks and telecommunications for the Edison Brothers Stores' worldwide operations, based in St. Louis. He was manager of data networks for SSM Health Businesses in the 1990s.
Reed was elected as the 6th Ward's first African-American alderman in 1999. At the time, some white residents in the ward organized opposition based on fears that his election would diminish their property values. "It hurt," Reed recalled. "After the election, I had two choices: I could hate those folks forever, or I could introduce myself and try to get past it." He says he's done the latter, and has become friends with some of the former opponents.
Reed was elected as the city's first black aldermanic president in 2007. Accomplishments he points to in office include spearheading development in Lafayette Square and on Washington Avenue, and creating funding sources for youth programs. A bicycle enthusiast, Reed helped create the "Bike St. Louis" project that has established hundreds of miles of bike lanes around the city and surrounding areas.
Reed ran for mayor in 2013, losing in the Democratic primary to incumbent Mayor Francis Slay, who beat Reed 54 percent to 44 percent. Slay isn't running for re-election this year.
"I think it's important that St. Louis understands that it is a great city. Too often we come to the table with our hat in our hands," said Reed. "St. Louis is a divided city, it does not mean St. Louis isn't a city that can unify."