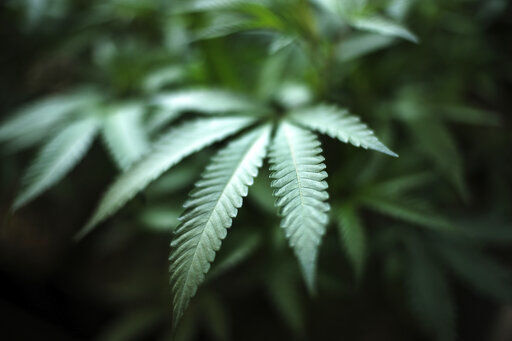 JEFFERSON CITY — The beleaguered state agency that serves military veterans in Missouri received a second installment of revenue Thursday from a tax on medical marijuana.
But the $6.8 million infusion is not likely to resolve ongoing financial problems that have led to staffing woes and empty beds at six of the seven nursing homes operated by the Missouri Veterans Commission.
In 2018, Missouri became the 32nd state to legalize marijuana for use by patients with qualified medical conditions. Included in the new law was a 4% tax on the sale of the product, with revenue going toward health care services, job training, housing assistance and other services for veterans.
When it was approved, officials estimated it could generate $24 million in revenue for the state.
Until Thursday, however, the veteran's commission had received just $2.1 million from the tax.
The top regulator of the medical marijuana program, however, sounded a positive note about the progress of the program, which has seen more than $113 million in sales since dispensaries opened in October 2020.
"Patients are being served by more than 140 dispensary facilities in Missouri now, and we are very pleased to see their sales revenue where it is," said Lyndall Fraker, director of the medical marijuana division at the Missouri Department of Health and Senior Services. "Ultimately, this is how we are able to provide much-needed funding for the veterans commission."
Six of the state's seven nursing homes for veterans are not admitting new residents because of an ongoing staffing shortage linked to dismally low pay rates.
The commission earlier had sought an infusion of $5 million to help boost worker pay, arguing that the continued operation of the homes is "at risk" if current funding levels are not increased.
But without a special session of the Legislature, the earliest the money will arrive is January if lawmakers move quickly on the shortfall.
The money from the medical marijuana tax is already earmarked for other projects at the commission, including the installation of HEPA filters, virus-response training and improved Wi-Fi to aid with telehealth and virtual family visits in the nursing homes.
MVC Executive Director Paul Kirchhoff also said $1 million will be used to complete a columbarium wall at the commission's cemetery in Jacksonville.
There are signs that the medical marijuana industry is growing in Missouri, which could mean a bump in revenue for the veterans commission.
The Missouri Medical Cannabis Trade Association, representing growers and sellers, earlier said sales are on pace to top $200 million this year.
"As more dispensaries continue to open statewide and thousands of new patients join the program each week, Missouri medical cannabis sales will only continue to rise," said MoCannTrade executive director Andrew Mullins.
Nearly 139,000 patients and caregivers are currently licensed by the state to purchase medical marijuana products.