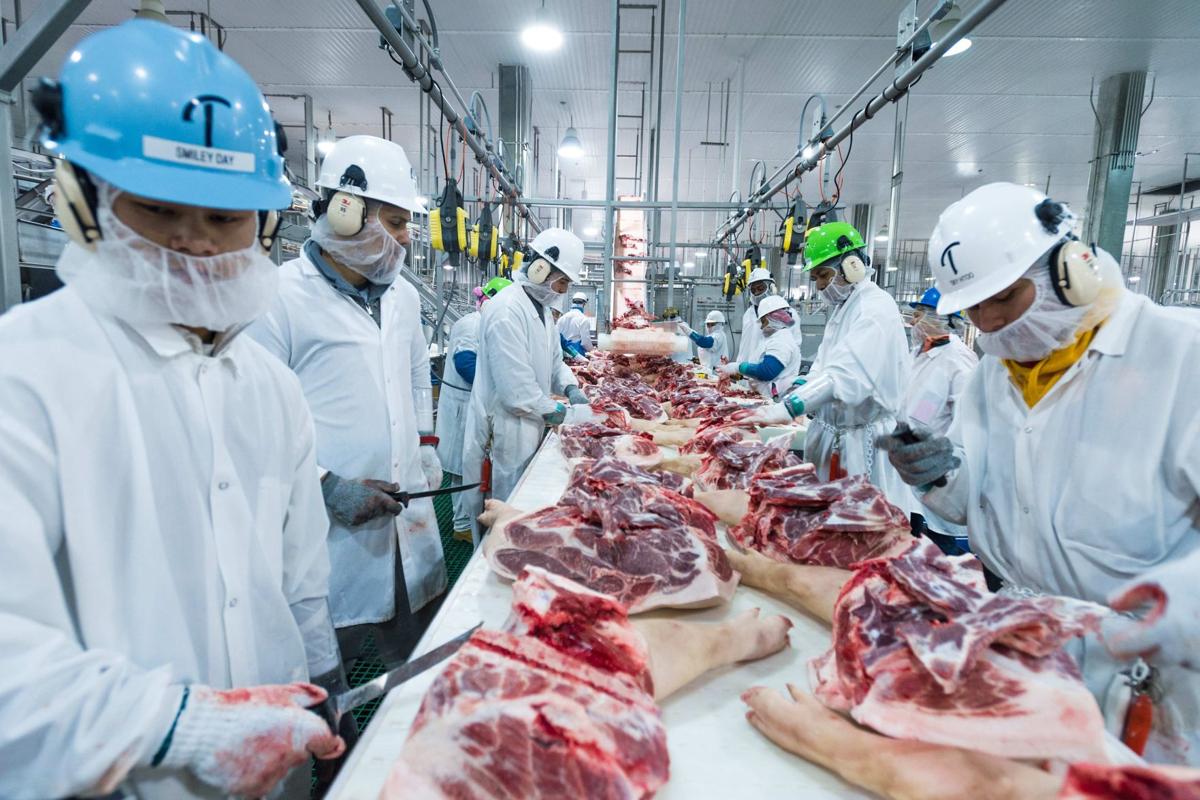 JEFFERSON CITY — Missouri's top health official said Thursday he does not believe a pork processing plant in western Missouri should be shuttered, even though scores of employees have tested positive for COVID-19.
"I do not," Dr. Randall Williams said when asked about the results of tests that found 92 of 707 asymptomatic workers at the Triumph Foods plant in St. Joseph had the virus as of Monday.
An additional 34 of the plant's employees tested positive earlier and the results of another 917 tests are expected to be known early Friday.
Williams' comment mirrors Republican Gov. Mike Parson's support for President Donald Trump's order to keep meat processing facilities open across the nation to ensure the food supply isn't affected, even though they've become coronavirus hot spots in rural America.
"What they do is incredibly important," Williams told reporters at the governor's daily press briefing.
On Tuesday, Trump signed an executive order requiring meat processing plants to remain open during the ongoing pandemic.
Parson, a cattle rancher, said he supports the idea of classifying those plants as essential infrastructure.
Parson's support for the order came five days after workers at a Smithfield Food plant in Milan filed a lawsuit claiming conditions at the plant are putting workers and the public at risk of contracting COVID-19.
The lawsuit alleges Smithfield has not provided workers with sufficient protective equipment and requires them to work shoulder to shoulder. It also contends that workers are discouraged from taking sick leave.
Smithfield has faced complaints about working conditions at other plants and closed a facility in Sioux Falls, South Dakota, after about 800 workers tested positive for the virus. Other large meat processing companies, such as Tyson Foods and JBS, have closed plants because of infections among workers.
Smithfield, based in Virginia, closed its plants in Martin City, Missouri, and Cudahy, Wisconsin, because they rely on raw materials from the South Dakota plant.
Williams said the surge of testing at the Triumph plant is an example of a so-called "box-in strategy" that will be employed by the Department of Health and Senior Services moving forward.
Employees at the plant with positive results will be told to isolate, and public health professionals will assist the patients with notifications of those determined to be close contacts.
"It is very important that patients with positive results follow the isolation guidance they are given," said Williams. "Those with pending or negative results may continue to work while maintaining infection control measures we have recommended both at work and at home."
Concerned about COVID-19?
Sign up now to get the most recent coronavirus headlines and other important local and national news sent to your email inbox daily.