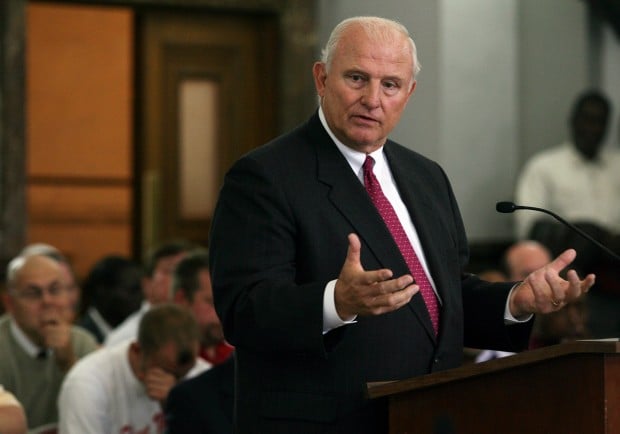 JEFFERSON CITY • The state has given developer Paul McKee an additional $8 million in tax credits to rebuild a huge swath of north St. Louis, but not before McKee agreed to repay the money if a court throws out his plan.
The Missouri Department of Economic Development issued the credits on Dec. 30 to help reimburse McKee for money he spent last year to buy property in a two-square-mile area north of downtown.
The credits, which come on top of $20 million the developer received in 2009, were authorized under the Distressed Areas Land Assemblage program. Economic development officials said that after McKee met all the law's requirements, they had no choice but to issue the credits.
"We have to abide by the statute as it stands and as it stands, there are no safeguards for taxpayers," said agency spokesman John Fougere. "We thought it was very important to demand the protections we secured in this agreement."
The agreement aims to recoup the state's money if a final court judgment nixes either the redevelopment plan or the tax credit program.
The Legislature custom-designed the program in 2007 for McKee and the massive mix of housing, offices and commercial development he proposes in north St. Louis.
But in July, St. Louis Circuit Judge Robert Dierker tossed the project's $390 million city financing package for vagueness. Dierker's ruling is on appeal to the Missouri Court of Appeals in the Eastern District.
A second lawsuit challenges the constitutionality of the state tax credits. Though McKee won the first round in Cole County Circuit Court, that case is on appeal to the Missouri Supreme Court.
If either challenge is successful, McKee must repay the $8 million in recently awarded credits, according to an agreement he signed on behalf of Northside Regeneration LLC. The money would be due no later than 30 days after a final judgment was handed down.
Still unclear is whether McKee would have to repay the original $20 million he received. Fougere said he had no comment on that question until the appellate court rules.
McKee, chairman of O'Fallon-based McEagle Properties, could not be reached Tuesday. But he said in a recent e-mail to a Post-Dispatch reporter that Dierker's ruling had slowed the project's progress.
McKee had been expected to seek as much as $20 million in tax credits last year. He can sell the credits to investors to raise cash to pay down his debt and cover other costs.
But the credits are based on the developer's expenses and because of the Dierker ruling, "our expenditures are way down and much lower than predicted," McKee wrote. "A real shame."
While he expects to reverse Dierker's decision on appeal, McKee indicated he also is working on a backup plan that would correct the alleged "defect" cited by Dierker.
Dierker's ruling questioned the city's decision to declare 1,100 acres blighted and authorize $390 million in tax increment financing for McKee without specific, identifiable projects in mind.
So talks are under way with the St. Louis Board of Aldermen to draft a project agreement "with the kind of detail that Judge Dierker seems to feel was lacking in the redevelopment plan," McKee said.
"We hope and anticipate that the aldermen will move quickly to approve such a project agreement so that we can present it to Judge Dierker and seek a reversal of his judgment," McKee said.
Attorney Irene J. Smith, who is handling the Cole County suit challenging the tax credits' constitutionality, said the state should not be investing in the project since the redevelopment agreement has been tossed.
"Personally, I think it's utterly ridiculous that he would get a dime for a project that a St. Louis judge has nullified," she said. "This whole thing really stinks, and that's the only nice word I could probably use."
The land assembly program is capped at $95 million, which leaves $67 million in unissued credits. However, no more than $20 million can be issued in a year and the program expires in 2013, so some of the credits are likely to lapse.