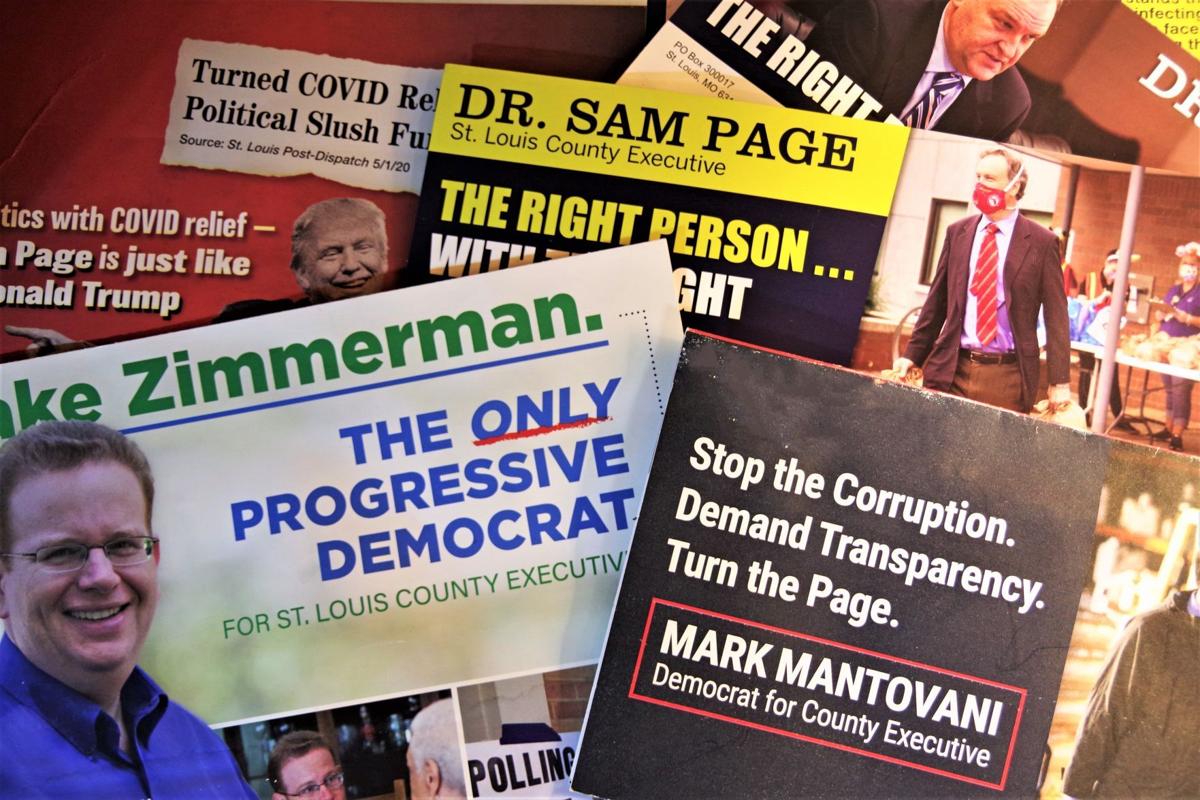 CLAYTON — With a few days remaining before the Democratic primary for St. Louis County executive, the candidates and committees supporting them pulled in hundreds of thousands in donations and spent heavily on advertising and research.
In total, the four candidates and political action committees supporting them raised about $3.8 million. The primary is Tuesday.
St. Louis County Executive Sam Page raised $630,000 for the election and the Page PAC supporting him raised $1.2 million, according to disclosures filed last week with the Missouri Ethics Commission.
Among the biggest donations in recent days to the Page PAC have been health care company Centene, which made a donation of $50,000 on July 23 and $20,000 on Thursday for a total of $125,000. Centene's chief executive officer, Michael Neidorff, also gave the Page PAC $6,000 on Wednesday.
Among other notable donors, an iron workers fund gave the Page PAC $10,000 on Wednesday for a total of $22,500. Seneca CRE, a commercial real estate firm in Brentwood, gave the Page PAC $10,000 on July 24, for a total of $35,000 for the election, and its principal owner, Larry Chapman, gave Page $10,000 on July 20. Also, a PAC run by the American Society of Anesthesiologists gave the Page PAC $25,000 on July 23, for a total of $75,000. Page, a doctor, specializes in anesthesiology.
Challenger Mark Mantovani raised $630,000, and the Change STL PAC supporting him had raised $778,000. Mantovani donated more than $150,000 to his own campaign, including $50,000 last week.
The Change STL PAC received $100,000 from a carpenters union PAC on July 14, for $350,000 in total. The PAC in recent days also received $10,000 each from Elite Development, GAT Finishing Systems CEO Daniel Guirl and ARCO Construction CEO Jeffrey Cook.
Jake Zimmerman, the county assessor, came into the election with $497,000 on hand from previous elections and raised another $431,000, allowing him to nearly keep pace on spending with Page and Mantovani. Heartland Action PAC, which is supporting Zimmerman, also raised $73,000. It recorded a $10,000 donation from Crestwood Square Associates on Saturday and the Driscoll law firm on July 8.
A fourth candidate, doctoral student Jamie Tolliver, raised $5,600 for the election.
Get Election 2020 & Politics updates in your inbox!
Keep up on the latest in national and local politics as Election 2020 comes into focus.