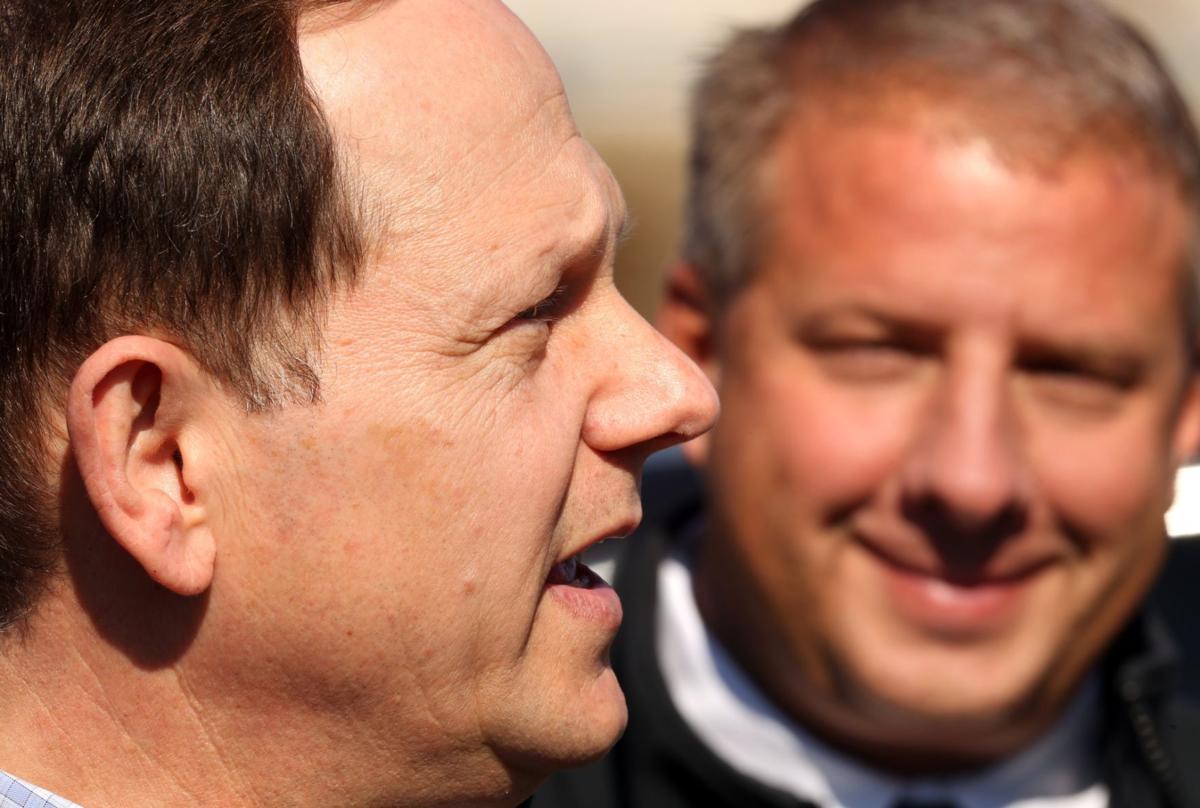 ST. LOUIS • Sam Dotson became on Wednesday the latest candidate to enter the mayoral race, saying he will continue serving as police chief — against the wishes of the man he hopes to replace.
Dotson, who has long been rumored to be considering a mayoral run, announced his candidacy in a statement playing up his status as a "full-time police chief" and "not a career politician."
But as Mayor Francis Slay sees it, launching a mayoral campaign while still in uniform could make Dotson a part-time police chief.
In a statement released shortly before Dotson's announcement, Slay said Dotson should focus on running for mayor or being the police chief, but not both.
"Chief Sam Dotson has made no secret of his interest in running for mayor," Slay said. "I have told him that St. Louis must have a full-time police chief. While state law explicitly allows first responders to seek public office, it does not relieve them of their full-time job responsibilities."
He added, "I want to be clear to the citizens of St. Louis that I will not condone a part-time police chief. Chief Dotson should be completely focused on the job he has. Our City deserves no less. Should Chief Dotson decide to become a candidate for mayor, I expect him to resign."
Even if Slay wanted to fire Dotson, it appears he can't.
The August 2013 shift from a state-run police department to a city-run entity gave the mayor the power to appoint the chief, but a state law passed that year prohibitspoliticians from firing police chiefs without cause. Supporters of the law said it was intended to protect chiefs from politics.
And Dotson said he had no plans to resign.
Instead, he said he would focus on his job as chief during work hours, while campaigning only at night and on weekends. Dotson added that the mayor's statement Wednesday forced his hand. The police chief said he intended only to announce an exploratory committee to run for mayor. Exploratory committees are generally a preliminary step candidates take to gauge interest from donors.
But after the mayor's statement went public, Dotson said he felt it necessary to make his positions known – both that he's running and that he won't resign.
"The mayor and I have talked about this," Dotson said. "He's been clear that public safety is his No. 1 issue. And I've assured him it will continue to be my primary focus."
That Slay issued such a public ultimatum, and Dotson rushed along his campaign announcement in response, came as a surprise to political watchers.
Slay has long been considered one of the police chief's staunchest supporters. And Dotson has long been considered somewhat of a protégé of the mayor's.
Before becoming chief, Dotson was Slay's director of operations about 20 months on loan from the police department.
Dotson acknowledged the long political ties he has with the mayor, especially on crime issues. Staying on the job while also running a campaign, "is just one issue we see differently," he said.
The disagreement won't hurt his ability to lobby city government for police resources, Dotson said, adding that he plans to continue "building on the foundation" of the Slay administration.
While downplaying his disagreement with the mayor, Dotson took shots at other, unnamed elected officials on Wednesday.
In an interview, he said: "I'm not going to take time away from my job, as others might. I am going to make sure this job as chief doesn't suffer and it won't."
In his campaign announcement, he offered this: "While career politicians have stood idly by as political infighting, an inefficient bureaucracy and decaying institutions have led to declining population, loss of good paying jobs and failing schools, I've gone to work every day combating the biggest problem plaguing our city: violent crime."
"And I've done so with very little support from career politicians like the other announced candidates for mayor," he continued.
The other elected officials who've said they are running for mayor are 28th Ward Alderman Lyda Krewson and Board of Aldermen President Lewis Reed. City Treasurer Tishaura Jones announced on Wednesday that she had mailed paperwork to the Missouri Ethics Commission to form a committee to run for mayor. Collector of Revenue Gregory F.X. Daly took the same step last month.
Also, 21st Ward Alderman Antonio French has been soliciting pledges online for a possible mayoral run. Others linked to the mayoral race include 22nd Ward Alderman Jeffrey Boyd and Jason Hall of the St. Louis Regional Chamber.
The filing period for mayoral candidates runs from Nov. 27 through Jan. 6.
Jeff Roorda, business manager for the St. Louis Police Officers Association, said Slay's concerns are fair but that he will take Dotson's word that campaigning won't take away from his job as chief.
"I take him at his word until we see differently," he said. 
He wondered if Slay had the same concerns for other candidates. 
"All of the candidates are in an important position to city government," he said. "I assume none of them would run for office if they thought that it would take away from their position they're already in."
Nassim Benchaabane of the Post-Dispatch contributed to this report.
Get Government & Politics updates in your inbox!
Stay up-to-date on the latest in local and national government and political topics with our newsletter.