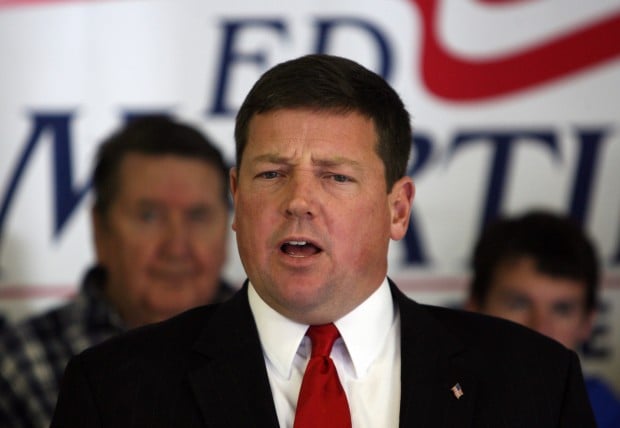 ST. LOUIS • Ed Martin has finally found a race that is just right.
After already switching his campaign from a bid for U.S. Senate to a push for a U.S. House seat, the St. Louis Republican announced Thursday that he is running for Missouri attorney general — a surprise move that shifts the November ballot equation for the state GOP.
After initially seeking to unseat Democratic U.S. Sen. Claire McCaskill, Martin set his sights on an open seat in the state's newly redrawn 2nd Congressional District, which includes most of St. Louis County.
But in that contest, Martin found a formidable primary foe in former diplomat and ex-state party chairwoman Ann Wagner, who had more than three times as much cash on hand as Martin. She also had scooped up many of the supporters that helped Martin's near upset in 2010 of U.S. Rep. Russ Carnahan, D-St. Louis, in a district that has not been friendly to Republicans.
With Martin out, Wagner's chances of becoming the St. Louis area's next member of Congress grow stronger.
As it stands now, Wagner needs to defeat Dr. Randy Jotte — a former Webster Groves councilman who kicked off his campaign Tuesday — to secure her party's nomination for the seat.
Martin's departure comes days before the next deadline for federal candidates to report their campaign finance totals, suggesting that his fundraising numbers had not improved.
But Martin will have greater flexibility to raise money in a state race, where, unlike congressional contests, there is no limit on the amount of donations. He also can shift to his attorney general campaign all the money from his federal committee, which had $270,000 cash on hand, according to the most recent filing.
Martin abandoned his bid for U.S. Senate in May after it became clear that U.S. Rep. Todd Akin would also enter the race. Instead, Martin targeted Akin's current seat. More recently, Martin also flirted with the possibility of running for governor after Lt. Gov. Peter Kinder stayed out of the race.
Martin, a lawyer, said he became gradually attracted to the attorney general's race because of an "almost obsession" of stopping the president's health care reform law. Martin dismissed the notion that his itinerancy could hurt his creditability.
"Channeling Newt Gingrich: This is a media fascination about something that is irrelevant," Martin said.
Martin pointed out that his presumptive opponent, incumbent Attorney General Chris Koster, is no stranger to political repositioning.
"If I'm Chris Koster, I actually changed my party," said Martin, referring to Koster's defection from the Republican Party a year before he ran for attorney general.
While some Republicans were scratching their heads at Martin's latest pivot, the party publicly applauded his move. No other Republican had stepped up to take on Koster, who has close to $1.3 million in his campaign account.
Martin's announcement Thursday came with a slew of endorsements, including all of the Republican members of Congress from Missouri and leaders of the Legislature. (Noticeably absent was Wagner, who issued her own statement wishing him well.)
"We welcome Ed to the race," Missouri Democratic Party spokeswoman Caitlin Legacki said in response to Martin's attorney general announcement, "for however long he decides to stay."
Get Government & Politics updates in your inbox!
Stay up-to-date on the latest in local and national government and political topics with our newsletter.