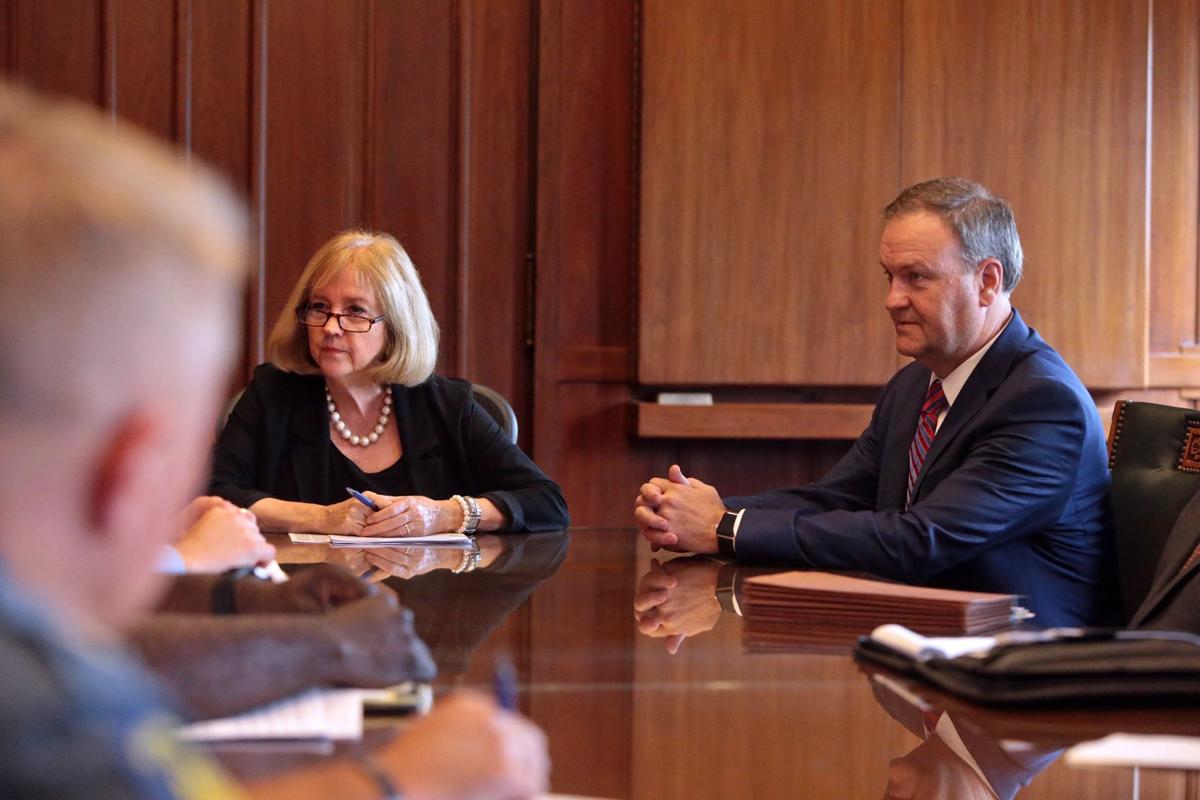 ST. LOUIS — The Rev. Earl Nance Jr., a prominent pastor, and Eddie Roth, who has held several key City Hall posts, are among nine people chosen Monday by Mayor Lyda Krewson for a board that will study possible changes in the area's governing structure.
Krewson announced her choices for the Board of Freeholders just hours after election officials in the city and St. Louis County certified that a petition drive had gathered enough signatures to trigger the board's formation.
Krewson's list, which must be confirmed by the Board of Aldermen, also includes attorneys Jerry Schlichter, James Mathis and Dan Zdrodowski, Park Central Development executive director Abdul-Kaba Abdullah and IT consultant LaShana Lewis.
Other Krewson appointees are Taunia Allen Mason, the 28th Ward Republican committeewoman and a city Port Authority member, and Bridget Flood, executive director of the Incarnate Word Foundation.
County Executive Sam Page tweeted Monday that he's still accepting applications for the nine spots on the board he will fill. Also yet to be announced is Gov. Mike Parson's lone appointment to the 19-member panel.
State law says not more than five of the city appointees can be from the same political party; the same rule applies to the county appointees. Krewson's list has four Democrats, three Republicans and two political independents.
The drive for the board's creation was led by the Municipal League of Metro St. Louis as an alternative to a failed effort by the nonprofit Better Together group to put a St. Louis-St. Louis County merger plan to a statewide vote.
The county's 88 municipalities also would have been rolled into the new metro governing entity envisioned by Better Together.
Muny League members, mainly officials in St. Louis County municipalities, strongly opposed the plan, in part because the decision would have been taken out of the hands of city and county voters.
Under the Missouri Constitution, any plan devised by the freeholders panel must be approved by separate majorities of St. Louis and St. Louis County voters.
The board will have wide latitude to consider various changes dealing with all or part of the city and or county. Pat Kelly, the Muny League executive director, has said he hopes re-inserting the city of St. Louis into the county as one of its municipalities would be a top priority.
Krewson, in a news release, said her nine appointees were chosen from 130 people who expressed interest in serving. Page said more than 100 did so in the county.
Krewson had been a strong supporter of the Better Together plan, which was pulled from ballot consideration in May.
The plan had been drawn up to install former County Executive Steve Stenger as the first "metro mayor," but he was excised from the proposal after news broke in March that federal prosecutors were investigating Stenger.
After Stenger was indicted on corruption charges and resigned, Page, the County Council chairman, was chosen by the council to succeed him.
Nance, the longtime pastor of Greater Mount Carmel Missionary Baptist Church, has been active for decades in various civic causes and has dabbled in politics well. He worked part time as Mayor Francis Slay's education liaison in the 2000s.
Roth, an attorney in private practice, was in city government from 2011 to 2017, mainly under Slay. At different times he was Slay's operations director, public safety director, deputy chief of staff and human services director. He left the latter job a few months after Krewson succeeded Slay as mayor.
Before working at City Hall, Roth was a Post-Dispatch editorial writer. Earlier, he was on the old city police board from 1998 to 2002.
Get Government & Politics updates in your inbox!
Stay up-to-date on the latest in local and national government and political topics with our newsletter.