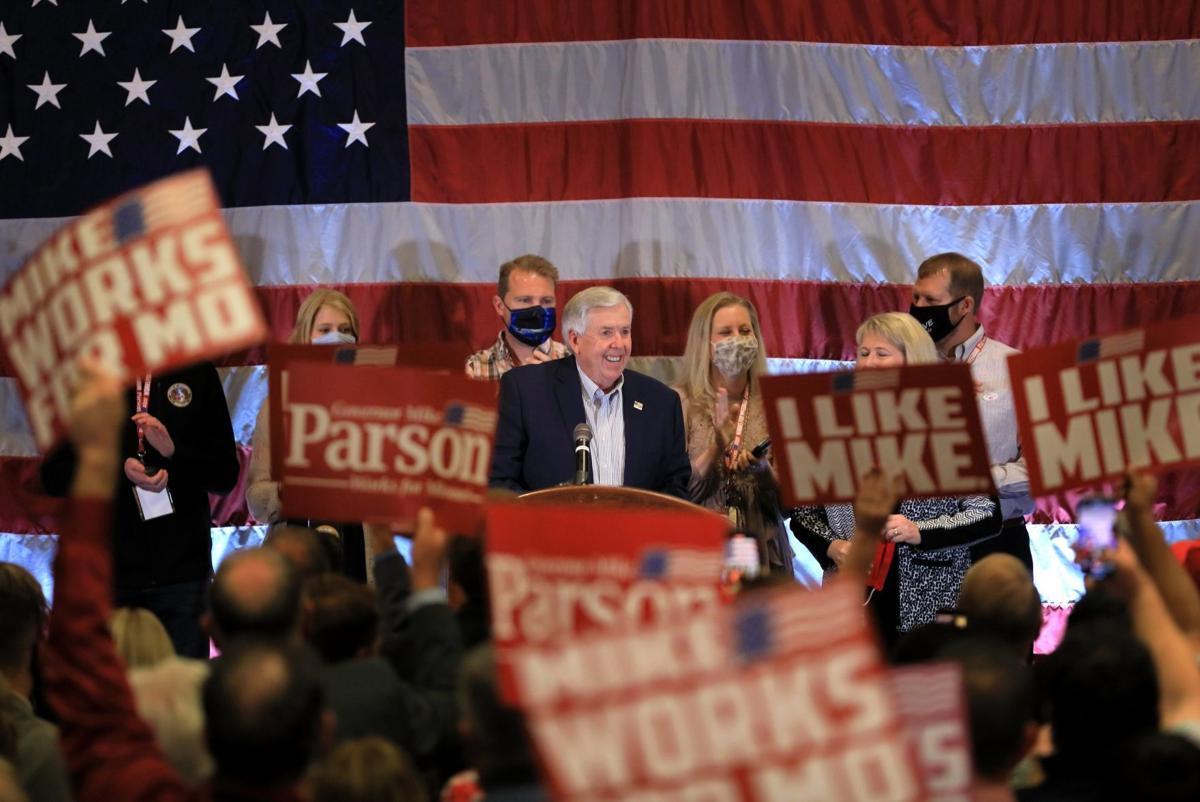 JEFFERSON CITY — Touting his country roots and vowing to fight against left-wing Democrats, Gov. Mike Parson swept through county after county last month to whip up support ahead of his landslide win over State Auditor Nicole Galloway in Tuesday's election.
"I think people really want freedom," Parson said Thursday, speaking of the COVID-19 pandemic. "I believe they believe in what we're doing. I believe they believe in a balanced approach (to COVID-19). And we're going to continue to do that."
Parson made the winning argument this fall. But he wasn't the only one helping to deliver the message.
The pro-Parson offensive, and rural Missouri's continued shift away from the Democratic Party amid the nationalization of state politics, helped the Republican governor secure an emphatic 17-point victory on Tuesday.
Republicans apparently found a winning message by framing the race as a choice between freedom and socialism, and "backing the blue" over calls among some Democrats to "defund the police."
Similar messaging was used to benefit other Republicans around the country. That was the subject of a call among congressional Democrats on Thursday. They warned that liberal rhetoric could sink the party's chances of winning two Senate seats in Georgia during a January runoff, Politico reported.
Tying Galloway to the "defund the police" movement — a connection she was forced to reject in the media — put her on the defensive even as she tried to get Parson to explain his response to the COVID-19 pandemic.
But in politics, a simple message is key, said Senate Majority Leader Caleb Rowden, a Columbia Republican who survived a close challenge on Tuesday by Democrat Judy Baker.
"At the end of the day, you have to generalize those things and I think Republicans, frankly, do a better job of messaging," he told the Post-Dispatch.
Making Republicans' jobs easier, "Missouri is a red state," Rowden said. "This is an election that affirmed that in a way that maybe I wasn't even expecting."
"I think the Democrats have their work cut out for them to understand there are people in their party who are communicating these ideals that are just way too far to the left of the vast majority of the people of Missouri," Rowden said.
The governor also benefited from other breaks during the campaign.
Parson — who has been known for inartful, off-the-cuff comments, such as when he said schoolchildren with COVID-19 would "get over it" — successfully evaded the debate stage all but once, for the customary gubernatorial forum sponsored by the Missouri Press Association.
Both the Libertarian and Green Party candidates were invited — allowing Parson to avoid a direct showdown with Galloway — and the debate was streamed online at 2 p.m. on a Friday, the opposite of prime time.
'R' is sufficient
One political scientist said the political climate in Missouri was the driving force behind Parson's win.
"I think simply having the 'R' next to his name was sufficient for Parson to win," said Peverill Squire, professor of political science at the University of Missouri-Columbia. "His campaign emphasized crime and the economy, issues traditionally owned by the GOP. Nothing he did or said broke any new policy ground.
"Galloway was never successful in finding a campaign theme that resonated with the suburban voters she needed to persuade to switch sides," he said. "Not even the real concerns about the way the pandemic has been handled in the state were enough to sway voters her direction."
Sen. Scott Sifton, an Affton Democrat who was eyeing a run for governor before Galloway announced hers, compared President Donald Trump's popularity in Missouri with former President Ronald Reagan's in the 1980s.
"When Reagan topped the Republican ticket in the '80s, it was tough for Democrats in statewide races and we've seen the same thing with Trump," he said.
Steele Shippy, campaign manager for Parson, said the campaign focused on Parson's personal appeal — "farmer, sheriff, small business owner, veteran. And those connect with people on a person-to-person basis.
"Those connections, you know, we can draw into those," Shippy said. "The governor is just like you."
National, state politics collide
Uniting Missouri's existence — along with the pro-Galloway A Stronger Missouri PAC — can be traced to a 2016 state constitutional amendment limiting contributions to candidate campaigns.
Big money had to flow somewhere, and it began flowing to groups that could spend the money in support of or opposition to candidates. While candidates can coordinate fundraising activities with PACs, they can't coordinate spending.
Longtime Missouri Republican strategist David Barklage, who led ad-making efforts for Uniting Missouri, said that because of the internet and national media, many voters no longer distinguish national and state politicians.
In a national context, "Democrats (were) taking the position 'defund the police' etcetera and Republicans taking the position 'back the blue' in that regard," Barklage told the Post-Dispatch.
"In late July and early August, we hit that issue (law and order) because candidly Missouri voters were not differentiating between national Democrats and local or state Democrats," he said.
In October, Uniting Missouri tied Galloway to congressional candidate Cori Bush and state Rep. Rasheen Aldridge, two St. Louis Democrats who sought to "defund the police" to fund other programs.
Speaking of Galloway, lieutenant governor candidate Alissia Canady and secretary of state candidate Yinka Faleti, Bush said in a statement, "I am so proud of Nicole, Alissia, Yinka, and our historic statewide ticket of Democrats who mobilized millions to vote for progress in Missouri despite a barrage of false and racist attacks.
"The coalition of young people, Black people, and other people of color that helped us defeat right to work and pass Medicaid expansion — that same coalition which elsewhere was critical to Joe Biden's win — is building power in Missouri around our deeply held progressive values," Bush said.
Strategists also said Parson's campaign pushed an economic message, that he was best qualified to dig the state out of the coronavirus-induced recession.
Barklage said the message, compared with Galloway's message — that Parson bungled the response to the pandemic — "was a very strong counter (message) that left us ahead."
Meanwhile, after Galloway's campaign apparatus started criticizing Parson for ethical breaches, Uniting Missouri covered for the governor by returning charges of ethical lapses in Galloway's direction, Barklage said.
"We started ours after she attacked the governor on ethics," he said. "It was a mistake for her to go down that path, but once she went down that path we were obligated to answer her."
In the closing week of the campaign, Parson began more pointedly contrasting his experience to Galloway's; Uniting Missouri ran an ad all but saying she was unqualified to be governor.
That attack bordered on sexist, one Democrat said.
"The ad is insulting," House Minority Leader Crystal Quade, D-Springfield, said as it was running. "I feel like these attacks against folks' experience happens overwhelmingly more towards women who are running for office than men who are running for office.
"If she was a man, would he have run this ad against her? Probably not."
Trump wins, Galloway loses
One Democratic strategist familiar with Galloway's race said Parson's emphasis on his upbringing was an effective messaging tactic; and the strategist said Democrats didn't see a deterioration in her support amid GOP attack ads.
The strategist said the nationalization of state politics makes it difficult for Republicans to succeed in blue states, and difficult for Democrats to win in red states, without a strong personal brand that transcends party affiliation.
Kevin Donohoe, spokesman for Galloway's campaign, attributed her loss to Trump's big win in Missouri on Tuesday, and said she ran an energetic campaign with strong labor support.
"I don't think any individual tactics from Uniting Missouri had much to do with it. I think it was about the context of the presidential election," he said.
Galloway hadn't won a local election before Gov. Jay Nixon appointed her Boone County treasurer in 2011 and state auditor in 2015. She won 50% of the vote in 2018 to secure a four-year term as auditor.
"She was not only undefined," Barklage said, "I think as someone who was appointed to one position and then another position, she didn't have the skills that one would get from going through those kinds of races."
Galloway also didn't fit the mold of Missouri Democrats who had run for governor previously, including Nixon, Bob Holden and Chris Koster.
Republicans said Galloway's campaign differed in strategy from Koster's race in 2016 — focusing on generating record suburban support at the expense of securing rural votes.
Koster, a former Republican, had the backing of the Missouri Farm Bureau and won the endorsement of the National Rifle Association. Galloway, by contrast, was backed by groups such as Moms Demand Action, which seeks more stringent gun laws.
Koster ultimately lost to "conservative outsider" Eric Greitens four years ago by 6 points; Galloway lost this year by 17.
What's next?
Galloway, in her concession speech, hinted at what could be next for the incumbent state auditor: running for reelection in 2022.
"I'm not going anywhere, Missouri," she said.
As was the case in 2018, multiple Republicans could be lining up in an effort to take control of the only statewide office Democrats currently hold.
Two St. Louis-area legislators have been mentioned as possible candidates: state Rep. Mary Elizabeth Coleman, R-Arnold, and state Rep. David Gregory, R-south St. Louis County.
Missouri Republican political operative Gregg Keller, the treasurer of a political action committee supporting Coleman, tweeted in September: "Shame on Missouri conservatives if" Coleman "isn't a statewide officeholder in the next decade."
Coleman said in a statement prior to the election that "after the election I'll talk it over with my family, then decide how I can best continue to serve."
Gregory doesn't respond to all media phone calls, so it is unclear what he is planning, but multiple GOP operatives have mentioned him as a possible contender.