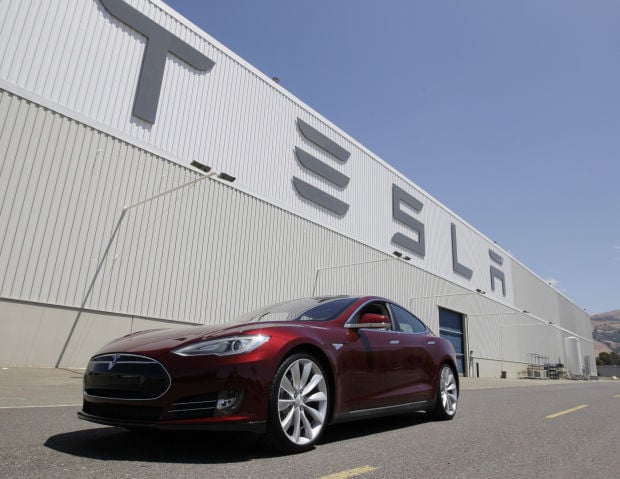 Tesla Motors, the California-based high-end electric car company, has positioned itself as a new kind of automaker. But this week in Missouri, it collided with an old kind of politics.
In what the car maker now alleges was a "sneak attack," Missouri state legislators on Wednesday night quietly slipped a few lines of new wording into a pending bill and passed it through the state Senate with no debate. The altered legislation, if passed by the House next week and signed into law, would prohibit auto manufacturers from circumventing car dealerships and selling directly to buyers.
It would, in other words, make Tesla's entire global marketing strategy illegal in the state of Missouri.
"We have just become aware of a last-minute attempt by the auto dealers lobby, via pressure on legislators, to bar Tesla from selling its vehicles direct to consumers in the state. This extraordinary maneuver amounts to a sneak attack to thwart due process and hurt consumer freedom in Missouri," Tesla wrote in a statement on its website Thursday, entitled "Trouble in Missouri."
The statement notes that the change came in the final days of the legislative session — traditionally a frantic time, and one in which controversial legislation is sometimes hurried along under the radar.
"This debate should be held in the full light of day with all sides being given an opportunity to make their case," said the company. "Instead, the dealers are again trying to ram through a provision under the cover of darkness and without public debate. The people of Missouri deserve better from their elected officials."
Several legislative sponsors, supporters and lobbyists for the measure didn't return calls and emails from the Post-Dispatch Friday seeking comment. But in an earlier published interview, one of them, Rep. Glen Kolkmeyer, R-Odessa, defended the measure as merely an attempt to level the playing field.
"You can't have two sets of rules for the same type of business or industry," Kolkmeyer told the Springfield News-Leader. "Our forefathers decided any car sold in the state of Missouri would be sold through a dealer. This new company is skating around these rules."
The entity with the most to gain from the legislation is the Missouri Automobile Dealers Association, which represents auto dealers throughout the state. As in many states, the auto dealers' lobby is among the more influential political voices in Missouri.
The Association spent about $49,000 since 2011 on meals and entertainment for Missouri state legislators, according to state lobbying records.
In addition, records show the association gave more than $3,300 last year in "in-kind" campaign contributions to Sen. Mike Kehoe, R-Jefferson City, a key proponent of the measure. "In-kind" refers to goods or services that donors contribute to candidates instead of cash.
Kehoe — who has been a car dealer himself — last month wrote a letter to the Missouri Department of Revenue demanding an explanation why Tesla last year was licensed by the state to operate a sales operation near St. Louis, despite the fact that it doesn't contract with any automobile dealers.
Kehoe alleges in the letter that Tesla's business model "is clearly designed to circumvent the traditional franchise model for the distribution and sale of new motor vehicles."
Kehoe's letter, and the Department of Revenue's response, were provided to the Post-Dispatch by the department on Friday.
In his response, acting Revenue Director John Mollenkamp writes that, while manufacturers that already have franchise agreements with dealers aren't allowed to compete directly with them, that law wouldn't apply to a company that has never had such agreements.
"It is not clear that the statutes apply to a seller like Tesla," wrote Mollenkamp on April 30 — about one week before the new language appeared on the legislation in the form of an amendment.
Neither the Association nor Kehoe responded to requests for interviews Friday.
Tesla already has waged similar battles in New Jersey, New York, and Ohio. The company currently has one small Missouri facility, in St. Louis, and reportedly is planning a Kansas City outlet.
Tesla's battle, here as in other states, is against a traditional franchise model in which manufacturers like Ford and GM contract with independent auto dealers to sell their cars. Proponents of that system say it protects the consumer by providing a local point for test drives, service and other things that a distant, faceless manufacturer can't reliably do.
Tesla supporters say buying directly from the company — either from the few brick-and-mortar dealerships available, or online — eliminates an unnecessary middleman. In the case of the expensive and technologically advanced electric Teslas, they say, independent dealers would be unable to add any of the knowledge or assistance they do for traditional gas-powered cars, anyway.
Tesla enthusiasts have been compared to the buyers of Apple computer products in their zeal for the brand.
St. Louis, like many other cities, has a "Tesla Enthusiasts Club" that organizes gatherings and events. The St. Louis group plans to travel to Jefferson City on Monday, sporting at least eight of the vehicles, said group organizer Liz Gattra.
"We've got a number of Tesla owners bringing their Teslas down to the capitol," said Gattra, of Wentzville, who with her husband owns two of them. "We're willing to give test drives, and to talk about our experience of owning a car that we bought directly from the manufacturer."