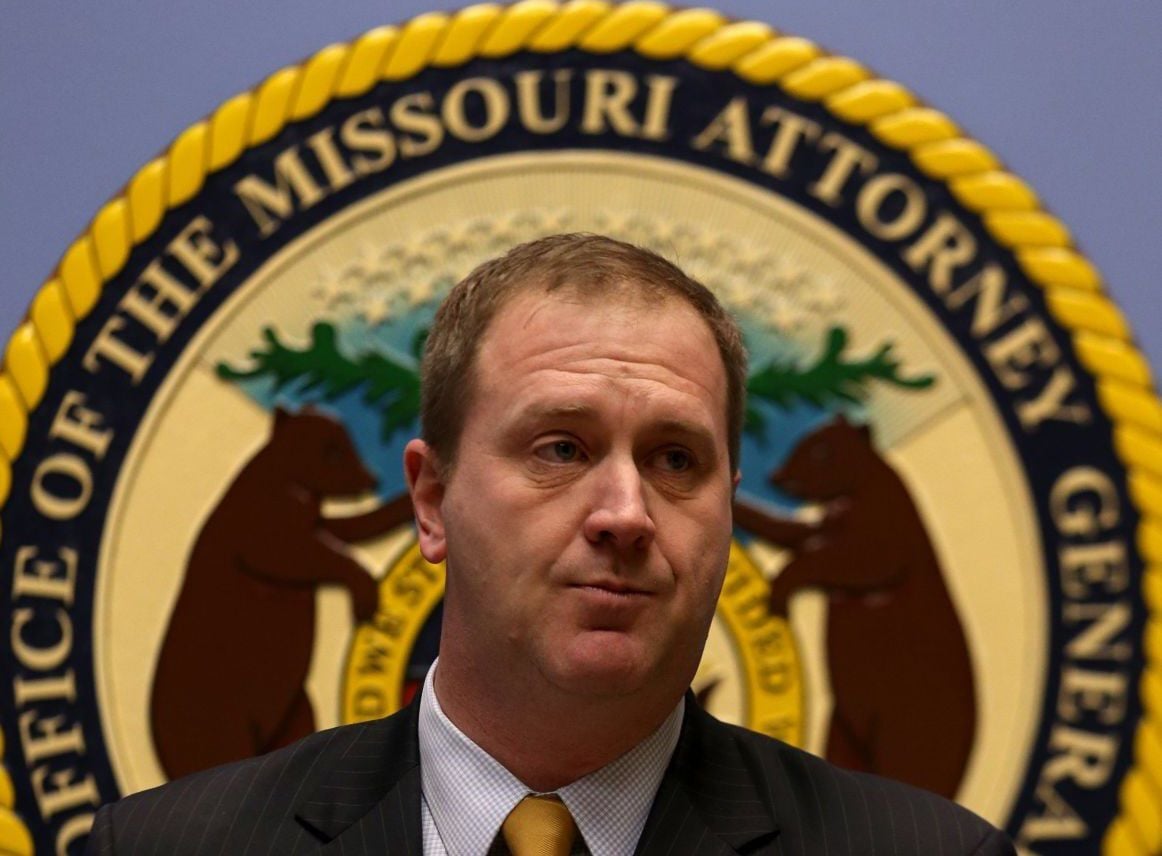 JEFFERSON CITY — Emails show the leader of a group that sent a robocall urging "patriots" to march to the U.S. Capitol ahead of violent clashes there on Jan. 6 contacted the Missouri attorney general's office several times before and after the Nov. 3 election.
The office of Attorney General Eric Schmitt received numerous emails from Peter Bisbee, executive director of the Rule of Law Defense Fund, a fundraising arm of the Republican Attorneys General Association (RAGA).
Emails obtained by Elad Gross and Mark Pedroli, two St. Louis attorneys who regularly file Sunshine Law requests, document months of contact between Bisbee and the attorney general's office.
Gross ran as a Democrat for attorney general last year, losing in the August primary. He called for further investigation to determine whether Schmitt's office had illegally used taxpayer resources for political purposes.
But Chris Nuelle, spokesman for Schmitt, said the Rule of Law Defense Fund was not a political group, but rather a policy organization. He has previously said that Schmitt had "no knowledge" of the robocall in question.
"RLDF is a policy organization, and as you can expect, we collaborate with other Republican attorneys general offices on matters of policy, sign on opportunities, and potential lawsuits, just as we do with broader organizations like the National Association of Attorneys General (NAAG)," Nuelle said in an email.
The records show John Sauer, the state solicitor general, was registered for a "Senior Staff Summit" on Sept. 23 and 24. He received Zoom log-in info from a Rule of Law Defense Fund official.
An itinerary for a "Senior Staff Summit" said the event was taking place in Atlanta.
The records also include emails from Adam Piper, executive director of RAGA, who mentioned "WAR GAMES" conversations in case President Donald Trump lost the White House.
In an email, Piper said, "WAR GAMES – 32 AG Staff Members are huddled in Atlanta for a series of conversations planning for what could come if we lose the White House," he said on Sept. 24.
On Sept. 25, he said, "Thank you to the 30+ AG Staff members who came the Atlanta and the other 12 who participated virtually. It was a fast paced, productive series of war games, which hopefully will not have to be utilized in November."
Schmitt, the vice chairman of RAGA, in early December joined a lawsuit by Texas challenging the results of the 2020 election.
Schmitt was scheduled on July 9 to participate in a virtual roundtable called "The Business of Making Friends" with Craig Katerberg of Anheuser-Busch, according to the emails.
One email from Bisbee on Nov. 2 said there would be a call that Thursday, two days after the election, with "AG senior staff."
On Monday, Nov. 9, Bisbee sent an itinerary for a week's worth of events called "AG Senior Staff Events." That email said there would be a general meeting on Tuesday, a "senior staff strategy session" on Wednesday and a "senior staff call" on Thursday.
Another email on Nov. 16 says a call with "AG senior staff" would take place later that week.
"Please let me know if you have any items for the agenda," Bisbee said.
There was another senior staff call scheduled for 3 p.m. Jan. 5, and a second meeting scheduled for Jan. 7, according to the emails.
After the storming of the U.S. Capitol on Jan. 6, Schmitt's spokesman said the attorney general had "no knowledge" of the Rule of Law Defense Fund robocall that preceded the violence.
The robocall urged people to march to the U.S. Capitol, using phrases such as "continue to fight" and "stop the steal," the investigative organization Documented first reported.
"(W)e will march to the Capitol building and call on Congress to stop the steal," the robocall said, according to Documented. "We are hoping patriots like you will join us to continue to fight to protect the integrity of our elections."
"Attorney General Schmitt absolutely had no knowledge of or involvement in the robocall, and condemns the violence that took place on Wednesday in the strongest possible terms, period," Nuelle said in a statement at the time.
Nuelle then referred further questions to the Rule of Law Defense Fund and didn't respond to questions about Schmitt's duties as vice chairman of RAGA, or whether Schmitt regretted his role in attempting to reverse Trump's election loss by joining the ill-fated Texas lawsuit.